We supply custom leather labels for clothing that material is genuine leather, PU leather, and suede leather, it is a substitute for traditional cloth label. Your logo and name can be printed on leather by various processes, such as printing, hot press, embossing, or gold/silver hot stamping.
Leather labels can be attached to clothes, jeans, wallets, shoes and etc. Of which, belt label is generally used on denim, linen, and similar fabrics for advertising purposes, sometimes for displaying information like length, and model. Since these labels are characterized by long durability and uniqueness, they still can keep their shapes and colors even after repetitive washings. High-end brands prefer to use them to convey a message of quality and prestige.
Our custom leather labels lend you an exclusive look like a general custom square, heart, triangle, round genuine labels more to attract consumers at first sight. The color of labels may vary due to the nature of their material. These colors are unique to each leather label. We offer many natural tones of leather for ultimate branding cohesion. In this way, it attracts more consumers and adds value to your clothing. Our products can be customized with your text or logo. These labels fit a lot of styles. From elegant to casual, chick to rustic, they always show their specialty. We use the finest material to make the perfect leather labels.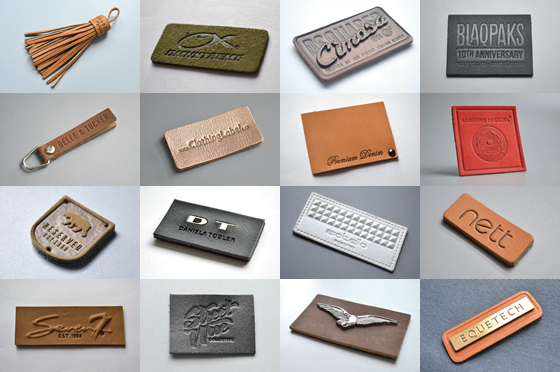 Types of leather labels
Genuine / Real
Genuine leather labels are often used on high-end brands. These labels have a special texture, and a natural leather surface also has a matte sheen. They usually 2mm thick. At the same time, it is more comfortable and breathable if used on skin-close clothing. Its price is the highest in terms of raw materials. Based on where the leather is cut, genuine leather tags may be variations intones.
PU / Faux
PU / Faux leather labels are made out of PVC Leather, and they have the same feeling as genuine leather. Each customized design is engraved onto the label by using laser technology. PU imitates the look of genuine leather, and the special leather grain can be imitated. Usually, it's 1.2mm thick. Considering that PU / Faux leather is made of synthetic material, each label will be the same tone. PU / Faux labels endow products the appearance of high quality thereby enhancing the value.
Suede
Suede leather labels are made of a layer of high-performance PU and microfiber cloth. Its structure is closest to genuine leather and has excellent performance. Under the same conditions, the suede leather is much lighter than the genuine leather. Compared with other leather labels, they may be more resistant to wear and aging.
Color chart of leather labels
117 kinds of Leather labels color sample chart
FAQS
1, What is the MOQ of the leather label?
–100pcs.
2, What is the bulk production time?
–7-15 days.
3, What is shipping time?
–3-6 days by express.
4, What material is available?
–genuine leather, PU leather, suede leather.
5, What logo style is available?
–logo can be engraved, raised, printed many colors, embroidered or hot stamping silver/gold, etc.
6, What profile needed when production?
–Please send artwork in CDR, ESP, AI or PDF format.
7, Is sampling available?
–Yes, the sampling fee is 50usd, the sampling time is 5-7 business days.
8, Can we get free samples?
–Yes, We can ship reference samples for your checking quality and style. Samples are free, you just need to pay the shipping cost.
Quotation
1, Reference sample from leather labels' photo gallery or from other places.
2, The quantity you want. Our MOQ is 100 pcs.
3, Your logo or your design if you have.
Contact us

 with E-mail or WhatsApp