Hang tag string is mainly used for hanging clothing tag, it is clothing and clothing tags (clothing trademarks, brand logo, care lable, price tag etc.) link between the Hang tag string as an integral part of garment accessories merchandise clothing trademarks, a good set of hang tag, hang tag string collocation can better reflect the design of garment accessories and clothing taste highlight the brand effect, which is mainly composed of a rope, fork, plastic seal, logo, hot color part.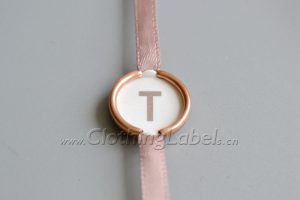 The application range of hang tag string.
Hang tag string is mostly used in clothing, and there are also some brands of watches, bags, shoes and hats, ornaments, umbrellas and other goods that need to be suspended hang tag string.
The hang tag string process consists of
Hang tag string early consisted by some simple cotton rope, hemp rope, nylon rope, braided rope, tie a ring, unable to reach the brand highlights and special effects, later with the aluminum shell with a printed sheet stamping, but the shape is simple, easy to hurt the clothing hook hook, now most adpot the injection molding, two side characters hang tag string, material is PS, ABS, nylon rope, polyester cord rope, cotton rope etc..