Hang tag string is to connect hang tag to clothes.
Hang tag string can be a common string without any seal, attach to the hang tag with a safety pin or tie a knot, the common materials for such hang tag string are waxed string, plastic string, leather string, polyester string or cotton string.etc.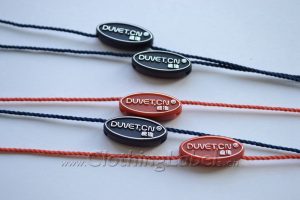 Hang tag string could also be custom-made, seal with the same logo as the hang tag, which show the brand identity. Usually the seal could be rectangle shape, round shape, cylindrical shape, square shape or other custom shape. Seal material could be plastic or aluminium. Logo usually printed, hot stamped or filled with epoxy to show the different effect. Also the price for different string, material and technology is difference. Try to find a suitable hang tag string will make your design more delicate!