PE bags are the transparent plastic bags made from polyethylene customized for packaging of clothing, bags, and shoes, including LDPE bags and HDPE bags. As a lightweight, durable thermoplastic, they are a great way to provide high-quality packaging at a low-cost due to its great tensile strength, clarity, and flexibility. It is one of the most widely produced plastics in the world. This material is also used often in museums and archival contexts because of its translucent color, which blocks out sunlight that could be damaging to very old materials. They are also moisture and static-resistant, two traits that also make them attractive to wholesalers.
We welcome your customer service of plastic PE packaging bags. All of our plastic bags are manufactured to meet rigorous ISO 9001:2000 quality standards and offer consistent thickness, clarity, seals, and durability.
Types
There are two kinds of PE bags we manufacture, one is LDPE bags, also called Low-Density Polyethylene, another is HDPE bags, also called High-Density Polyethylene.
LDPE bags
These bags are valuable products for protecting and preserving the packaging products from any kind of damage or spoilage due to moisture and humidity. This material has lower tensile strength than HDPE but more flexibility and resilience, LDPE serves to manufacture packaging foam, sometimes poly bags and ziplock bags.
HDPE bags
HDPE is a highly durable and resilient material, able to withstand high and low temperatures; it is an opaque material, it has minimal branching of its' polymer chains. Because it is denser, it is more rigid and less permeable then the LDPE, so does the HDPE bags. The HDPE ones have better tensile strength but is not as flexible as LDPE bags.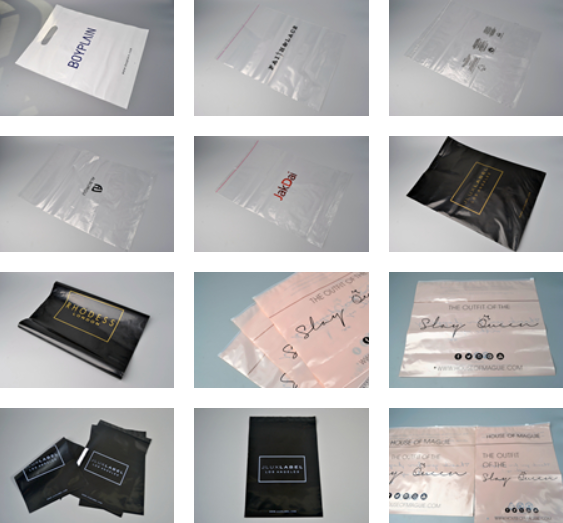 FAQ
Size/shape/thickness: available in many different sizes, shapes &thicknesses
Material: LDPE, HDPE
Workmanship: zipper bag, printing, self-adhesive tape.
Color: Up to 6 Colors
Packing: inner packing with PP bag, outer packing with export carton.
MOQ:1000 PCS
Quotation
Reference sample from photo gallery or other places.
The quantity you require. Our MOQ is 1000pcs.
Your logo or design if you have.