PE bags are the transparent plastic bags made from polyethylene customized for packaging of clothing, bags, and shoes, including LDPE bags and HDPE bags. These bags are often used as secondary packaging for protecting products like clothes, electronics, crafting items. We have bags from PE with various sizes, thicknesses, or styles.
As a lightweight, durable thermoplastic, it is a great way to provide high-quality packaging at a low -cost due to its unparalleled features. Given their cheap prices, those high-quality and economical PE bags act as a reasonable compromise. So it is the best combination that you don't have to spend much money to purchase them. It is a genuine asset for the storekeepers to save costs. The feature transparency makes the item you packaged more attractive. It is convenient for consumers to look at the details. They are both moisture and static-resistant, two qualities that make them practical as well. Thanks to the greater toughness and smoothness, the PE bags still play the same role as other plastic bags. Besides, LDPE and HDPE can be recycled.
We welcome your customer service of plastic PE bags. They are in a variety f quality, patterns, prints, colors, sizes, and different capacities. You can add the opening elements in accordance with your needs. Such as zip, easy-to-open, die-cut holes for hanging, or other special styles. All of our bags meet rigorous ISO 9001:2000 quality standards.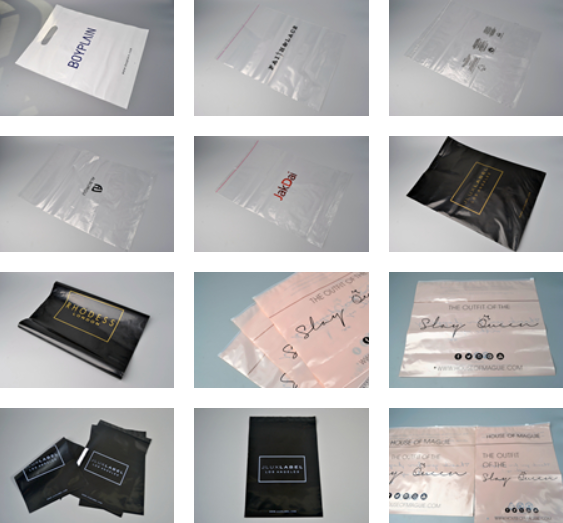 Types
They can be divided into two types, one is LDPE bags, also called Low-Density Polyethylene, another is HDPE bags, also called High-Density Polyethylene.
LDPE bags
These bags protect and preserve the packaging products from damage or spoilage due to moisture and humidity. The material has a lower tensile strength than HDPE. But it is more flexible and resilient. LDPE serves to manufacture packaging foam like poly bags and Ziploc bags. For most storekeepers, these bags are a great one-time use option for business.
HDPE bags
HDPE is a highly durable and resilient material, able to withstand high and low temperatures. It is an opaque material and has minimal branching of its polymer chains. Because it is denser, it is more rigid and less permeable than the LDPE, so does the bags. The main trait of the HDPE bag is its stiffness and duller color. Crumpling the bag produces a crackling sound. The HDPE ones have better tensile strength but are not as flexible as LDPE bags.
FAQ
Size/shape/thickness: available in many different sizes, shapes &thicknesses
Material: LDPE, HDPE
Workmanship: zipper bag, printing, self-adhesive tape.
Color: Up to 6 Colors
Packing: inner packing with PP bag, outer packing with export carton.
MOQ:1000 PCS
Quotation
Reference sample from photo gallery or other places.
The quantity you require. Our MOQ is 1000pcs.
Your logo or design if you have.