We supply custom electroplated gold metal labels, 18K and 14K real gold metal tags with engraved logos for clothing, hats, bags, furniture, leather items, etc. Electroplated gold metal labels are small metals with zinc alloy or stainless steel materials. We make it made by depositing a thin layer of gold onto the metal base surface by an electroplating process. And we use them for labeling, branding, or decorating garments, handbags, backpacks, hats, knitting crafts, handmade items, business products.
These labels can be customized in terms of size, shape, material, and logo design. The gold layer provides high-end and luxurious visuals. It has an appealing appearance that can enhance the overall look and value of your labeling products. They are durable and you can customize and engrave logos or other information. In addition, the electroplated gold metal labels are ideal for fashion clothing, jewelry, watches, electronics, automotive, and luxury items.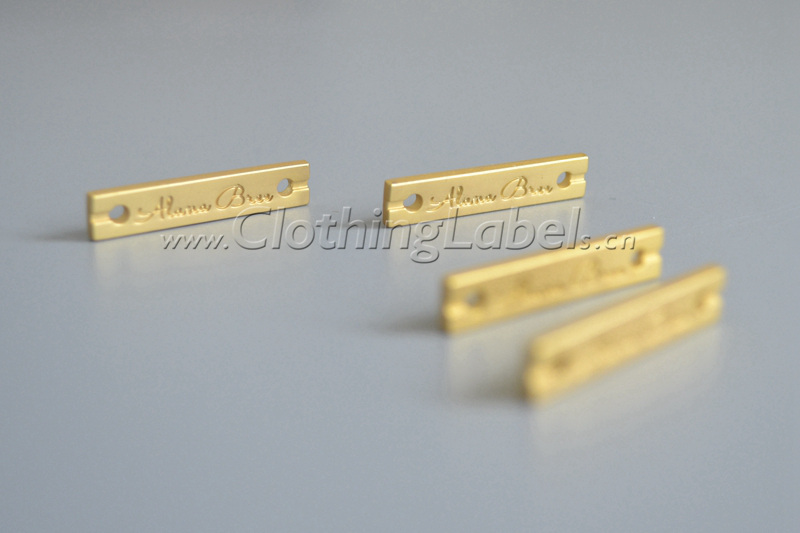 Electroplated gold metal labels
It means that we immerse the metal embryo(materials like zinc alloy, brass, stainless steel, copper, or aluminum) into an electrolyte solution containing gold ions. Then, we apply a direct current to attract gold ions to the surface of the base metal. As a result, a thin layer of gold will adhere to the metal and form an electroplating coating. At last, we can get the custom gold-plated metal labels.
In addition to gold, we can also electroplate silver, rose gold, and other colors. So, you can choose the color you want by electroplating.
When you customizing, you can choose any electroplated colors as follows:
18K/14k real gold metal labels
Here, in Clothinglabels.cn, the gold raw materials for electroplating use 18K gold and 14K gold. It means the surface of the label is real gold. Also, you can choose real silver and cover it on the surface to make custom metal tags.
We also supply custom electroplated real gold or real silver metal labels for clothing brands. The metal materials include zinc alloy, stainless steel, copper, brass, and aluminum.
You can electroplate gold color, silver color, 18K/14k real gold, or real silver on the metal label surface.
18K gold consists of 75% pure gold and 25% other metals. Such as stainless steel, zinc alloy, copper, or brass, etc. 18K gold metal labels are coated with a layer of 18-karat gold in the base metals.
14K real gold consists of 58.3% pure gold and 41.7% other metals. Such as zinc alloy or stainless steel.
It is popular and ideal for jewelry and other gold-plated items.
Real silver metal labels are made of pure/real silver or a silver alloy. And real silver is soft and malleable. Besides, it has a shiny appearance and high conductivity. So, it is suitable for many products as follows:
Clothing, textiles, or footwear;
Jewelry, bracelets, necklaces, rings, etc;
Handbags, wallets, belts;
Handicrafts, crafts, wine bottles, gifts;
Why choose and customize our gold metal labels?
Do you want to enhance your product brand image? Do you want to add luxury and value to your product? Then, electroplated gold metal labels will always be your best choice.
Luxurious appearance
The golden color adds a more luxurious shiny metallic look and shines to the label. And it makes our labels more visually appealing. So, it can add a more upscale, luxurious feel to your product.
Durable
The gold plating on the surface can protect the label from oxidation, corrosion, and abrasion. It can directly extend the service life of our labels.
Versatility
Customize electroplated gold metal tag labels with personalized logos can help your products stand out in the market competition. A unique, personalized metal tag is definitely a great decoration and beautification.
Long-term value
As a precious metal, real gold has a certain value of preservation and appreciation. Therefore, electroplated metal labels can enhance the market value & competitiveness of products
Brand samples of electroplated-gold metal labels and 18K/14K metal tags

Material: zinc alloy;
Color: shiny gold;
Size: 3.5cm diameter;
Thickness: 1.5cm;
Technique: an engraved logo with foldable legs and plates;

Material: zinc alloy;
Color: shiny nickel gold;
Size: 5×1.3cm excluding two holes;
Technique: Add holes to the left and right, and add a Rhinestone on the top;

Material: zinc alloy;
Color: shiny gold;
Size: 4.6×1.8cm, 1.5mm thickness, 3mm hole diameter;
Technique: an engraved logo with 4 holes and a round corner. It is non-toxic and nickel-free;

Material: stainless steel;
Color: Janpan Anti brass;
Size: 1X0.25inches;
Technique: engraved logo with a safety pin on back;

Material: zinc alloy;
Color: shiny gold;
Size: 0.5x2cm, thickness 1.5mm;
Technique: an engraved logo with 2 holes on both ends;

Material: zinc alloy;
Color: hanging light gold;
Size: 7.5×1.5cm;
Technique: raised/embossed logos with flat backing;
FAQs
1, What Is The Price To Customize 1000pcs of sewing metal tags with two holes on ends For My hats Brand?
-The price depends on your custom size, color, technics, and quantity. Prices are not fixed. It needs our business expert to calculate according to your specific needs. You can request a free quote via online service, email, or talk with our online customer service.
2, What Are The Sample Production Time And Mass Production Time?
-Sample production time is 10 to 15 days. Mass production time is 15-20 days.
3, What Is The Shipping Time?
-Shipping time is 3-6 business days by express.
4, What Profile Is Needed When Production?
–Pls, send us vector logo files, like PDF, AI, ESP, CDR, or original files from PSD. If you have no art file, we offer free design for you.
5, How To Customize, And What Is Your Order Process?
Send us your artwork(logo file) in CDR, ESP, AI, or PDF format;
We will discuss the size, color, material, quantity you need, and other requests;
Our product expert will give you the price and invoice, and you can pay by Paypal, Money Gram, Western Union, or Bank Transfer(T/T);
You confirm the design;
We arrange bulk production and Shipping;
After receiving the goods, please check the quality and quantity, and contact us if you have any questions. We will deal with it and solve it in time.
Photo gallery of gold metal labels

Free Design | Free storage service | One-to-One Support | One-Stop Purchasing
Create your own personalized gold metal labels & tags for brands!
Feeling inspired?
Our Product Experts will guide you through every step of the custom process.