Woven size labels are woven by weft and warp threads, using laser-cut or hot-cut ways to make a polyester or cotton neck label, which are ideal for clothing. The tags can fold with enough space for sewing into a seam. All the woven size labels are durable enough. And we can wash them again and again. Then, it will not wear out easily. This prevents sharp edges and thus prevents itchy skin.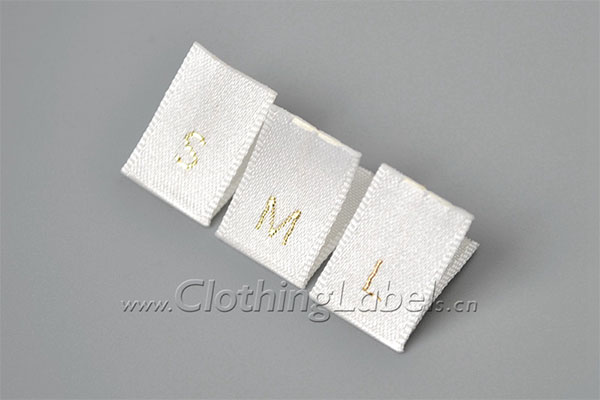 Polyester fabric made this label. And The warp and weft threads make the entire surface. It belongs to selvage woven labels. The logo is woven with gold weft threads. Gold text on white label.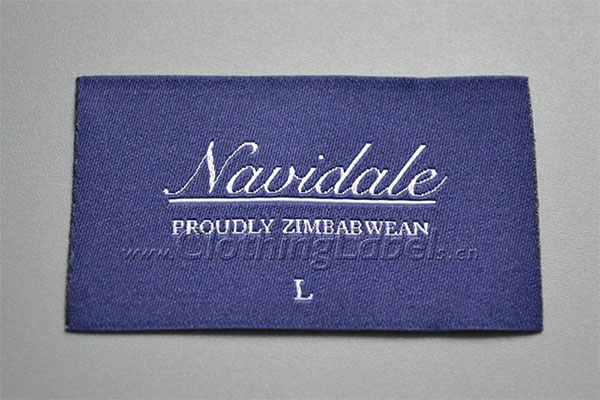 This label uses polyester fabric. The entire surface is consists of warp and weft threads. It belongs to damask woven labels. Its logo is woven with white weft threads. The upper and lower edges are laser-cut. The left and right edges are hot-cut. White text on the purple label.

It has two labels. That is the main label and size label. Besides, the warp and weft threads make the label. It is one kind of common damask woven label. White weft threads made its logo. Its cutting way is laser-cut and hot-cut. White text on black label.
We supply custom woven size labels according to customer needs. Yet, our woven label have good color fastness in laundry washing. Meanwhile, we can add your brand logo into various colors and sizes. So, you can provide us with your art files. Product text and pattern design are available at your request.
Features of woven size labels
Size/color: As customers' requests.
Technique: laser-cut, hot-cut.
Materials: polyester, cotton, satin.
Application: great for coats, dresses, jeans, swimwear, hats, kids & baby clothing, etc.
Folding way: central-fold, end-fold.
Advantage: durable, washable, high density, the edge is soft and never fades, not easy to wear.
MOQ: 100pcs.