As a maker and wholesaler, ClothingLabels.CN offer clothing hang tag design ideas and inspirations, personalized logo tags with string seal lock & safety pin. Here you can customize the best creative fashion hang tag & swing label. Besides, a well-designed brand hangtag for clothing is really good for product sales and brand images.
Whether it is a clothing hangtag or a hang tag of various products, the hangtag has played a great role. Meanwhile, the content of the tag can bring consumers a lot of commodity information. Although the hangtag is small, it always reflects the company's marketing methods. Also, It is a hub for decorating goods, increasing product sales, and retaining consumers. From our communication with customers or actual samples, we can find the common design below:
1. The main hangtag is relatively refreshing. Only branding, logos, slogans, etc.
2. The secondary hangtag is the place that really carries the content. Such as product name, model, size, implementation standard, category, price, QR code, etc.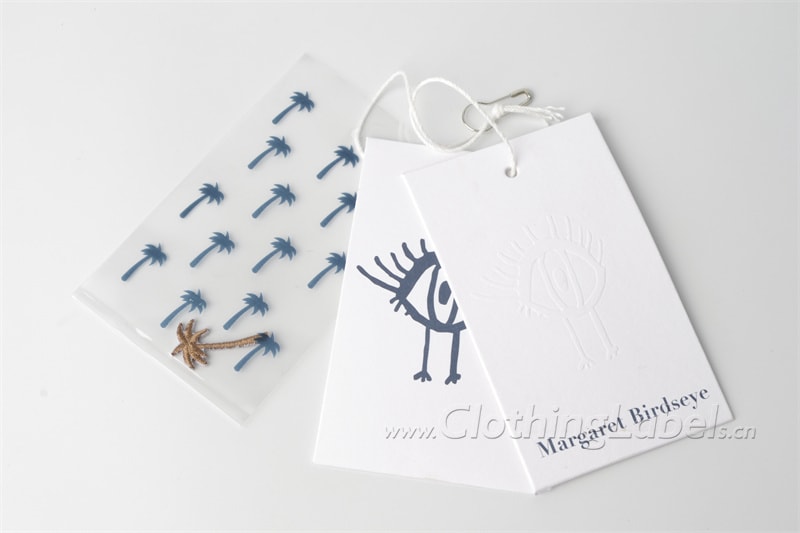 Details of the hang tag design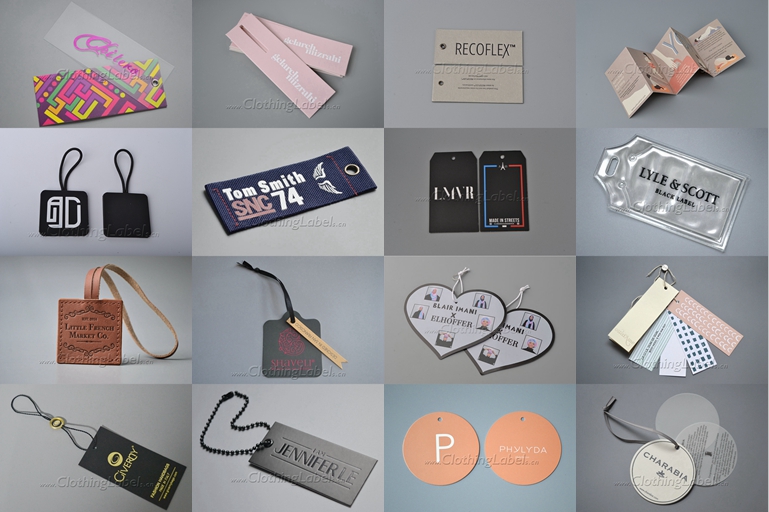 | | |
| --- | --- |
| Material: | paper, PU, leather, metal, plastic(PVC, rubber, silicone), fabric textile(silk, lace, ribbon, canvas), wood, etc; |
| Logo: | any embossed or debossed logo design can be customized; |
| Size: | Regular sizes are 4*9cm, 9*5.4cm, 4*4cm, 4*5cm, etc. You can also customize hang tags of various sizes. |
| Paper material: | art paper/coated paper, white card, black card, tracing paper, kraft paper, special paper, other; |
| Paper Thickness: | 250gsm, 300gsm, 400gsm, 500gsm, 700gsm, 800gsm, etc; |
| Shape: | right or rounded-angled, round or heart-shaped, elongated, folded, triangular, pocket-shaped, special-shaped tags, etc; |
| Surface treatment: | matte; coated or uncoated; high gloss; |
| Crafts: | offset printing, silk screen printing, UV, Gloss/Matte Varnishing, embossing, engraving, debossing, laser, hot stamping, etc. |
| Printed side: | single-side printing only; double-sided printing; full-color printing; |
| Hole drilling location: | top center, top left, top right; |
| Artwork vector graphic file: | PDF, AI, EPS, CDR format |
| Feature: | Eco-Friendly, durable, recyclable, etc; |
| Function: | size, price, barcode, washing instructions, brand image, certification information, after-sales maintenance card, anti-counterfeiting, etc; |
| Usage: | garments, bags, luggage, shoes, hats, gifts, toys, gloves, towel products, home textiles, flowers, DIY, etc. |
| MOQ: | 100pcs |
Why We Should Make Hang Tag Design?
We all know that hang tags are marketing tools and media for company products and brands. So how should merchants design hangtags to make them more prominent and more attractive to consumers?
The design, typesetting, printing, and production of clothing hang tags must be considered well. For example, we design washing instructions according to the features of each garment and product. The thoughtful design that conforms to the actual usage scenario can win the hearts of customers. For complex instructions, take into account the cultural level of the population. For example, pictures or cartoon symbols are more intuitive to express. And we can also print tags can also have a company barcode on them. Some tags are more like a "product instruction manual. Because the fabric of the product, washing method, how to maintain it, etc. are printed on it.


In addition, according to the seasons, or consumption objects, designers can design hangtags as annual calendars, bookmarks, and greeting cards. Or any other collectibles that consumers love, cherish and appreciate. This will make consumers a deeper impression of the brand products. Then, it will play a good role in the promotion. Tests show that consumers prefer well-designed, eye-catching, and playful hang tags. Invisibly, it will increase the sales of the product. In order to thank consumers for purchasing their own products, some manufacturers often print words of thanks and wishes on the hangtag. This gives a sense of intimacy.
What can be included in the clothing tag design?
1. Product name: the brand or name of the clothing;
2. Slogan: the slogan of the brand;
3. Size: the size of the clothes, product specifications;
4. Promotion: the promotion of the product; such as 10% off;
5. Logo: pictures, text, patterns;
6. Material and fabric: such as polyester fiber, etc., it will generally be written in more detail. Such as 65% polyester / 35% cotton;
7. Place of Origin, Telephone, Barcode: such as made in Los Angeles; made in China, etc;
8. Washing method: such as water washing or machine washing; dry flat, etc;
9. Ironing signs: how to iron, etc;
10. Product description: product features such as eco-friendly, recycled, etc.;
11. Sites and social media;
12. The words of blessing/thanks for customers;

How many types of paper hang tag designs?
Coated paper hang tags
The coated paper tag is slightly beige in color. Then, the paper surface is smooth with good gloss. Therefore, the printed images and pictures have a certain 3D effect. But the stiffness of it is not as good as that of white cardboard. In order to protect the logo on the surface, usually we cover the surface with matte film, bright film, or varnish. Some customers want it to be 100% recyclable. So, it is not recommended to cover the film, just apply varnish directly.

Black card paper hang tags
The texture and feel of the black card hangtag are somewhat similar to the white card. The black card itself is black, and the side view is also black. And it is strong and thick, and has good folding resistance. The surface is smooth with good stiffness. In addition, the color printed on the black card is silk screen. And it is not recommended to have too many colors. The most suitable processes on black cards are: hot stamping, hot silver and UV.

White card paper hang tags
Like the black card, the white card hangtag is strong and thick, and has good folding resistance. And its surface is smooth with good stiffness. But the surface is not as smooth as coated paper. Likewise, the surface of the white card can be coated or uncoated.

Kraft paper hang tags
Kraft paper hang tags have a high pull and high tear strength. So it is ideal for shopping bags, envelopes, etc. Generally it is suitable for printing single-color or two-color and designs with uncomplicated colors. We can have printing, UV, embossing, etc on it.

Tracing paper hang tags
Tracing paper hang tags feels like oily wax to the touch. It is translucent and its texture is smooth and flat. Then, it is waterproof. Therefore, it is suitable for various folding and hot stamping processing. When we use it to make a hangtag, it is usually a set with a paper hangtag.

Special paper hang tags
The color or texture on the special paper hang tag comes with the paper itself. Therefore, it cannot be achieved through the subsequent process. There are many types of specialty paper. Here you can click to get a type of specialty paper in the specialty paper texture catalog.

Other common material types of the hang tag design
Precautions for printing hangtag design
First, interval. The text (or picture) on the layout needs to be separated by 3mm from the cutting edge, so as not to be cut when cutting. Do not use overprint fill for black text.
Second, it is necessary to refer to the percentage of the CMYK color spectrum to decide the planning color. Also, note that there are some differences in the CMYK chromatograms produced by different manufacturers.
Third, when choosing custom hang tags for printing, different printing manufacturers will have differences in color. The chromatic aberration is normal within 10%. Therefore, it is best to use the same manufacturer when making hang tag designs and printing.
At last, the shading of the hang tag or the color of the base map should not be lower than 10%. Otherwise, it will not appear after the printing finish.
Frequently Asked Questions of Hang Tag Design
1. What processes will be used in the hang tag design?
–Engraving, embossing, printing, gold/silver hot stamping, UV, film, hang tag string locks, adding metal eyelets, adding texture, etc;
2. What is the thickness of coated paper, white card, and black card?
–Conventional thickness is generally 0.3-1mm;
3. What kind of material is the hang tag string/rope?
–Rope: polyester, flax, cotton, waxed cotton, ribbon, etc;
Cord lock: plastic, metal, glue, etc;
You can customize the rope lock in any color. And we often make the logo raised; the color of the rope is optional;
4, What profile is needed when production?
–Pls, send us vector logo files, like PDF, AI, ESP, CDR, or original files from PSD. If you have no art file, we offer free design for you.
5, What is the bulk production time and shipping time?
–Bulk goods are about 10 to 20 days. Shipping time is 3-6 business days by express.
Photo gallery of custom hang tags

Free Design | Free storage service | One-to-One Support | One-Stop Purchasing
Custom hang tags with personalized logos for fashion brands!
Hang tag design maker and wholesaler!
Feeling inspired?
Our Product Experts will guide you through every step of the custom process.