Metal labels are metal accessories for clothing fashion brands, including aluminum labels, metal logo tags, metal ID tags, stainless steel labels, etc. We supply custom metal labels and custom metal tags with logos. Those labels use raw materials such as copper, brass, aluminum, zinc alloy, and stainless steel. Processes involve stamping, printing, or laser cutting. Together with them, electroplating, plastic dripping, and other processes are of your choice. We die-cut, emboss, or engrave intricate logos or names with high precision. They are common in sewing on clothing fabric, leather, handbag, shoes, hats, purses, etc.
Metal labels are fast becoming the new hot spot accessory. They are not just for the end of chains or belts. The new trend of metal clothing labels is to sew them on garments. You also can attach woven labels under or next to metal clothing labels. They provide a premium finish to a luxury item or brand as well. Beyond that, the tag has exceptional resistance to weather, abrasion, and corrosion. Even in extreme temperatures, the labels won't be out of shape. Depending on your method of fixing, you can customize them with drilled holes or self-adhesive. Then you can sew the tags on or stick them to garments.
We supply various metal accessories additionally. At this time, our line includes D rings, metal buckles, metal snap hooks, metal plates, metal loops. Furthermore, metal eyelets, metal locks, metal cord end are available as well. They are suitable for clothing, leather goods, bags, shoes, etc. As a clothing metal labels & tags maker and supplier, we provide custom service about shapes, dimensions, and colors. That includes gold plating, silver plating, round, ova, etc. We will ship them at a comparatively competitive price that will save your cost.
Logo craftsmanship: engraving; embossing; hollow; the shape of the logo itself (letters/logo shape); ABS/fake diamond/pearl, laser printing, etc.
The minimum quantity: MOQ is 100pcs.
Application
The engraved metal labels through different production processes have different uses. It can be clothing labels, badges, medals, key chains, cap badges, hat clips, etc. Then, you can make cuff links, metal pendants or tags, and other accessories as well. Besides, we produce custom embossed metal clothing tags in various shapes and sizes. So, all of them have various surface treatments for customers to choose from.
How many colors you can customize for metal labels?
There are many colors of metal labels. So, you can refer to our electroplating color and the samples on the website. Of course, we can also customize according to the color provided by the customer.
For more plating colors, please refer to the below electroplating color.
Where our metal labels can ship to?
We wholesale bulk custom metal brand tags, custom stamped metal tags, metal sticker labels. And still, we can ship it to many countries. Such as the USA, UK, Canada, Australia, South Africa, etc. As skillful metal label manufacturers, we are responsible for our customers. And we try to achieve global reach. So, choose the metal product tags for your clothing line. Also, we supply custom bottle neck tags for wine bottles, gifts, and promotions.
8 fixing ways of metal labels on clothing, hats, bags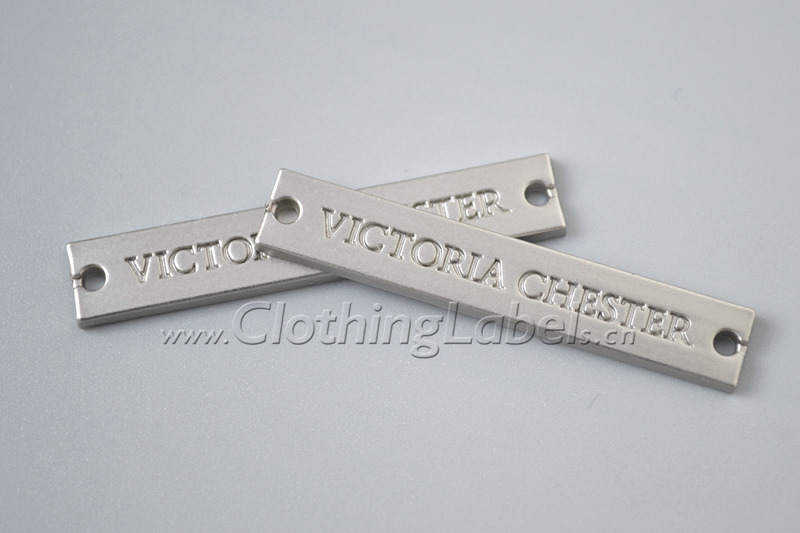 Straight feet with rivets


Straight feet with gasket

Butterfly buckle with sharp corners




1, What is the MOQ of the metal labels, and for what price?
–100 pcs. The price needs to be calculated according to the material, size, color, and quantity that you ordered.
2, What is the bulk production time?
–10-15 business days.
3, What is the shipping time?
–3-5 days by express.
4, What material is available?
–Zinc alloy, Zamak, Stainless steel, Brass, Aluminum, and Polymeric Materials.
5, What logo style is available?
–the logo can be engraved, iron-on, stamped, raised, cut-out, epoxied in many colors,
6, What profile is needed when production?
–Pls send us vector logo files, like PDF, AI, ESP, CDR, or original files from PSD.
7, Is sampling available? Is it possible to do samples first?
–Yes, sure, you just need to pay the sampling fee, then we can customize samples for you.
8, Can it be used in swimwear?
–Yes, it is water-proof, colorfast.
9, Can we get free samples?
–Yes, We can ship reference samples for your checking quality and style. Samples are free. So, you just need to pay the shipping cost.
10, What would you recommend for water resistance, no rusting but also pretty of a metal logo tag?
–We recommend you make it in zinc alloy, which is very durable, washable, and won't fade for years.
11, Which are waterproof and won't tarnish easily if possible if I customize metal labels for clothing?
–We recommend you make the zinc alloy material. It is of very good quality and is also very waterproof and won't tarnish easily.
12, What is the process of getting metal labels for clothing?
–First, we need to discuss basic information with each other. Such as size, color, material, quantity, technics, etc. Then our product expert will give you the price and invoice. Second, you can pay. After you pay, we will make the design for you. After you confirm the design, we can arrange the production. The production time is about 15 to 20 days. The whole process is like this.
13, Metal Tags: stainless steel or aluminum? what would you recommend? We don't want these too heavy.
–It does not need a heavyweight, and our product expert will recommend you to make a zinc alloy material (metal tag), which can be made 1mm thick. And this material is not easy to fade, and the price is very low than others.
14, kindly we are looking for metal accessories pieces, can you produce our request?
–No problem, we can produce metal accessories for you according to your requirements. Then, you can customize your size, color, logo, and so on.
15, How do the metal labels stand up to being laundered?
–The metal labels are OK for washing and rustproof.
16, What coating could be provided for metal tags, are there options? Will you be able to supply reports of testing the items to ensure it does not rust or oxidize onto the fabric as well as withstanding the weather conditions?
–There are many color coatings for metal tags, and we can ship you pictures of the color chart. We do not have reports, but we have served many clients for many years, and our metal tags are indeed not rusted and not oxidized.
17, Could you please tell us which kind of metal you normally use for metal labels? If we choose a gold color what will be the type of coloration? Galvanization or something else?
–Aluminum, steel, copper, and alloy can be made into metal labels. But zinc alloy is the most widely used. The gold color is electroplated, the color keeps a long time, is washable, and does not rust. Besides gold color, we also have silver, black, copper, anti brass, etc.
18, How do you ship the goods to Russia, Moscow - by train, air?
–If a small quantity of buttons and metal labels, is not heavy, we usually ship by expresses like DHL, FedEx, or UPS. If very heavy, we will ship by train or truck.
19, Metal custom clothing labels, Are these suitable for clothing? Is there a price difference between the different types of metal?
–Of course, metal labels are important decorations for clothing. Different metal price is different, but the most common material is zinc alloy.
Looking for custom metal labels maker?
Get in touch with us for a free quote!
You can send us your logo or your design if you have one. If not, we can provide free design for you.