Metal labels are metal accessories for clothing fashion brands, including aluminum labels, metal logo tags, metal ID tags, stainless steel labels, etc. We supply custom metal labels and custom metal tags with logos. Those labels use raw materials such as copper, brass, aluminum, zinc alloy, and stainless steel. Processes involve stamping, printing, or laser cutting. Together with them, electroplating, plastic dripping, and other processes are at your choice. We die-cut, emboss, or engrave intricate logos or names with high precision. They are common in sewing on clothing fabric, leather, handbag, shoes, hats, purses, etc.
The metal labels are fast becoming the new hot spot accessory. They are not just for the end of chains or belts. The new trend of metal clothing labels is to sew them on garments. You also can attach woven labels under or next to metal clothing labels. They provide a premium finish to a luxury item or brand as well. Beyond that, the tag has exceptional resistance to weather, abrasion, and corrosion. Even in extreme temperatures, the labels won't be out of shape. Depending on your method of fixing, you can customize them with drilled holes or self-adhesive. Then you can sew the tags on or stick them to garments.
We supply various metal accessories additionally. At this time, our line includes D rings, metal buckles, metal snap hooks, metal plates, metal loops. Furthermore, metal eyelets, metal locks, metal cord end are available as well. They are suitable for clothing, leather goods, bags, shoes, etc. As a clothing metal labels & tags maker and supplier, we provide custom service about shapes, dimensions, and colors. That includes gold plating, silver plating, round, ova, etc. We will ship them at a comparatively competitive price that will save your cost.
Application
The engraved metal labels through different producing processes have different uses. It can be clothing labels, badges, medals, key chains, cap badges, hat clips, etc. Then, you can make cuff links, metal pendants or tags, and other accessories as well. Besides, we produce custom embossed metal clothing tags in various shapes and sizes. So, all of them have various surface treatments for customers to choose from.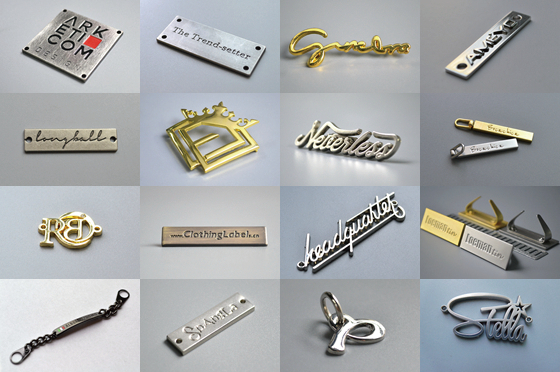 Where our metal labels can ship to?
We wholesale bulk custom metal brand tags, custom stamped metal tags, metal sticker labels. And still, we can ship it to many countries. Such as the USA, UK, Canada, Australia, South Africa, etc. As skillful metal label manufacturers, we are responsible for our customers. And we try to achieve global reach. So, choose the metal product tags for your clothing line.
FAQS
1, What is the MOQ of the metal label?
–100 pcs.
2, What is the bulk production time?
–10-15 business days.
3, What is the shipping time?
–3-6 days by express.
4, What material is available?
–Zinc alloy, Zamak, Stainless steel, Brass, Aluminum, Polymeric materials.
5, What logo style is available?
–the logo can be engraved, iron-on, stamped, raised, cut-out, epoxied in many colors,
6, What profile is needed when production?
–Please send artwork in CDR, ESP, AI, or PDF format.
7, Is sampling available?
–Yes, the sampling fee is about 70 USD to 140 USD, the sampling time is 7-15 business days.
8, Can it be used in swimwear?
–Yes, it is water-proof, colorfast.
9, Can we get free samples?
–Yes, We can ship reference samples for your checking quality and style. Samples are free. So, you just need to pay the shipping cost.
Quotation
1, Reference sample from customizable metal labels' photo gallery or other places.
2, The quantity: our MOQ is 100pcs.
3, You can send us your logo or your design if you have one. If not, we can provide free design for you.
Contact us by E-mail or WhatsApp