We supply custom clothes hangers printed with your logo for fashion brands, including wooden clothes hangers, ABS clothes hangers, and plastic hangers. Our hangers can be used to display your clothes, making them more neat and clean in the retail store. The hangers can also be used to fix shoes, socks, and pants, etc., which can further enrich your brand image and save your storage space.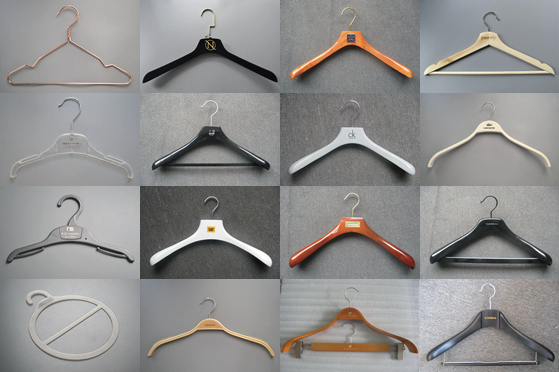 The knowledge about Clothes hangers
The hanger is invented by a man, named ALBERT PARKHOUSE. When he worked as the blacksmith of a lampshade in a Metal wire and small handicraft products company, located in Michigan, USA. One day, he found angrily all the hangers in the cloakroom were occupied, he took out a lead wire, bent into the shape of a coat shoulder with hooks on it. The invention was occupied by his boss and patented. This is the origin of clothes hangers.
Types of clothes hangers
Clothes hangers include plastic hangers, wooden hangers, etc.
Plastic clothes hangers
Plastic clothes hangers are easy to process and low in cost. But it is light and easy to carry. It can print rich colors as well. But it has some shortcomings. For example, it may deform or break when bearing heavy clothing. In addition, wear will affect its gloss and appearance. Secondly, production and recycling will pollute the environment. Moreover, some hangers can't support clothes effectively. So they will fall off if hung on them.
Wooden clothes hangers
Wooden clothes hangers give people the feeling of being close to nature. Its unique texture makes people have a different visual experience. The most important thing is that the material itself does not pollute the environment. However, they tend to crack or deform when exposed to water. And it's also susceptible to mold erosion.
Minimum order quantity
100PCS
Quotation:
Reference sample from clothes hangers' photo gallery or from other places.
The quantity: Stock hangers are no MOQ; custom wooden hangers are 500pcs; custom plastic hangers are 3000pcs;
Please send us your logo art files if you have them. If not, we can offer free design for you.