Custom leather zipper pulls are zipper puller tabs with brand logos by leather material, which are ideal for leather bags& goods, luggage, jeans, etc. And we make leather zipper pulls in various sizes, types, colors, and materials. They can be braided, fringed, looped, etc. Besides, it works with almost all zippers and can help you pull up any zipper quickly. The main process is screen printing, voltage, or hot pressing. Leather zipper pulls tabs' material can use genuine leather and imitation/artificial leather (PU & PVC leather).
In addition, we are metal, hard plastic, woven fabric, leather zipper pull replacement makers, and wholesalers. Many leather garments and bags brands will customize personalized zipper pullers to highlight the brand image. And we ensure they are 100% brand new and high quality. And you can DIY it as a handmade vintage gift for friends and relatives.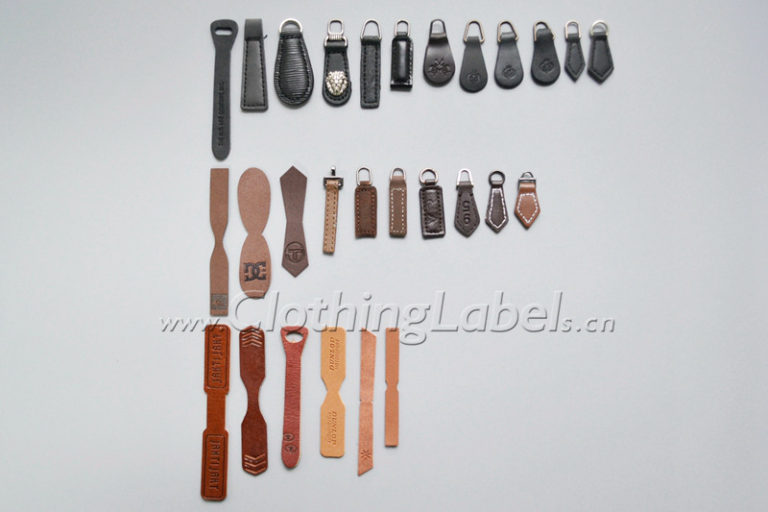 Custom leather zipper pulls
As a maker and wholesaler, we supply all kinds of custom leather zipper pulls. And we can add a brand logo, patterns, and letters to it. Size, color, and types are available. At the same time, it is easy to disassemble. You can always change to different colors and types according to your preference.
At the same time, we can match metal rings and sliders for your custom leather pull tabs. Their colors are optional. In addition, we can also add metal labels, embroidery, rhinestones, sewing threads, and other decorations to it. If you want to know more samples or types of zipper pulls, please refer to the photo gallery of zipper pullers photo gallery.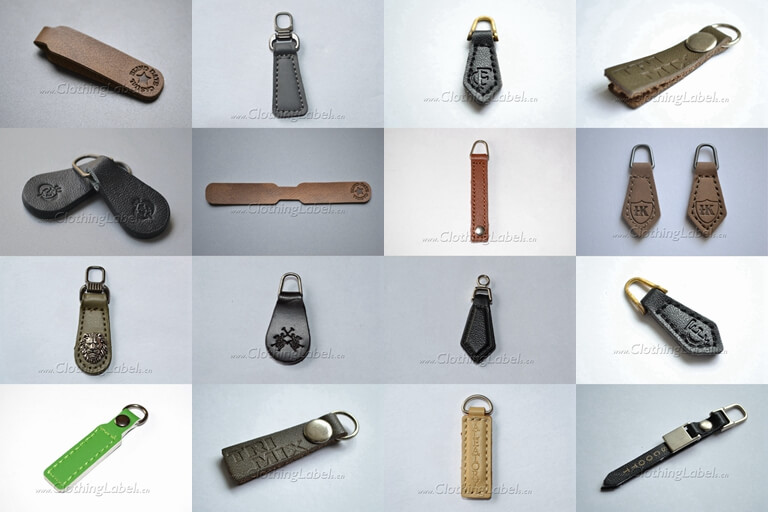 Product details
Process

: embossing, hot pressing, lasering, silk printing, digital printing, thermal transfer, hot stamping, hot silver, hot black, embroidery, UV printing, plastic injection, add hardware combination, etc;

Color

: black, white, yellow, green, blue, brown, Pantone/CMYK color, and any color is okay;

Size

: sizes are determined according to customer requests.

Style shapes

: round, square, oval, flower, heart, etc.

Materials

: genuine leather, imitation leather, cowhide, sheepskin, PU, PVC, customized;

Features

: soft texture, wear-resistant, breathable, strong plasticity, etc;

Application industry

: Clothing, leather goods, jeans, shoes, hats, bags, luggage, gifts, wallets, home textiles, decoration, etc;
Craft
Logo: 2D & 3Deffect, raised/embossed, debossed/engraved, or customized at customers' request. Hot pressing makes it concave and convex, and the 3D effect is obvious. The leather zipper pulls can have different logos at the same time. And there are up to 40 color crafts. So, it is a kind of product with strong practicality and excellent advertising promotion.

What are the common materials used in leather zipper pulls?
The first layer of leather(real leather)
It is processed from the raw skin of animals. But, its texture is soft and it has good durability. And it has the advantages of sufficient elasticity and strong plasticity. The downside is that the price is more expensive. And some animal protectionists do not like to use animal leather as an industrial product. The advantage is that it looks high-end. So, it helps to enhance the brand image.
Second layer leather
The second layer of leather calls genuine leather too. The reverse side is the second layer of cowhide. It is processed by coating a layer of PU resin on the surface. Its fastness and abrasion resistance are slightly inferior.
Microfiber leather
The appearance of microfiber leather is very similar to that of genuine leather. Besides, it feels softer than genuine leather. It belongs to a newly developed high-grade leather in synthetic leather. Then, it has features of wear resistance and cold resistance. Meanwhile, it has good breathability and is eco-friendly. Moreover, its anti-aging properties are stronger than that of genuine leather.
Imitation leather
The color of the imitation leather is pure and the leather is delicate. And we can also call it faux & artificial leather. It approximates natural leather. In addition, it is soft, wear-resistant, and foldable. The second is that the price of imitation leather is the cheapest. So, the cost-effectiveness of imitation leather to make leather pull tabs is very high.
Among them, PU imitation leather is also called edge-pressed leather. And PU leather zipper pulls are economical and low-cost. And the direct high temperature and hot pressing can achieve the desired effect of the brand logo.

Where is the leather zipper pulls mainly used?
Leather zipper pulls for jacket
We provide many types of leather zipper pulls for jackets. You can send us the logo file of the jacket brand. We design for you for free. In addition, we can also match your leather pull tabs according to the type, color, etc. of your product. Many jacket brands will customize unique leather zipper pulls to show their difference. This is the key to breakthrough and sales for your brand. Please tell us your thoughts. We will send you more samples for reference according to your needs.
Leather zipper pulls for wallets/purses
& bags
Please send your product pictures, such as wallet pictures. We will tailor a suitable leather pull for you. We have four options: genuine leather, microfiber leather, imitation leather (PU/PVC), and synthetic leather. If your wallet or bag brand is more high-end, it is recommended to choose genuine leather. If you like good quality and low price, you can choose faux or synthetic leather to make it, etc. Leather pull tabs for purses and fancy handbags are really great accessories to enhance your brand image.