Clear clothing labels, also known as TPU labels, are thin and soft printed labels with logos or brands printed on the type of rubber-like materials. These labels use TPU (Thermoplastic Polyurethane) material. Therefore, it is considered to be more eco-friendly than silicone and PVC. In addition, we use the latest technique to custom clear labels. Such as screen printing, matte, frosted, bronzing, etc. Above all, it can make your product a clear, transparent, or translucent look. So they are a new way to show off your logo, size, price, and wash care labels. In conclusion, they are suitable for swimwear, underwear, lingerie, legging, t-shirt, yoga wear, etc.
Clear clothing labels are a great alternative to satin clothing labels. We can sew them on the neck of the clothes or fabric. These thin labels are soft and smooth with a flexible texture. They provide softness and comfort when in contact with the skin. So, TPU clear labels are perfect for clothing that is worn close to the skin. Besides, they are also resistant to water, oily substances, grease, abrasion, and low and high temperatures. In short, TPU has become popular with a range of garment brands.
We design various custom TPU clear clothing labels. Any color, size, or type is available at your request. Similarly, we can print your logo or brand on labels. Please send us your design files if you have them. Besides, we can ship to the US, Canada, Europe, Asia, Africa, etc.
Details of clear clothing labels-TPU labels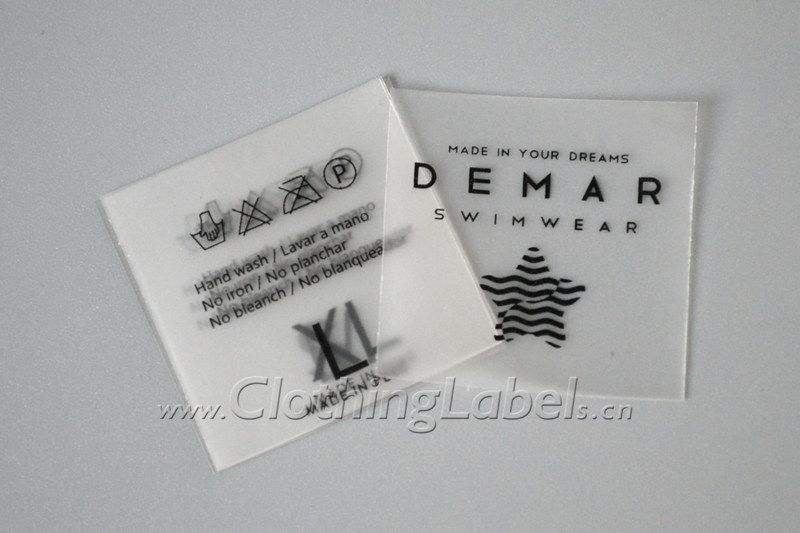 1, Material: TPU (thermoplastic polyurethane).
2, Technique: For example, matte, frosted, screen printing, bronzing, etc.
3, Color or Sizes: Customized.
4, Shapes: Customized, such as square, etc.
5, Artwork: PDF, AI, PSD, CDR, etc.
FAQs of clear clothing labels-TPU labels
1, What is the bulk production time and shipping time?

–7-10 business days. shipping time is 3-6 days by express.
2, What colors can be printed?
–Based on PMS color.
3, What profile is needed when production?
–Please send artwork in CDR, ESP, AI, or PDF format.
4, Is sampling available?
–Yes, the sampling fee is 50 USD. Besides, the sampling time is 5-7 business days.
5, Can we get free samples?
–Samples are free, you just need to pay the shipping cost.
6, Can you work with PNGs?
–Yes, we can use only your PNG image in HD.
7, How do I complete the purchase with the clear custom label?
–Let's discuss the clear label information first. Such as size, material, color, technics, and quantity. Then our product expert will give you a quote and an invoice, and you can pay.
8, Is TPU eco-friendly? could you send us free samples in clear matte color (hue) and nude hue?
–TPU is made of plastic + rubber material and is environmentally friendly. We can send you some samples of our reference existing for free, you only need to pay the shipping fee.
9, About the TPU care label, Is it resistant to washing and seawater? Is it suitable for use in swim shorts and swimsuits?
–Yes, it is resistant to washing and seawater. The material is TPU, which has good use in swim shorts and swimsuits.
10, What is the printing technique? Information about the printing machine? Are there harmful substances in the printed inks?
–The technique of printing is silk screen printing. The name of the machine is the Japan DaFeng silk printing machine. Please contact us with any other information about the printing machine that you need. Any inks are eco-friendly.
11, Are they coming as a roll, or are they already cut for Clear clothing labels/TPU printed labels?
–They are cut into pieces.
12, Do your TPU labels absorb dyes?
–No, our TPU label will not absorb color, And in washing, our TPU label will also not fade.
13, What is the order process for getting your custom TPU labels?
Send us your artwork in CDR, ESP, AI, or PDF format;
Tell us the size, color, material, quantity you need, and other requests;
Our product expert will give you the price and invoice, and you pay;
You confirm the design;
We arrange bulk production and Shipping;
Free Design | Free storage service | One-to-One Support | One-Stop Purchasing
personalized Clear clothing labels / TPU printed labels supplier and wholesaler!
Please send us your logo or your design if you have one. If not, we offer free design for you.
Our Product Experts will guide you through every step of the custom process.