Woven name labels are tags with the text woven into the background material, and they offer a durable, long-lasting solution for clothing identification. It comes into two types: iron-on name labels and sew-in name labels. Materials range from polyester, damask, satin, taffeta, etc. These name tapes are easy to sew into any garment. You can weave names, brand names, or company names on them.
Though a small piece of fabric, the woven name label serves as a traditional and secure method for labeling clothing. Most of the tags are attached to the collar, so the labels must be suitable for constant contact with the skin. These labels retain their shape even after many times of washings. Besides, they are colorfast and non-fraying. In addition, they can be hand sewed in or machine-sewn. These traits make them ideal for naming school uniforms, sports kits, and other clothing garments. We recommend our stick-on name labels for naming non-clothing items.
All our woven name labels feature soft woven fabric for comfortable wear. We provide custom and bespoke woven name labels. You are free to choose any style and size. We help you create labels from draft to reality. Your custom-made unique labels really help you stand out from the brand development.
Images of woven name labels for your reference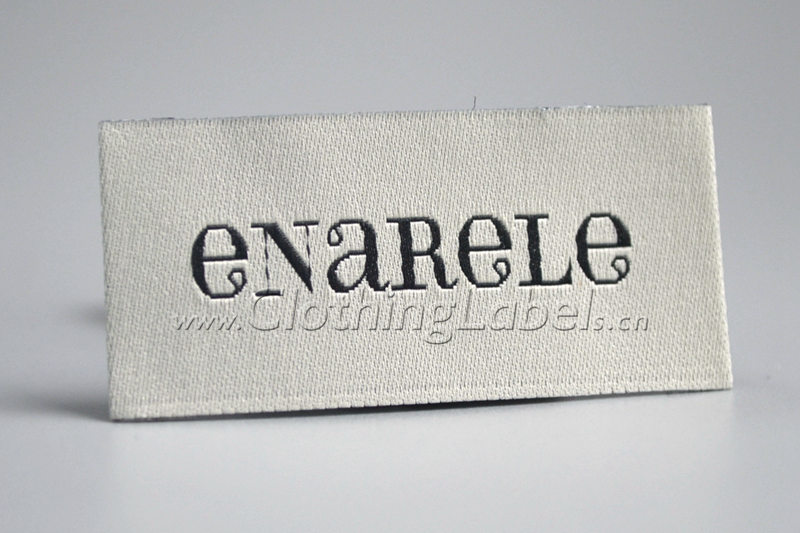 Sew-on name labels VS iron-on name labels
You can use two ways to put the woven name labels in clothing. One is sewing them in clothes. Another is ironing them on garments. It comes out with the same professional finished look as the sew-on labels. However, you use less time. If you dislike ironing this label permanently, just sew it on! Besides, we can print them in the form of "name", "name + brand name", "name + descriptive word".
These labels are ideal for:
Identifying people's name;
Promoting or advertising your brand;
Personal DIY handmade gifts, such as " Nancy with love", "Anna's wish", etc.
Good usage of the woven name labels
Using for school uniforms;
Childs' toys and clothes;
Personalized gift cards with notes;
For the school party, and birthday snacks;
Hospital equipment or patient clothes;