Size labels are clothing neck labels that printed or woven on fabrics, including printed size labels and woven size labels, which use laser-cut or hot-cut way. Its material includes polyester and cotton. And we make them by weft and warp threads. Thus, they are ideal for clothing. The size labels are center-folded or end-folded. But it aims to save enough space for sewing. Besides, they are durable enough and can withstand washing. Then it's not easy to wear out.
Like woven labels, size labels have a big advantage. That is, customers can choose different sizes according to their height and weight. Such a label sewn on the clothes will make the customer comfortable to wear. In addition, size labels are suitable for jeans, coats, sweaters, hats, and others. Further, they help improve the customer's shopping experience. Thus, it is beneficial to enhance brand image and fame. Welcome to order our label tags to convey your product information.
We supply custom size labels as per customers' requests. Also, we can print or woven your logo and product text into different colors. But, these labels have long-lasting colors. The warp threads or printing machines can make the colors. Therefore, you can send us your design art files. Like the brand logo and your requirements. The edge of the labels will be soft and not fade.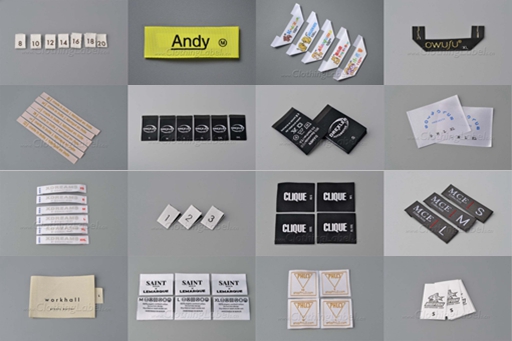 Features of Custom size labels for clothing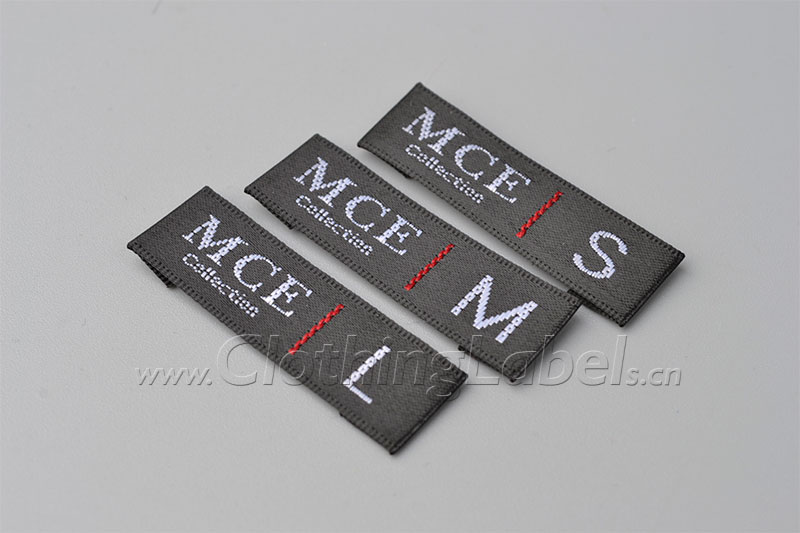 Size/Color: As per customers' requests;
Technique: laser-cut, hot-cut;
Materials: polyester, cotton, satin, nylon, taffeta, etc;
Application: ideal for sweaters, coats, dresses, jeans, shirts, hats, kids & baby clothing, etc;
Fold labels way: central fold, end fold, loop fold, mitre fold, manhattan fold, etc;
Advantages: soft feeling, durable, washable, wearable, etc.
The size labels are ideal for all kinds of clothing. Such as T-shirts, sweaters, coats, dresses, etc. But many bags or shoes will use size labels too.
Because it is easy for customers to know the size. So, it will be a clear sign for them to recognize which one suits them.
For many people, size labels will be an ideal choice to help identify size information.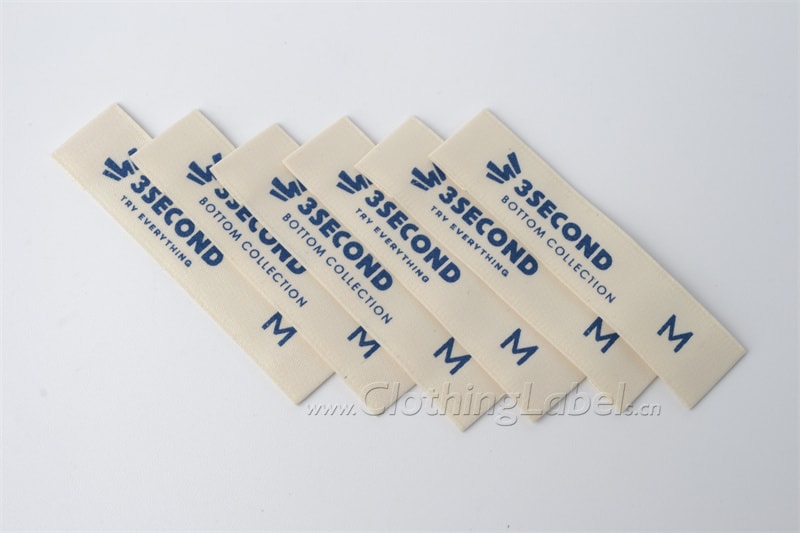 Ordering process to customize size clothing labels
Step 1. Have a live chat with us or Email us with all details. Such as artwork, materials, size, colors, technics, destination, and payment terms. If you have no ideas, please attach our similar product pictures;

Step 2. Once received your details, we'll reply to you in a short time. And quote you the price, the freight charge, and the transfer charge;

Step 3. After you confirmed the price, we will issue the invoice;

Step 4. Make designs if you don't have any after receiving the order payment;

Step 5. If you prefer to make samples first. We will proceed with the samples after receiving your sample charge. If not, please skip step 6;

Step 6. After receiving your design or sample approval. We will start producing the bulk;

Step 7. Bulk production and inspection and handover of the goods;

Step 8. After-sales service;
FAQs
1, What is the price to customize size labels with my brand logo?
–The button price depends on your custom size, color, technics, and quantity. So, you can send us your design art file, we make a free design for you.
2, What is the bulk production time and shipping time?
–Bulk goods are about 10 to 20 days. Shipping time is 3-6 business days by express.
3, What profile is needed when production?
–Pls, send us vector logo files, like PDF, AI, ESP, CDR, or original files from PSD. If you have no art file, we offer free design for you.
4, Can we get free samples?
–Yes, you can. Our samples are free, you just need to pay the shipping cost.
5, What is the order process for getting your custom siz elabels?
Send us your artwork in CDR, ESP, AI, or PDF format;
Tell us the size, color, material, quantity you need, and other requests;
Our product expert will give you the price and invoice, and you pay;
You confirm the design;
We arrange bulk production and Shipping;
custom Clothing size labels photo gallery
Free Design | Free storage service | One-to-One Support | One-Stop Purchasing
Create your own personalized Size labels and tags for clothing
Our Product Experts will guide you through every step of the custom process.