ClothingLabels.cn supply custom clothing labels & tags and garment trims for fashion brands, including woven, metal, leather labels, buttons, hangers, etc. From 2008, we began to design and produce labels for fashion brands and factories. Such as fabric labels, care, wash & size labels, rubber PVC silicone labels, hang tag and string seals, etc. Among them, woven labels and hang tags are our core products. Clothing labels can be ironed or sewn on clothes or use Velcro.
With the growth of the business, we began to involve in other clothing fields. Such as buttons, hangers, packaging solutions, and garment trims. Further, all colors, sizes, and styles can be custom-made. Our products cover all kinds of garment accessories. Hence, you can choose from our inventory for the style you need. Besides, we pay attention to the current hotshot. But with the outbreak of COVID-19, we design face mask packaging boxes and plastic bags to protect the masks.
As a clothing labels maker & supplier, we have strict inspection standards during production. Because we are responsible for our customers. In addition, you can customize kids' labels with green material. After over 13 years of hard work, we have become China's top clothing brand. We have offered custom products and services for 10,000+ brands. All of them can print with your company names and logos. And our clients are all over the world. Such as the UK, the United States, Canada, and Australia, etc. Thus, our product is well-received by brands all over the world. Our tenet is perfect your fashion brand.
Featured Products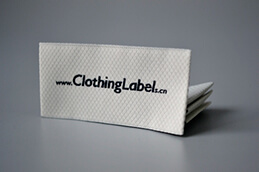 We wholesale custom woven labels with polyester threads and logos for clothing. And they are good for skin and durable. Besides, there are Pantone color numbers and 3 main types for you. Such as damask woven labels, selvage woven labels, crochet woven labels, etc.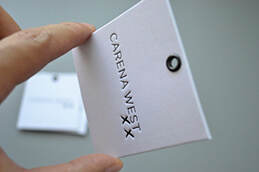 Custom hang tags with logo design are an ideal way to promote your product and brand image. You can add a hang tag string and safety pin on it. And their materials include craft, paper, PVC, fabric, lace, leather, metal, etc.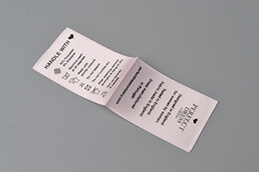 Garment care labels are attached to clothing or textiles. And there are washing symbols to give instructions. Like drying or washing methods, ironing temperature, etc. They are easy to dry and not easy to fade. It's a kind of vital label for clothing brands.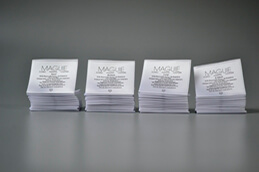 We supply custom printed fabric labels with logos for clothing brands. Materials include satin, ribbons, cotton tapes, nylon tapes, etc. And any size, color, or type is okay. Moreover, they are soft and good for health. Besides, you can print wash instructions or QR codes on it. It is one of the most common clothing labels.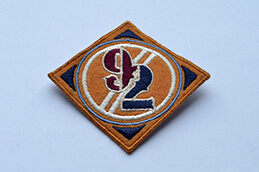 We supply bulk embroidered patches with logos for clothing. You can sew or iron on it or use Velcro to the apparel. It can make your items more trendy and eye-catching. But they are not easily worn or curl. Thus, they are popular in child's clothing, toys, bedding, decorations, arts and crafts, etc.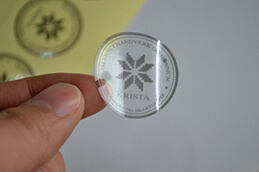 Adhesive labels can be affixed to fabric by paper or PET sticky labels. In addition, they are stickers printed with size or logo, etc. Meanwhile, it is cheap and can save costs. Then, it is removable and can replace sew-in fabric labels. So, it becomes convenient for customers.
How to choose clothing labels?
There are so many kinds of clothing labels. But how do I choose them from the main labels?
If you need to customize the main label for garments, we suggest woven labels and printed fabric labels.
If you require the main & size label, and care & wash labels for child clothing, you can choose printed fabric labels.
If you need to customize the main label for your swimsuit brand, it is now popular to choose the TPU label.
If you need decorative labels for clothing, it is perfect to use metal labels or embroidered labels.
PVC labels, rubber labels, and silicone labels are ideal for children's clothing. Because it is soft and safer.
The decoration of jeans and bags suits well for leather labels.
Hat decoration can choose embroidery patches, woven patches, or metal labels.
T-shirts can choose heat transfer labels.
The Order Process of Custom Clothing Labels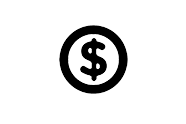 Contact and send us your logo or design draft. If not, we offer free design. Then, tell us your quantity, size, color, etc. You can show us the reference pictures or samples. We will quote you the price based on the details.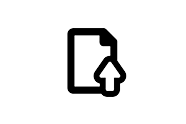 We negotiate the sample details and quote price at your request. After confirming the price and you pay according to PI, we will make samples as needed. Sampling time is from 7 to 10 days due to different products.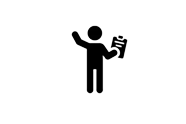 With the approval of the pre-production sample, (or proceed with the bulk directly,) we will strictly follow the sample quality standards for bulk production and perform the final quality check.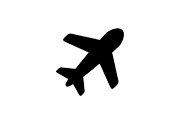 Deliver the parcel according to the shipping mode discussed earlier. We pack the goods according to your needs to avoid damage during transportation.
TIPS for all items
Cutting would have tolerance, 2-20 mm difference. But, it depends on different products.
Colors are made according to Pantone number, but it still would have color difference.
Design needs vector file, at least logo file. However, if just letters, would need font. If don't have them, our designer would make design with similar font and drawing.
Lines for letters or logo could not be too small. Besides, you can print it on A4 paper with the right size for double-checking. If we can't see it clearly, then we will not make it.
We would make design for double-checking before production. Then proceed order with approval. Hence, if client reject the products finally due to the mistake on design. We will not take responsible for that. So, please do check design carefully.
If making samples, there would have sample charge. Then, cost depends on different items. And sample charge would not return.
Any quality or quantity problem, please feed back to us within 7-10 working days. Otherwise, we take it as acceptance by default.
Serving 10,000+ clothing labels brands worldwide


1 to 1 Support
A skilled business team provides 1 to 1 Support by E-mail, WhatsApp, Facebook.


High-quality Product
Our products adhere to the criteria set out in accordance with the STANDARD 100 by OEKO-TEX®.


Free Design Service
Free design for typesetting and 3D effect design draft when you offered logo.


Reliable Partner
Reliable clothing labels supplier and partner. We have 10+ years of efficient experience.


Contact us
Our expert team is always on hand to help answer your questions. You can call at our business hours: 9:00 AM-18:00 PM(UTC/GMT+08:00), or email us at any time!