As a clothing accessory, custom elastic band is widely used for clothing cuffs and waistbands, including printed elastic bands and jacquard elastic bands. It is also called custom elastic tape or rubber band. We supply custom elastic bands for fashion brands and factories. Its material involves polyester, yarn, spandex, cotton, nylon, latex-free, and more. The sewing band has different weaving methods. It includes woven, braided, knitted, and embroidered. And it can be clear, black, white, or colored in terms of color. As to size, it can be wide, narrow, thin, or thick. The minimal quantity is 500 yards.
The custom elastic band is suitable for underwear, lingerie, swimsuits, pants, legging waistbands, sports bras, dresses. Besides, it can use for shorts, sweaters, bikinis, masks, hats, etc. The band is comfortable and soft to be worn directly against skins, as well as flexible. When used for underwear, scallop edge or picot edge applied on the elastic band shows more sweetness and elegance. The thin custom elastic band is great for bracelets-making, wig or hairband replacement, face masks, and more. Besides, custom resistance bands and exercise bands are available too. All the custom bands that put logo can use for the tag line and daily necessities.
As a custom elastic bands supplier, we design and make custom products for clients. Any of your logo, text, or graphic can be printed on your products. Besides, we can add other additives to enhance its flexibility. Different tension from waistbands, cuff bands to pull up elastic bands is at your choice. If you are looking to promote your brands, or just finish your artwork, look no further than our bands.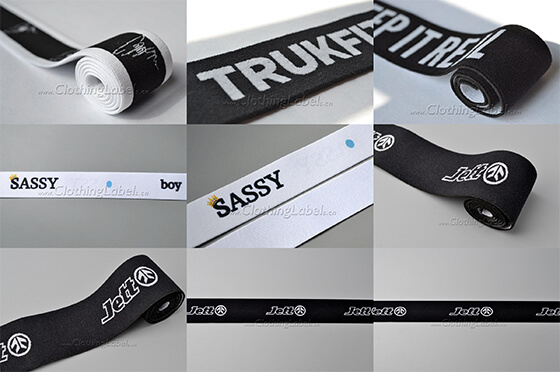 Watch the video of the custom elastic band
Types of custom elastic band
jacquard elastic band
The custom jacquard elastic band fabric is softer, smoother in touch, breathable, and sagging. And it is not easy to fade. The jacquard pattern is novel, and the three-dimensional sense is strong. There are many types and its logo is clear. It is suitable for clothing products and is related to people's lives. Meanwhile, it is ideal for clothing cuffs, skirts, waistbands, shoe openings, and some sports goods like elastic wristbands.
The custom jacquard elastic band uses the machine to weave various patterns on the elastic band. It can make the elastic band beautiful. Further, it can weave its own company name and logo. So, it plays a promotional role.
Printed elastic band
The custom printed elastic band refers to printing different patterns and logos on the band. And with different base belts, it will produce different results. Including thermal transfer flowers and silk printing. We print a beautiful pattern or company brand logo through the process on the thermal transfer band. The thermal transfer is rich in color, and the printed pattern is beautiful. So it is not easy to fall off.
The printed elastic band is suitable for all kinds of clothing accessories, edging belts, and lace. Thus, it is ideal for stretch fabric, clothing cuffs, velcro, underwear shoulder straps, etc. Meanwhile, underwear slings, lace silicone coating, and glue in the waistband use it, too. Besides, we provide custom printed ribbon, garment tape, etc.
We supply custom rubber bands, silicone bands, and rubber bracelets. They are in any size, type, or color. All of them can print brand logos, site addresses, or business texts. They are versatile. We can not only use them on hands but on garment accessories.
Details of custom elastic band
Material: cotton, polyester, nylon, yarn, spandex, customized fabric, chemical fiber, TPU, rubber wire, etc.
Technics: heat cut, laser cut, ultrasonic cut, printed, woven, embroidered.
Packing: as customers' request;
Feature: eco-friendly, elastic, high tenacity
Colors and sizes: customized; as customers' request
Application: garments, lace, underwear, lingerie, swimsuits, pants, legging waistbands, sports bras, dresses, shorts, sweaters, bikinis, masks, hats, etc.
Quotation:
Reference sample from the custom elastic band's photo gallery or other places.
The minimal quantity (MOQ): 500 yards.
Your logo or design if you have.
Time frame: The exact time depends on logo complexity, destination, and other factors. Contact our representatives if you need.
Contact us by E-mail or Whats App