PVC bags are made from polyvinyl chloride that gives the packaging its shape and strength, we supply custom PVC bags used for clothes, gifts, craft, etc. PVC is the second largest commodity plastic after polyethylene, and unplasticized PVC is hard and brittle at room temperature. Its flexibility depends on whether or not phthalates are added during production.
Because it's water-resistance and durability, PVC is used in a lot of different products. Many high-end product manufacturers generally use PVC bags for packaging to improve product quality, but their prices are more expensive than OPP bags and PE bags. When sealed, it can keep items safely and packaged and safe from scratches, and dust. At the same time, it also has a beautification function.
We supply custom PVC bags printed with logos, images, or brand names according to your various requirements. It is really a good way to improve product design and promote a brand image to make your product unique. Bags can be made in any sizes & shapes and their closure type can differ according to your needs.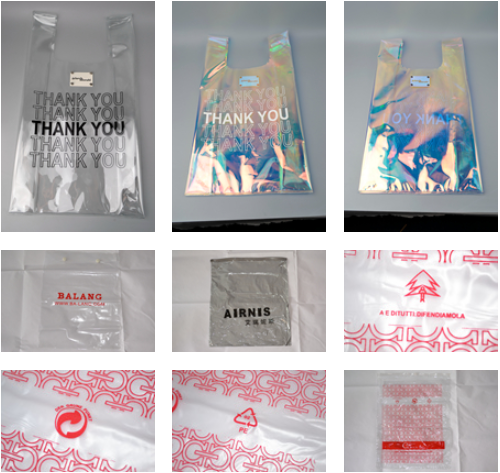 Characteristics of PVC bags:
1. Rich in color.
The PVC bag has a unique gloss, and the naked eye looks like it has its own flash effect. Although this bag is cheap, the finished product looks very fashionable and is very popular among people. And the material of the bag will be lighter, which is one of the main reasons why it is popular among women. It is very comfortable without pressure.
2. Durable.
PVC bag is resistant to weathering, chemical rotting, corrosion, shock, and abrasion. Therefore, It is a great choice for many different clothing brands.
3. Cost-effective.
PVC bag is favored as its material is very competitive in terms of price, this value is also enhanced by the properties such as its durability, lifespan and low maintenance.
Quotation
1.Reference sample from our photo gallery or other places.
2. The quantity you require. Our MOQ is 1000pcs.
3.Your logo or design if you have.