Woven patches are regularly woven badges that require high details with thinner threads, and we wholesale custom woven patches for clothing, hats, and bags. And also, achieve finer detail is in the design and text of the patch. So, they are great for those who look for detailed and high-resolution patches.
Woven patches are the commonest types of patches. But, there are some features that you can not neglect. Firstly, due to the patch is woven, they have a smooth surface with no raised texture. Secondly, since using thinner threads that are woven together instead of embroidered onto fabric. The woven ones show every detail of the design and patterns. In addition, the woven one will have 100% thread coverage without a cloth background showing. Thus, it gives them an extremely luxurious look. Also, it is these merits that make them ideal on hats, backpacks, jackets, and other delicate items.
Our custom woven patches are consist of various shapes. And, they include round, square, rectangular, and any shape you need with your ideas. Of course, custom backing options like heat seal, iron-on, and Velcro are available. Besides, we recommend simple laser cutting rather than embroidering the edges for patches with complex edges.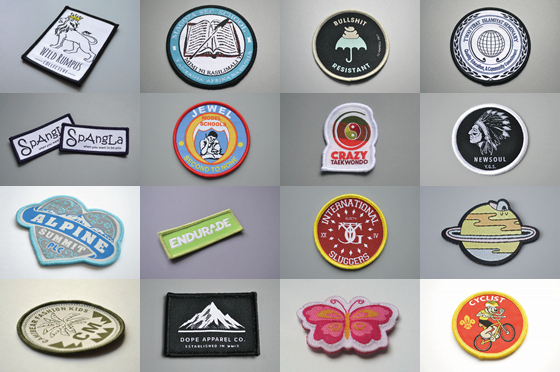 Advantages of woven patches compared with embroidered
Compared with embroidered patches, woven patches can be used in almost every way embroidered patches. Moreover, below are the advantages of custom woven patches. For more information please check the difference between woven and embroidered patches.
Lower price
Similarly, no matter how complicated the designs are, you will definitely get the same wove patch. Because we have a professional woven patch machine. So you can always have cheaper patches than other types of patches.
High definition
Accordingly, the concept or design of the patch is complicated. Thus, you can choose woven patches rather than other patches. Because they are able to preserve as much as possible your details of the design.
Smooth surface
Woven patches are totally fluid to touch. However, embroidered patches have uneven surfaces. So they are different two types of patches in clothing labels.
FAQs of custom woven patches:
1. What is the MOQ of the woven patch?
– 100pcs.

2. What is the bulk production time?
– 7-12 business days.

3. What is the shipping time?
– 3-6 days by express.

4. What is the material?
– Polyester

5. How many colors can be woven?
– Max 7 colors

6. What profile needed when production?
– Please send your artwork in CDR, ESP, AI, or PDF format.

7. Is sampling available?
– Yes, the sampling fee is 50usd, then, the sampling time is 5-7business days.

8. How do woven patches attach to fabric?
– Sew on, iron on, hook and loop.

9. Can we get free samples?
– Yes, we can ship reference samples for your checking quality and style. But, samples are free, hence, you just need to pay the shipping cost.

10. How to handle woven patches edge?
– Overlock or embroidered edge

Quotation:
1. Reference sample from our custom woven patches' photo gallery or from other places.
2. The minimum quantity: our MOQ is 100pcs.
3. Send your logo or your design to us if you have. Meanwhile, we offer free design of your art files.
4. If you need glue or velcro on the backside of woven patches, please let us know.
Contact us by E-mail or WhatsApp