We supply custom printed ribbon with logos for clothing, which is ideal for garments, gift wrapping, packaging, decorating, weddings, DIY, hair braiding, etc. The main types of ribbons are elastic ribbon, grosgrain ribbon, velvet ribbon, cotton ribbon, and cotton twill tape. Our products come with many colors, sizes, and types for you to choose from, and you can also print your logo.
The custom printed ribbon can make the most dazzling and attractive ribbon decorations, such as bows for your gift baskets, gifts, packaging boxes, and promotional activities. We use advanced printing machines and technologies to print your product logos, images, and texts to bring out your brand's professionalism and obvious appearance. Our custom printed ribbon for clothing mainly includes 5 types. They are the custom grosgrain ribbon, the custom velvet ribbon, the custom cotton ribbon, the custom cotton twill tape, and the custom elastic ribbon. And all of them can be ideal for holiday gift packaging, family and friends gatherings, and company event exhibitions.
Promoting and publicizing your company by customizing a logo will surely achieve incredible results. Custom printed ribbons are great promotional items that can make your logos visible everywhere and enhance brand awareness in a subtle way. They add special decoration and promotional effects to your brand packaging or product descriptions. You can also use customized personalized logo ribbons to promote brands and company products on different platforms.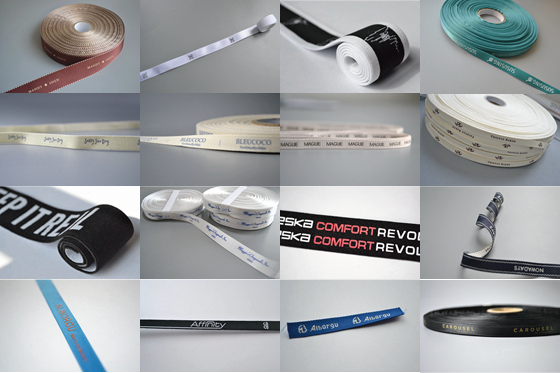 Details of the custom printed ribbon:
Colors and sizes: customized; as customers' request;
Material: cotton, polyester, satin, velvet, nylon, grosgrain
etc;
Technics: Heat cut, laser cut, ultrasonic cut;
Packing: as customers' request;
Quotation of the custom printed ribbon:
Reference sample from custom printed ribbon's photo gallery or other places.
MOQ: 100 yards for custom grosgrain ribbon, custom velvet ribbon, custom cotton ribbon, and custom cotton twill tape. But the MOQ of custom/ printed elastic tape, woven garment tape, and jacquard elastic tape are 500 yards.
You can design your logo or get our help.
Contact us by Email or WhatsApp