Custom coat hangers are mainly used to display coats and enrich the brand image, and we provide custom coat hangers printed with logos for retail stores. Logos can be printed and lasered directly on wooden hangers, or they can be made into metal or leather and fixed on the hangers.
Using custom coat hangers not only makes your clothes cleaner and more stylish but also saves storage space. Consistent custom hangers with logos in the clothing retail store help enhance the image of offline retailers. Especially, custom designer coat hangers add value to your fashion brands.
Many customers are willing to order custom coat hangers with their logo to promote their brand appeal. Most clothes hangers are common in daily life. The use of them can make your clothing brand more delicate and save the space of your store. Meanwhile, they are suitable for the wardrobe, making your wardrobe has more storage space. And the hooks have anti-skid and anti-fall features so that the clothes keep in place. More importantly, custom coat hangers match coats' shapes and won't bend under pressure.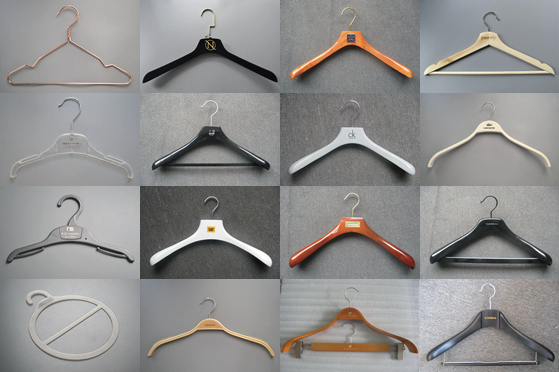 The custom coat hangers can also be used as a common drying tool in people's daily life. Because it can spread the clothes well and allow the clothes to receive a larger area of sunlight, so it is often used by people, but the coat hanger may also be damaged during usage. Therefore, broken hangers can also be used to make practical items in life. For example, it can be used to dry small items such as socks, and can also be made as a toilet paper drawer. So many customers are willing to buy lots of customized coat hangers to use by adding their logo designed by themselves.
Details:
1, Material: wood, ABS, steel, flocking, plastic, etc;
2, Material of Wooden hangers: mahogany, oak, beech, rubber, ash, black walnut, birch, basswood, pine, maple, etc.
3, Size & color: any size & color is available;
4, Uses: for the retail store, hanging clothes;
5, Type: functional daily necessities;
6, MOQ: wooden hangers are 500pcs; plastic hangers are 3000pcs;
7, Price: We are the manufacturer that offers custom coat hangers. The price will depend on your MOQ and standard.
Advantages of custom coat hangers:
1) Lightweight, easy to handle and carry;
2) Environmentally-friendly material;
3) Nice touch and visual experience;
4) Various choices, sizes, and styles;
5) Safe packing;
Quotation:
Reference sample from custom coat hangers' photo gallery or other places.
The minimum order quantity(MOQ): wooden hangers are 500pcs; plastic hangers are 3000pcs;
You can design or offer your logo or get us help.