Custom printed die cut hang tags are the use of die-cutting technology to cut hang tags into any shape, including custom designs, styles, sizes, and colors. Any shapes of hang tags are available. Such as rectangles, leaf-shaped, circles, hollows, triangles, five-pointed stars, ovals, and special shapes. And the hole drilling of the tags can play metal air holes or drill holes directly on them. Then, its hole location can be the top center, left, or right.
The die-cutting process can make prints or paper into a die-cutting blade for cutting pre-designed graphics. So that the shape of the printed matter is no longer limited to straight edges and right angles. And single or double-sided printing and full-color printing are all possible. Offset printing, silk screen printing, UV, embossing, engraving, bronzing, and lasering are achievable. Hot stamping, hot silver, or printing spot color, CMYK four colors on the tag paper is unique. So, custom personalized die-cut hang tags can express your brand personality. Make your products stand out with unique hang tags.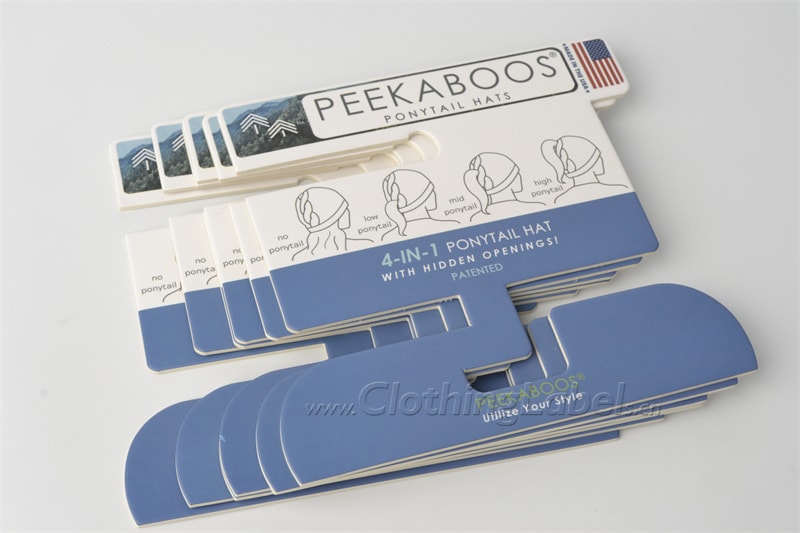 Die cut hang tags thickness
The normal thickness of the coated paper is 250, 300, and 350g. In general, the white card and black card thickness are 0.3-1mm. The regular grammage of tracing paper is 135g. There are also 180g. And the PVC hang tags thickness is about 0.3-0.5mm.
Standard die cut hang tag size
In general, the standard die-cut hang tag size mainly has two specifications: 889*1194(mm) and 787*1092 (mm).
Business card
Horizontal version: 90*55mm(square corner); 85*54mm (round corner) ;
Vertical version: 50*90mm (square corner); 54*85mm(round corner);
Square version: 90*90mm; 90*95mm;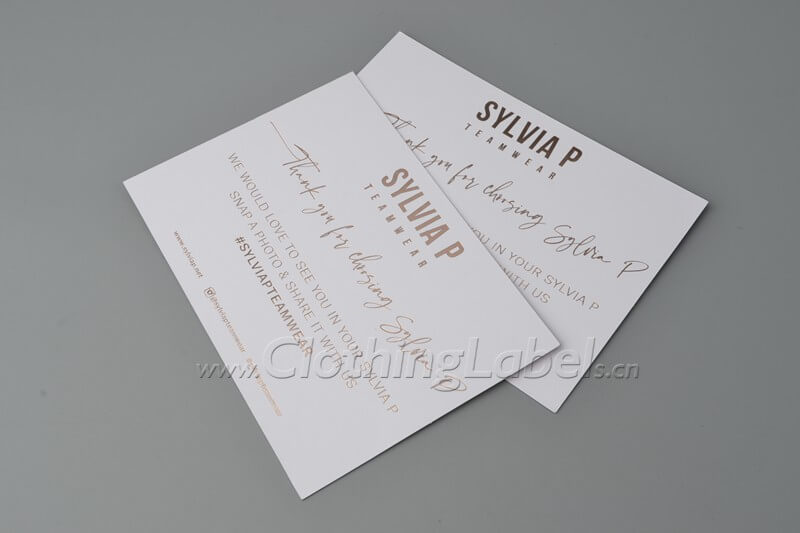 IC card
85*54mm;
Tri-fold ad & general brochure
Standard size: (A4)210mm*285mm;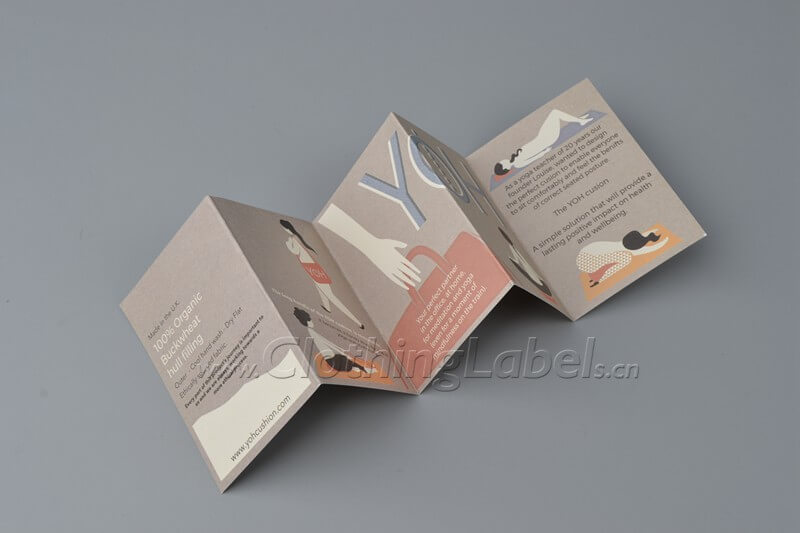 Document envelope
Standard size: (A4)220mm*305mm;
Poster
Standard size: (A4)540mm*380mm;

What material is used for die cut hang tags?
Most of the die-cut hang tags material is paper. But there are other materials for hang tags. Such as plastic, metal, leather, silk, lace, ribbon, canvas, PVC, TPU, etc. Taking paper as an example, the most commonly used paper materials are coated paper, white cards, black cards, and kraft paper. The two processes are basically the same.
Die cut hang tag shapes
Custom die cut shape hang tags have various choice for customers.
Such as round corners, circle, custom, oval, half-circle side, single rounded corner, leaf, special shapes.
Techniques on die-cut hang tags
Printing
The most common is printing: monochrome printing, four-color printing, spot color printing. The spot color is the same as the color number, and the price is more expensive. But, the more spot colors, the higher the price. Four-color (CMYK) printing is also more commonly used. Multi-color can also use four colors.

Hot stamping
Hot stamping is a general technical term. But, bronzing doesn't mean it's gold. There are many kinds of gold-plated paper materials. Among them are golden, silver, laser gold, laser silver, black, red, green, etc. Ordinary gold and laser gold hot stamping suits for hot stamping of most products. Such as gold cards, silver cards, laser cards, and glass cards. For other hot stamping colors, please refer to this article: different colored hot stamping.

Engraving/Debossing
Embossing is a kind of letterpress embossing. And it is one of the hottest hangtag crafts! Engraving the graphic into a metal plate, and imprinting it on the tag paper. Then, the front side of the paper is concave. While the back side has no marks. And please note that the embossing process is single-sided concave. And it is only suitable for thicker tag paper over 200g.
Debossing application
(1) The content of the graphic and text after printing the color is embossed;
(2) Directly embossing non-color graphics and texts;

Embossing
The embossing process is a mold that uses a concave and convex pattern. Under the action of certain pressure and temperature, the pressure-bearing materials (PVC, paper, etc.) are deformed. Thereby it will form a certain pattern. Also, we can have a special textured paper effect with ordinary coated paper. So, it is a Strong decorative, unique style.

Die cut shape
We can die-cut into different shapes according to the customer's design. This is a process realized by a knife die.

Paper types in die cut hang tags
Coated paper
The normal thickness of the coated paper is 250, 300, 350g. And the natural color of it is slightly beige. But because the surface of the paper is smooth and flat. And it has high whiteness, smoothness, and good gloss. So, the printed images and pictures have a certain 3D sense. Then, the coated paper color is full and bright. But the stiffness of the paper is not as good as that of white paper. In order to protect the logo or printing on the surface. Usually, we can cover the surface with matte film, bright film, or varnish. Some customers want 100% recyclable die cut hang tags. Therefore, we do not recommend laminating, just apply varnish directly.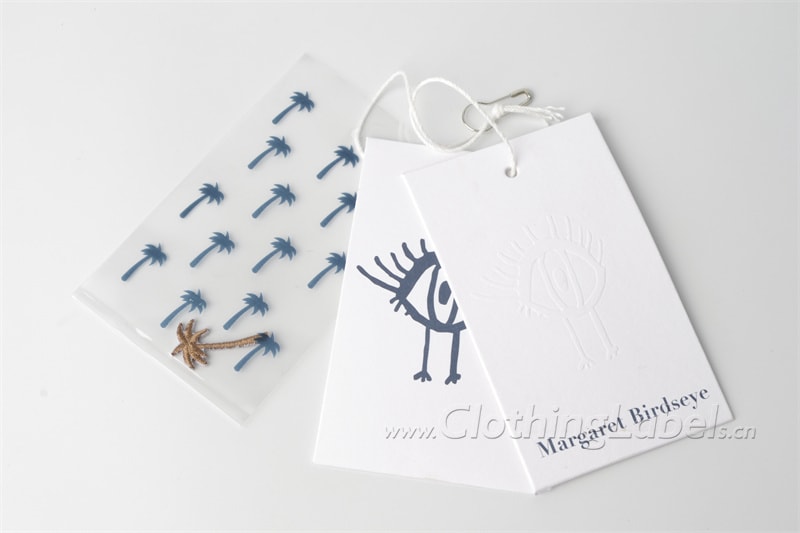 Black card paper
The texture and feel of the black card are somewhat similar to the white card. First, its paper is delicate, firm, and thick, and has good folding resistance. Second, its surface is smooth with good stiffness. Then, the black card itself is black, and the side view is also black. Moreover, the color printed on the black card is silkscreen.
In addition, it is not recommended to print a large area of white on the black card. Because of the black card shading, the particles on the surface will seep out after a large area of white printing. And the white surface looks like mildew. The most suitable processes on black cards are gold & silver hot stamping and UV.

White card paper
The white card is as strong and thick as the black card, and has good folding resistance. And the surface of the white card is flat and has good stiffness. However, the surface is not as smooth as coated paper. Likewise, the white card can have coated or uncoated surface.

Kraft paper
Among the kraft paper, brown & white kraft paper is common. Kraft paper has high tensile strength and high tear strength. So, it is suitable for die cut hang tags, shopping bags, envelopes, etc. In general, kraft paper tags are ideal for printing single or two-color and uncomplicated colors. Offset printing, silk screen printing, UV, embossing, debossing, bronzing, local laser, and other processes are available.

Tracing paper
Tracing paper is thin and translucent. When we use it as a hangtag, it is usually made into a set with a paper hangtag. The regular grammage of tracing paper is 135g. There are also 180g, but it is not a regular gram weight. There are two kinds of hangtags that use tracing paper. One is a tracing paper ready-button bag. Two is a tracing paper tag.

Special paper
The color or texture of the special paper is inherent in the paper itself. Thus, it cannot be realized by the subsequent process. Here you can learn more from the specialty paper texture catalog.

PVC material
The regular die-cut hang tags can use transparent PVC material. And we can cut it into different shapes. And the normal thickness of PVC material is 0.3-0.5mm. Sometimes some customers need plastic with background color as a hangtag. So, we can make transparent PVC, black PVC, and colored PVC.

Where can die cut hang tags be used?
Women's/men's/kids/underwear clothing
Home textiles/lighting/curtains
Bags/outdoor sports equipment
Accessories/umbrellas
Toys/boxes
Bottles/gifts
Jewelry/coffee/food
hat /scarf/gloves
fur/leather/down jacket
Bamboo fiber/silk/cotton linen
Footwear/socks
Auto Accessories
Quotation of die cut hang tags
Feel free to contact us by Email:

[email protected]

or WhatsApp & WeChat: +8618143478283 to get more information about the price.
Reference sample please refer to: hang tags' photo gallery.
The minimum quantity: our MOQ is 100pcs.
Please send us your logo or art design file if you have one. If not, we can offer free design for you.
FAQs of die cut hang tags
1, What's the price to customize?
–The price depends on your custom size, color, technics, and quantity. You can send us your art file, we make a free design for you.
2, What is the bulk production time and shipping time?
–Bulk goods are about 10 to 20 days. Shipping time is 3-6 business days by express.
3, What profile is needed when production?
–Pls, send us vector logo files, like PDF, AI, ESP, CDR, or original files from PSD. If you have no art file, we offer free design for you.
4, Can we get free samples?
–Yes, you can. Our samples are free, you just need to pay the shipping cost.
Photo gallery of custom die-cut hang tags

Free Design | Free storage service | One-to-One Support | One-Stop Purchasing
Design your own unique die-cut Hang tags with personalized logos for fashion brands!
We are professional hangtag supplier and maker!
Feeling inspired?
Our Product Experts will guide you through every step of the custom process.