We supply elastic custom lace trims for fashion brands, which is a fabric made of lace of various patterns to embellish clothes and add the taste of life. They are new trendy fabric in recent years, which are widely used to decorate clothes, skirts, veils, etc. Lace trims come into various types based on its making method including gathered lace trims, beaded lace trims, scalloped lace trims, ruffled lace trims and etc. Its materials mainly contain cotton, polyester, nylon, and Lycra, etc.
Gathered lace trims are usually some lace curled together, forming some beautiful objects such as flowers, like lotus leaf lace. This trim can be used as a corsage in weddings, opening ceremonies, prom, and other events. Elastic lace trims have a wide range of uses. They can be used in tuxedos, dresses, pillows, and hair bands. They are also suitable for the skirt of a dress, the elastic band of leggings, and the shoulder strap of a girl's suspenders.
The length and width of the product can be customized. The length is generally narrow, and the width is generally between 0.5cm-26cm. Some types' designing pursue a simple and low-key style, while others pursue a high-profile and luxurious design style, such as inlaying crystals, pearls, feathers, sequins, glass beads, etc. on similar laces.
Lace trims can be used on girls' favorite clothing, making their clothes such as shorts and underwear softer and more textured in appearance. Lace trims inlaid with pearls and crystals are perfect for the bride's wedding dress. The striking design will definitely make the bride sparkle at the wedding. They can also be used in girls' favorite evening dresses, this decoration will make girls more dazzling.
Come and choose the right custom lace for your fashion brand! Most of our lace trims are stock products. But color, width, and pattern can be customized, please contact our service if customizing.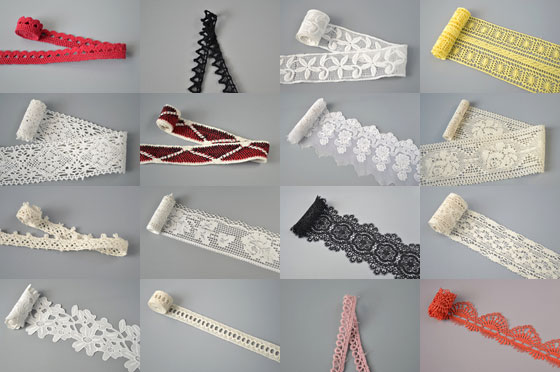 Application of lace trims
In casual wear
Lace trims can be matched with other fabrics, so as to blend delicacy and roughness, showing the soft beauty in hale fabrics-a special aesthetic feeling. For example, when used on the shoulders, it helps soften the toughness of the Denim fabric; When used on the collar or shoulder belt, it adds feminine sweetness.
In women's clothing design
Some fashion brands that focus on women's clothing are fond of using lace trims in their design process to show the nature and purity of their clothing. Moreover, they will use them in various places of the clothing, such as cuffs and neckline. They add a lady's temperament.
In formal dress design
They can be integrated with beads, diamonds, etc. European dresses prefer them, especially in the wedding dress. They are a great help to show the elegance and nobility of the brides.
Types of lace trims
1.Gathered lace trims
Ruffled and scalloped appearance is the typical look of gathered lace trims. They have commonly applied to the surface of a fabric-like pillow.
2.Beaded lace trims
These lace trims are embellished with beads, crystals, or other ornaments to produce an antique look. Most of the hair bands and bedsheets use this type because of their minimal appearance.
3.Scalloped lace trims
The prominent feature of the scalloped lace trim is the wavy outline along the outer edge which makes designers show their creativity when using it.
4.Ruffled lace trims
Their scalloped edge makes them easy to outline the border of a design and to sharpen the appearance of the design.
5.Other lace trims
Details of lace trims
1, Material: cotton, polyester, nylon, Lycra, etc.
2, Size & color: any size & any color is available.
3, Styles: scalloped lace trims, gathered lace trims, beaded lace trims, etc.
4, MOQ: 100 yards(stock), 1000 yards(customizing)
Quotation:
Reference sample from lace trims' photo gallery or other places.
The minimum order quantity(MOQ): 100 yards(stock), 1000 yards(customizing).
You can design or offer your logo or get us help.
Contact us

by Email or WhatsApp