Custom non-woven bags are made of recycled non-woven fabric, including drawstring bags, tote bags, etc, we offer them printed with logos for fashion brands. These bags are stylish, green, and ideal for promoting your brand. Well-designed non-woven bags are a cost-effective way to improve your brand image.
As one alternative to plastic bags, non-woven bags have many advantages. Its main material is non-woven fabric and fiber makes it. Meanwhile, they are tough and durable, moisture-proof, washable. Besides, we can make it with recyclable skills. So, it will be easy to decompose. Moreover, it is rich in color and has a cheap price. Its function for shopping, travel, work, etc, makes it more popular.
Both non-woven and woven bags are popular in packaging. We produce it from recycled plastic. And it accepts a matte or glossy laminated finish. The difference lies in the way to build them. On the one hand, woven bags are woven to make the fabric strong enough. But non-woven bags are from fibers entangled with engineering means. Thus, we can manufacture the product in a chemical or thermal way. In short, non-woven tend to be cheaper than the woven one.
Nevertheless, compared with the plastic bags, non-woven bags are more durable. Hence, they played a major role in substitute plastic bags. Apart from this, you can have bags of various colors and styles. Non-woven bag printing is as cheap as plastic bags.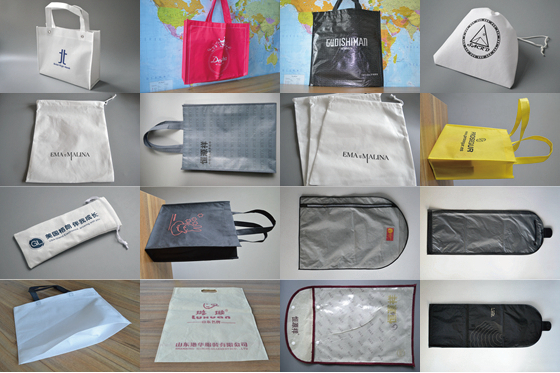 Types of non-woven bags:
Tote bags
This tote bag is perfect for grocery shopping, transporting item, storage etc. Besides, most of them fit over your shoulder. Thus, it makes it easy to carry while keeping your hands free.
Drawstring bags
This drawstring bag has a drawstring closure that you can close it easily. So, they are ideal for sports, promotional favor bags.
Workmanship:
Heat transfer technique
Sewing on technique
On the whole, the process is complex. Therefore, the bags' price using the heat transfer skill is lower than sewing on technique. But, the sewing on technique promises a long duration.
Details of non-woven bags:
1, Size/color/shape: as per customer's request;
2, Material: non-woven fabric, etc;
3, Surface disposal: Embroidery, printing, etc;
4, Packing: outer packing with export carton;
5, MOQ: 100 PCS;
Quotation:
1, Reference sample from Non-woven bags' photo gallery or other places.
2, The Quantity. Our MOQ is 100 PCS.
3, Your logo or your design of non-woven bags if you have.
Contact us by E-mail or WhatsApp