We supply custom plastic hang tags in all shapes, sizes, and colors for fashion brands, which are made of plastic materials, including PVC, ABS, and etc. Plastic hang tags are a popular choice for light industrial applications. They are ideal for clothing, bags, parking, etc.
Compared with paper hang tags, plastic hang tags are not only durable and recyclable but also waterproof and stain-resistant. It will make the picture of the tags clearer, and the cut will be more realistic and vivid. As a hang tags supplier for many experiences years, we have mature techniques and skilled customer service. We supply diverse custom shapes for your choices, such as rectangular, square, diamond, round, and die-cut shapes. Custom plastic hang tags even can be printed with the brand logo, brand story, and more to expand the brand's influence.
Advantages of plastic hang tags
5 types of plastic hang tags you can customize
PVC with paper tags
This PVC hang tag is usually made of plastic and paper and is relatively common. Generally speaking, the company logo, advertising content, contact information, product size, and other information will be printed on the surface of the paper tag to attract the attention of consumers.
The other part of the plastic hang tag is usually covered with sub-film (frosted effect) or translucent PVC material, which is usually printed with the company's slogan. It's really a simple and direct showing way. These two parts are usually strung together by a string and a safety pin.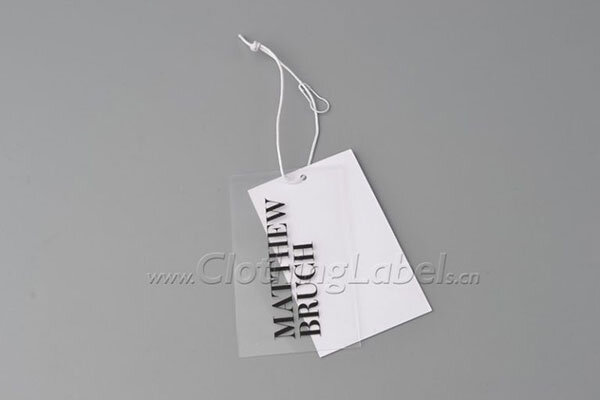 Paper tags in plastic packaging
It is also a kind of plastic hang tag and it is a luxury two pieces hang tag with plastic packaging for clothing brands. Usually, the content, logo, photo, landscape, slogan, and so on are printed on the inside paper tag.
The plastic packaging plate on the outside is usually made of blank PVC bright film. No text or pictures are printed. It aims to highlight the contents of the tag on the inside. It is also waterproof, and can greatly enhance the level of products and brand image. Many big brands will choose this kind of plastic hang tag to enhance their product image.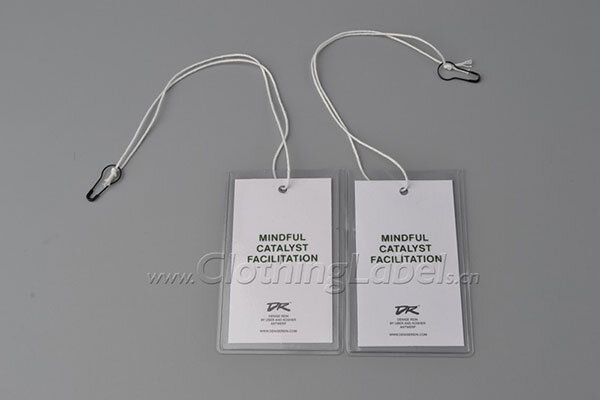 Plastic PVC with translucent matte lamination
This type accounts for a large part of the plastic hang tags. They are usually made of a translucent PVC material with a matte lamination coating on the surface and giving a frosted effect. Many enterprises will print their company logo, portrait, promotional text, or slogan on the surface. The fonts are usually black, white, gold, silver, or other rich colors, which will make the products more prominent and attract more target customers.

Clear PVC
These Clear PVC hang tags are relatively common. They show a round hole drilling or square hole with some lace or beads to neutralize the industrial feel of the product. It's very versatile. It is perfect for clothing, clothing accessories, one-shoulder bags, crafts, decorations, and other fashion brands. There are also some businesses that will put lovely pictures, text printed on them, for various holidays such as Christmas tree or gift box packaging.

With matte lamination
The bottom plate of these plastic hang tags with matte lamination is usually made of matte but opaque PVC and printed in a variety of colors, such as black, white, and color. Words, logos, brand names, pictures, QR codes, Bar codes, serial numbers, contact information of the company, and so on are sometimes printed on them. Such printed words or pictures will make the products more attractive and also play a certain promotional role.

Many customers turn them into clothing tags, door hangers, warning signs, price tags, etc. Customers can customize various shapes and sizes of plastic clothing tags, product labels, luggage tags, children tags, professional labels according to their actual needs. It can play an important role in capturing consumers' attention and conveying important information about the products on the label.
FAQs
1, What's the price to customize?
–The price depends on your custom size, color, technics, and quantity. You can send us your art file, we make a free design for you.
2, What is the bulk production time and shipping time?
–Bulk goods are about 10 to 20 days. Shipping time is 3-6 business days by express.
3, What profile is needed when production?
–Pls, send us vector logo files, like PDF, AI, ESP, CDR, or original files from PSD. If you have no art file, we offer free design for you.
4, Can we get free samples?
–Yes, you can. Our samples are free, you just need to pay the shipping cost.
5, What is the order process?
–First, we need to discuss basic information with each other. Such as size, color, material, quantity, technics, etc. Then our product expert will give you the price and invoice. Then, you can pay. After you pay, we will make the design for you. After you confirm the design, we can arrange the bulk production. The production time is about 5 to 15 business days.
Plastic hang tags photo gallery
Free Design | Free storage service | One-to-One Support | One-Stop Purchasing
Custom plastic hang tags maker & supplier for clothing Brands!
Our Product Experts will guide you through every step of the custom process.