Brand woven labels are custom-made brand fabric labels with logo, name, pattern, sewn or attached to clothing, shirts, hats, bags, handmade item, home textiles. In general, a brand woven label is a kind of main label. It can shape brand identification and promotion of products. Also, a well-designed brand label can enhance brand image and earn the loyalty of consumers.
The materials of brand woven labels mainly include damask, satin, taffeta, cotton, polyester, twill fabrics, adhesive backing, etc. No matter which material you choose, a branded fabric label is a durable, textured label that fits your brand image.
You can add size or care symbols on the brand garment labels. We also supply woven neck labels, main labels, woven size labels, woven care labels, woven hem tags, etc. Just tell us if you wanna customize and order any type of clothing labels!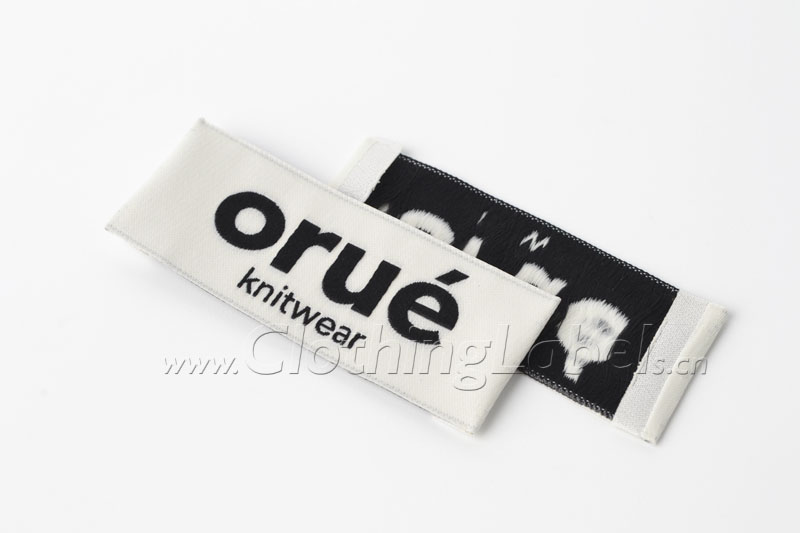 We provide custom-branded woven labels for apparel brands. You can send us design files or manuscripts. Then, tell us the size, shape, color, and material you need. Then we will design the 3D draft for you for free. Likewise, you can also select samples first, and then proceed to mass production. This ensures your woven label matches your brand image.
Materials of brand woven labels
Damask
Damask is a fine, tight, and smooth fabric. We usually use it to make woven labels. This is one of the most common woven label materials. So, we often use it to make branded damask woven labels with fine details and intricate patterns.
Satin
Satin is a smooth, supple, and shiny material. We use it to customize high-end and luxurious brand satin woven labels. Then, the weaved logos have tiny holes and bold fonts. However, you can also choose a metallic thread to weave your logo. This will appear more upscale.
Taffeta
Taffeta is also a smooth and shiny fabric. We generally use it to make brand taffeta woven labels with simple and clear logos.
Cotton
Natural, comfortable cotton can also be used to make woven labels. Cotton also has different grains. For example, twill cotton fabric. Please tell us what kind of material and texture you want. It is suitable for everyday casual wear and baby clothes.
Adhesive Backing
Maybe some brands wanna customize iron-on woven labels. Such as 3M adhesives. You don't need to sew these labels. And you just need to tear off the plastic film and stick it directly on your clothes. Therefore, this type of brand label is quick, convenient, and disposable.

Color options for brand woven labels
Brand woven labels come in a variety of colors. Any color is available. So, brands can choose the most suitable color according to their own needs or logo design.
Black
Black woven labels are common for white or light-colored fabrics. And black woven labels with white logos can create a high-end, luxurious feel. You can also make a gold or silver logo to highlight your brand.
White
White woven labels are ideal for most fabrics. It looks clear and tidy. And a white background is suitable for colored logos or patterns. It can make your design more eye-catching and clear.
Colored color
Some clothing brands may like colorful logos to create attractive woven labels. Moreover, colorful woven labels can add vitality and personality to the brand.
Brand Logo Color
Many brands like to use the main color of the brand logo to design woven labels. This can make the woven label consistent with the brand tone. Besides, it is also to further emphasize the professionalism and consistency of the brand's products.
Customize colors
The color of brand woven labels is custom-made. So, you can customize your own personalized woven labels according to your needs. It is very important to choose the right color, which can make the label show the best effect on the product.
Size for brand woven labels
Small Brand Labels
The common size is 1.5 cm x 4.5 cm to 2.5 cm x 5 cm. And it suits shirts, t-shirts, child clothes, and small accessories.
Medium Brand Labels
The common size is 2.5 cm x 7.5 cm to 3.5 cm x 8 cm for dresses, pants, scarves, hats, bags, etc.
Large Brand Labels:
The common size is 3 cm x 9 cm to 5 cm x 10 cm for jackets, outerwear, backpacks, luggage, etc.
In addition, you can customize your desired size according to your needs.
Why choose custom-made brand woven labels?
Customization
Branded fabric woven labels are custom-made. Any size, shape, color, and material are possible. A custom woven label can showcase your brand logo. This will help improve your brand image.
Durable
As we all know, the material of woven labels is thick and durable. It is stronger than printed fabric labels. And they are able to withstand multiple daily washes without wearing out. Therefore, a high-quality brand label can also show your brand professionalism.
Brand Recognition and Professionalism
Customers can see your logo or name on the brand label at a glance. So, it greatly enhances customers' awareness and memory of the brand. In addition, woven labels with brand logos will make your products look more refined and high-end. Of course, it will virtually enhance customers' recognition of your professional image.
Show details
Woven labels will use a lot of technology to display the details of the product. However, no matter how complicated the text, pattern, or design is, we can show them.
Wide applications
Branded woven labels/tags have wide use in various types of products. Such as clothing, footwear, bags, home textiles, knitting crafts, handmade DIY, etc.
Advocacy tools
Brand woven labels are a potential means or tool of advertising. Adding brand information to the label and displaying it to buyers of clothing is a kind of billboard.
Custom brand woven labels with logos
Adding a brand logo to a woven label can strengthen the brand identity. Importantly, it is easy to help customers identify the product. So, it can build brand awareness and recognition among customers.
Second, a woven label with a logo will only make your product look more professional and credible. This will undoubtedly enhance the overall image of your brand.
Third, you can sew the tags to clothes, bags, shoes, hats, plush toys, etc. in visible places. Examples include collars, breast pockets, or hems. In this way, you can maximize your brand awareness.
A logo on woven clothing tags can convey a brand story or selling point. It is very important. Because a simple logo such as Nike can attract customers' attention.
In terms of product differentiation, adding an exclusive logo is especially important. Weaving a brand logo can make your brand more recognizable in the market competition.
You can customize brand woven labels on the below products:
| | |
| --- | --- |
| Clothing: | Sew them on collars, cuffs, waistbands, or inside clothing. |
| Shoes: | Sew them on the tongue, or laces, or attach them to the inside of the shoe. |
| Bags & accessories: | Customize it for bags, hats, wallets, scarves, etc to add branding logos. |
| Home textile products: | Such as bedding, towels, loungewear, aprons, etc to enhance brand image and product value. |
| Toys and Baby Products: | You should customize branded fabric labels to comply with safety standards. |
You may also like
FAQs
1, What Is The Price To Customize your brand woven labels with own logo?
-The price depends on your custom size, color, technics, and quantity. Prices are not fixed. It needs our business expert to calculate according to your specific needs. You can contact us to get a free quote.
2, What Are The Sample Production Time And Mass Production Time?
-Sample production time is 10 to 15 days. Mass production time is 15-20 days.
3, What Is The Shipping Time?
-Shipping time is 3-6 business days by express.
4, What Profile Is Needed When Production?
–Pls, send us vector logo files, like PDF, AI, ESP, CDR, or original files from PSD. If you have no art file, we offer free design for you.
Photo gallery of brand woven labels

Free Design | Free storage service | One-to-One Support | One-Stop Purchasing | Worldwide Shipping
Best China brand woven labels supplier, manufacturer & wholesaler!
Feeling inspired?
Our Product Experts will guide you through every step of the custom process.