We produce a series of custom plastic hooks printed with logos for fashion brands, which are used to display the socks, scarfs, caps, towels, gloves, etc. Our plastic hooks are safe and stylish. So, they are reliable to display socks in an effective way in stores. Besides, the hooks can make full use of space to show the charm of these products. Therefore, they are ideal to organize and decorate any home or office environment.
These plastic hooks are durable and versatile. And they are important elements when it comes to displaying your products. Not only you can make sure what you choose is stylish. But it can be functional. Use plastic hooks to hang socks and other items from the display shelf.
This will expose most of the items. This permits the potential purchaser to touch and examine the sock. Besides, it gives the potential consumers an immediate visual comparison. Between the various sock pairs on display. So the purchaser may determine the appropriate color, fabric. And construction of the items that they want to buy.
There are many types that can help you hold your small items. Like a plurality of sock pairs securely in place. Such as captive hangers, slide-on hangers, insert hooks, S hooks, or O hooks. In addition, we offer a variety of plastic hooks with custom features. Such as size, shape, color, and style to meet your specific needs.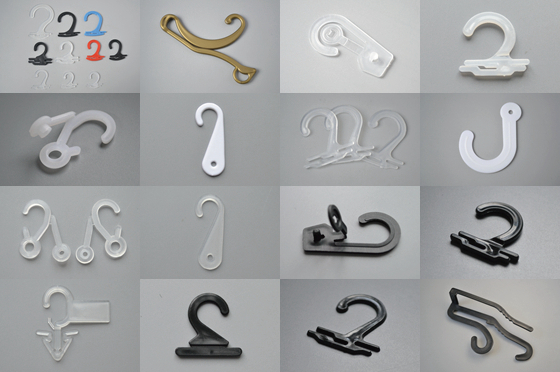 Details of the plastic hooks:
Material: PP, PS;
Style: as your requirement;
Size: as your requirement;
Color: white, black, transparent, semitransparent, or customize;
Thickness: as your requirement;
Quotation
Reference sample from our plastic hooks photo gallery or other places.
The minimum quantity: Our MOQ is 1000pcs.
You can send us your art design to offer your logo or get our free help.