Metal eyelets are small metal fasteners used to cover or reinforce holes in fabric or leather, and we supply custom metal eyelets and grommets for clothing. And they are circular metal fasteners and styles that can be rolled, scored, and flared. Besides, their materials include brass, iron, metallic, galvanized steel, stainless steel, aluminum, etc. Then, they have a high duration. Meanwhile, we wholesale metal eyelets and washers with logo engraved. So, the final products can be black, plain, tin, or nickel-plated.
The metal eyelets are perfect for fabrics of different textures and thicknesses. Also, both galvanized steel and stainless steel offer corrosion resistance. So they are ideal for outdoor applications and clothes accessories. Such as small or large hang tag eyelets. Then it is suitable for fasteners exposed to moisture.
Metal eyelets and metal labels are versatile in daily life. So we can see them in various DIY crafts and accessories projects. Such as garments, paper, canvas bags, sneakers, shoes, shoelaces, bags, clothing hang tags. Then, most sports shoes will use it, too. Then, it can keep the shoes tightly insulated, cool the exhaust. Besides, it makes the appearance neat. The chic eyelets will embellish clothes like overalls. In addition to practical functions, it plays a finishing touch to the design of garments.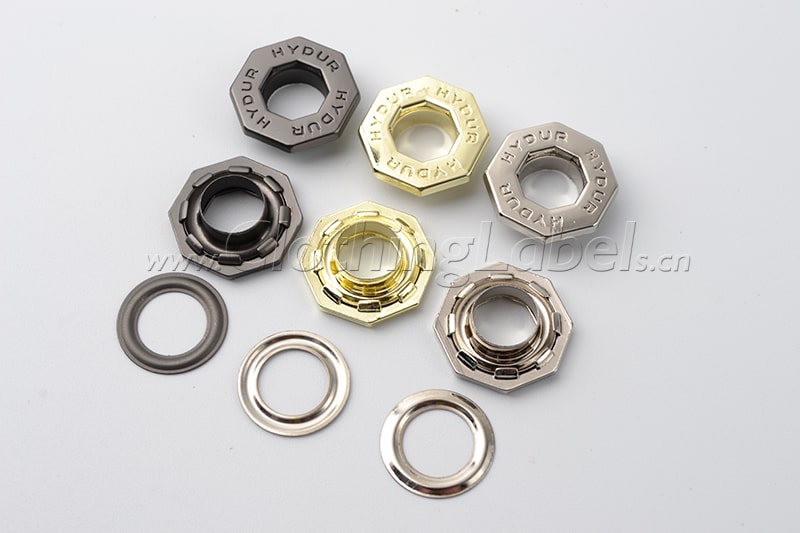 Details of metal eyelets
Materials:
zinc alloy, copper, iron, brass, stainless steel, aluminum, etc;
Type:
large or small eyelets, grommets, etc;
Shape:
round, square, diamond, can be customized;
Electroplating color:
black/silver/plated silver/gold/green bronze/gun color(customizable);
Process:
electroplating, painting, lase engraving, embossing, debossing, etc;
Application:
hangtags, shoes, wallets, belts, hats, boxes. Shirts, luggage, trousers, clothing jackets, sweaters, and down jackets. Coats, windbreakers, denim, and other clothing accessories.
MOQ:
Copper eyelets: stock size(10pcs), no customizing;
Zinc alloy eyelets: no MOQ.
Features of metal eyelets
Excellent materials: They are delicate in workmanship and light in texture. We strictly control every level.
Design concept: Fashionable eyelet design with unique modeling, simple and generous. So, the surface is bright and eye-catching.
Meticulous process: We are careful to trim every eyelet and polish it to make the buttonhole smooth. In addition, it will feel good without cutting hands.


Customers typically buy metal eyelets with washers, as well as punch tools. Therefore, it may take 6 steps to complete the drilling tool:
Get the drilling tool ready;
Punch the hole;
Take out the waste cloth;
Put the eyelet into the hole;
Insert the washer on the reverse side;
Hit with a hammer; then the installation is completed.
Why sports shoes makers favor metal eyelets?

First, our metal eyelets are colorful and diverse in styles. And the eye of the metal trim can highlight the personality of the sneaker. At the same time, they can also be matched with the color of sports shoes or shoelaces, which will give people a different feeling! Second, the use of eyelets in sport's shoes will make the holes through the rings stronger, thereby reducing hole wear. Thus, it can increase the whole safety of sports shoes.


We wholesale custom metal eyelets and metal snap fasteners with a brand logo for you. And we are professional manufacturer and supplier of metal eyelets. Then, we provide various electroplate color and you can use them for product surfaces. It can be made into any color the customer wants. Thus, all of them are suitable for hardware accessories. Such as clothing, purses, belts, garment bags, and sewing fabrics.
FAQs of custom metal eyelets
1, What's the price to customize?
–The price depends on your custom size, color, technics, and quantity. You can send us your art file, we make a free design for you.
2, What is the bulk production time and shipping time?
–Bulk goods are about 10 to 20 days. Shipping time is 3-6 business days by express.
3, What profile is needed when production?
–Pls, send us vector logo files, like PDF, AI, ESP, CDR, or original files from PSD. If you have no art file, we offer free design for you.
4, Can we get free samples?
–Yes, you can. Our samples are free, you just need to pay the shipping cost.
5, What is the order process for getting your custom alloy eyelets?
–First, we need to discuss basic information with each other. Such as size, color, material, quantity, technics, etc. Then our product expert will give you the price and invoice. Then, you can pay. After you pay, we will make the design for you. After you confirm the design, we can arrange the bulk production. The production time is about 5 to 15 business days.
Project samples of metal eyelets

Free Design | Free storage service | One-to-One Support | One-Stop Purchasing
Custom metal eyelets & grommets manufacturer and supplier
-We are professional and we offer free design
Our Product Experts will guide you through every step of the custom process.