Twill tape is a herringbone fabric tape woven in a twill pattern, which is made of nylon, cotton, wool, polyester, linen and has parallel twill weaves. But, we can also call it herringbone twill tape, or twill webbing. Twill together with plain weave and satin weave, are the main common three textile weave types. Besides, it is soft and skin-friendly, breathable, and refreshing. And it is one of the types of garment tape.
Custom twill tape
In addition, Clothinglabels.cn supply custom woven or printed twill tape with a logo on the tape & ribbon. And any size or color is okay. Such as weave or print brand logo, company name, contact info, site links, social links, etc.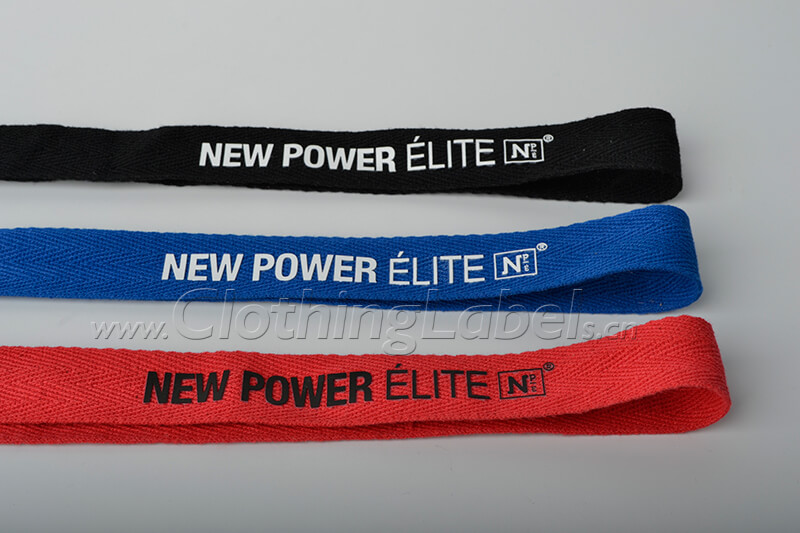 What is the twill tape used for?
Twill tape has a wide range of uses. And it is ideal for clothing collar hemming, box wrapping, sewing accessories, DIY decoration, etc. In addition, it is perfect for luggage, footwear, handicrafts, pet belts, and sports equipment. Home textiles, handmade bows, flower packaging, and waistbands will use the tape too.
Types of twill tape
Cotton twill tape
Polyester twill tape
Linen twill tape
Wool twill tape
Nylon twill tape
Elastic twill tape
Striped twill tape

Details of twill tape
Material: 100% cotton; natural/organic cotton; polypropylene; nylon; wool, etc;
Size: 1.0cm; 1.5cm; 2.2cm; 2.5cm; 3.0cm; 3.5cm; 4.0cm; 4.5cm; 1 inch; 1.5inch; 2 inch; can be customized;
Color of twill tape: white, black, green, pink, red; a variety of colored twill tapes are available;
Features: wear-resistant, thick, eco-friendly, etc;
Application: clothing such as hats, collar hemming, bandages, cuffs, garment trims, gift wrapping, belt, etc;
What are the features of twill tape?
Thicker, better gloss;
The twill fabric feels softer;
It has better elasticity than plain weave;
The appearance is high-grade than plain weave;
The appearance is not stiff, and the wrinkle resistance is relatively poor.
Is there anything we need to pay attention to?
What's the difference between twill tape, plain tape, and satin tape?
Twill tape
Plain tape
Satin tape
In general, the three fabric tapes have their own advantages. Thus, you can decide according to your own needs:
Hope the tape is cheap and durable, you can choose plain tape;
Like the thick and wrinkle-resistant tape, you can choose twill tape;
In pursuit of high-end and exquisite fabrics, the satin tape can be selected.