PVC labels are soft rubber or silicone labels & tags that will not fade or fall apart, custom PVC labels with logo can be engraved, embossed, and printed. Compared with woven labels, they are more durable and can withstand all types of weather. PVC labels call Polyvinyl Chloride, too. And our customized clothing labels are soft and rubbery to the touch. Therefore, they are ideal for clothing such as swimwear.
We supply custom 2D & 3D PVC labels and patches for fashion clothing brands. By adding sewing channels to the label, they are easy to sew on any product. Besides, you can engrave, emboss or print your logo and brand name on it. So, it can help them build and promote their own brand. You can use them by sewing, velcro, self-adhesive, soft magnet backings. So, just attach them in your own way.
PVC labels & patches for clothing and outdoor fits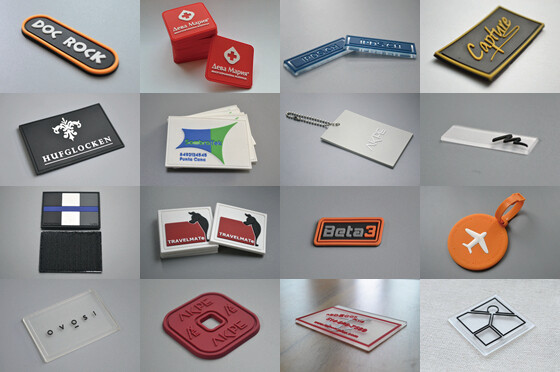 Details of PVC Labels
Size/color/shape: as per customer's request;
Material: soft PVC(polyvinyl chloride);
Workmanship: the shape is fixed by 3D mold;
Logo: The logo can be embossed/debossed on both sides;
Backing options: Velcro, or sewn, 3M glue adhesive, add snap buttons or magnet, steel hooks, etc.
Packing: inner packing with plastic PP bag, outer packing with export carton;
MOQ: 100 pcs;

As suppliers and manufacturers, we have the skillful tech to make PVC labels and tags. So, we wholesale customizable PVC & rubber & silicone clothing labels global wide. Such as the USA, the UK, Canada, Japan, South Africa, etc. But, we also manufacture fabric labels. printed labels, and woven labels. Please contact us if you want to customize all the labels. And our sales expert will reply to you soon and give you the best price.
Why you need to use soft PVC clothing labels?
The difference between PVC labels and silicone labels
In appearance
PVC labels are rougher than silicone products; yet the surface of silicone products is smooth and colored.
Judging from the hand feel
Silicone products are soft, with good toughness and elasticity. But, the soft PVC is relatively less hard. And the hardness of both can be adjusted, but PVC has no toughness.
Quotation
1. Reference sample please refer to our PVC labels' photo gallery.
2.The quantity you want. Our MOQ is 100pcs.
3. Please send us your logo file if you need to add a logo. If not, we offer free design for you.
Contact us by E-mail or WhatsApp