We supply custom PVC labels for fashion brands, they are used on clothing products such as swimwear and your LOGO can be engraved, embossed, and printed. PVC labels call Polyvinyl Chloride, too. And our customized labels are soft and rubbery to the touch. By adding sewing channels to the label, they are easy to sew on any product. Besides, you can engrave, emboss or print your logo and brand name on it. So, it can help them build and promote their own brand.
Both PVC labels and silicone labels belong to rubber labels. In addition, they look the same, but different. PVC labels have different classes. Such as ROHS, 6P, 15P. But, 15P is the most eco-friendly class than silicone labels. If you want to customize rubber tags for outdoor work clothing or baby clothing, so you just choose soft PVC labels.
Compared with woven labels, PVC labels will not fade or fall apart. They are more durable and can withstand all types of weather. Therefore, they are suitable for businesses of outdoor products. Such as canvas, vinyl, and many other materials. However, they can not only ideal for clothing products. Such as swimwear, snow jackets, and backpacks. They can match with many products that can withstand weather as well.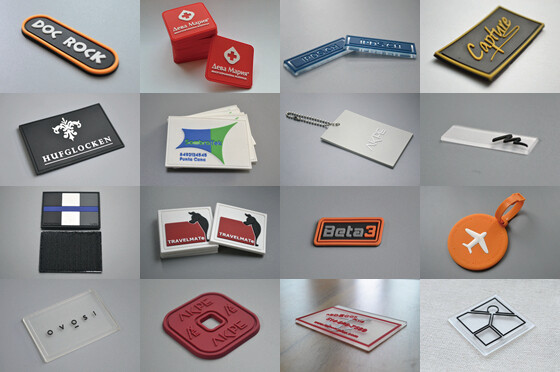 PVC Labels Details:
Size/color/shape: as per customer's request;
Material: soft PVC(polyvinyl chloride);
Workmanship: the shape is fixed by 3D mold;
Logo: The logo can be embossed/debossed on both sides;
Packing: inner packing with PP bag, outer packing with export carton;
MOQ: 100 pcs;
Quotation
1. Reference sample please refer to our PVC labels' photo gallery.
2.The quantity you want. Our MOQ is 100pcs.
3. Please send us your logo file if you need to add a logo. If not, we offer free design for you.
Contact us by E-mail or WhatsApp