We supply all kinds of custom woven labels with logos for clothing brands, including damask woven labels, satin woven labels, taffeta woven labels, etc. Cotton woven labels, selvage woven labels, computerized woven labels, crochet woven labels, shading woven labels, and epoxy glue woven labels are also available.
Woven labels are the most popular and widely chosen labels due to the nature of the product. They can show not only the brand name and logo, connotation, but also the size, origin, composition, or description of the product, so they are widely used in clothing, shoes and hats, bags, and home textile products. They are made of polyester woven on professional Jacquard looms. It is this reason that promises they will not fade easily, machine washable in all temperatures, and retain their shape after repeated washing. They come in a number of ways: Flat, folded, die-cut, iron-on, or self-adhesive.
At Clothinglabels.cn, all of our woven labels are completely customizable, meaning every customer we work with gets a unique design. For those who understand the importance of labels, custom woven labels are one of the most effective ways to add a unique and identifiable finishing touch so as to achieve it. Your customers remember you by branding the labels with your logo or text.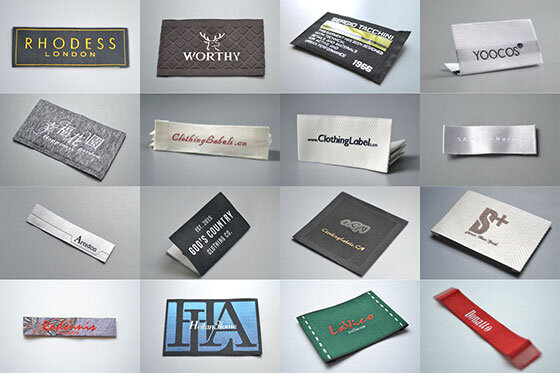 Fold options of woven labels
We have all kinds of woven label sample with various fold options like middle fold, end fold, miter fold, Manhattan fold, die-cut or straight cut for your choice, feel free to contact us and ask for a free sample.
Why choose us?
1, We are a professional supplier of clothing labels, serving global fashion brand company, and providing professional solutions and technical support for more than 5000 brand companies. All of our custom labels are high-quality. Unbefiting labels might cause disastrous consequences to your brand. Our original heat and experience guarantee our quality.
2, Wide varieties. Almost all labels can be found in there, what's important, all of the items can be customized to highlight your brand style and improve your brand influence.
3, Price. Because of the profession, the price can be controlled within a reasonable range.
4, We can provide you with free design. We will regularly provide the latest style samples of custom woven labels to change style reference, which is free.
How to choose?
90% of woven labels are damask woven labels or satin woven labels in the market, others are niche and personalized, even many people don't know these labels can be made in this kind of pattern. If you want your labels are special and different from others, you can choose this niche type. If not, the damask woven labels or satin woven labels will be a good choice, which is common and cheap. Or you can ask us for free different type samples of labels and make your final decision after comparing. Or see the following pictures to choose what type you need.
Two points before customizing
size
The width of a single letter can't smaller than 1mm. For example, CLOTHING consists of 8 letters. So the total length can't smaller than 8mm, otherwise, it won't be weaved clearly.
color
Please note that the color of custom woven labels can't be smooth over the same as your design for gradient color. The maximum number of colors is 7 that we can make for a custom woven label at present. The more color woven label has, the harder and thicker it will be. So we advise not to make a woven label with many colors, the logo will be better less than 4 colors.
Instructions
Please clean these labels below 118℃. Don't use the oiliness agent, chemicals, and dye. Otherwise, the colors will fade and be polluted.
FAQS
1, What is the MOQ of the woven label?
–100pcs.
2, What is the bulk production time?
–7-12 business days.
3, What is shipping time?
–3-6 days by express.
4, What material is available?
–damask woven label, satin woven label.
5, What colors can be woven?
–For the damask label, it can be woven 7 colors; For the satin label, 3 colors, but it can be woven metallic gold and silver.
6, What profile needed when production?
–Please send artwork in CDR, ESP, AI, or PDF format.
7, Is sampling available?
–Yes, the sampling fee is 15usd, the sampling time is 5-7business days.
8, Can we get free samples?
–Yes, We can ship reference samples for your checking quality and style. Samples are free, you just need to pay the shipping cost.
Quotation
1, Reference sample from our photo gallery or other places.
2, The quantity you want. Our MOQ is 100pcs.
3, Your logo or your design if you have.
4, The fold option of woven labels.
Contact us by E-mail or WhatsApp