We provide high-quality custom woven labels for clothing brands with logos, which are weaved from fabrics including damasks, satins, taffetas, and cotton. Their main material is polyester. And there are many types of sewing clothing labels & tags or woven brand labels. Such as cotton woven labels, selvage woven labels, woven name labels. Crochet woven labels, iron-on woven labels are the scopes of it.
Woven labels are the most popular and chosen labels due to nature. They are made of polyester woven on professional Jacquard looms. And we can use them to show the brand name, logo, and connotation. In addition, we can print the size, origin, composition, or text on the label. So, they are ideal for clothing, shoes and hats, handbags, and home textile products. Thus, they will not fade. We can machine wash them at all temperatures. And they will retain their shape after repeated washing. Further, they come in a number of ways: flat, folded, die-cut, iron-on, or self-adhesive.
All of our woven labels are custom-made, then we can provide you with a unique design. We work with you through a custom process. You can specify every detail of the woven label, including material, size, and folding options. We will provide the latest style samples to change style reference. This is free. At the same time, our premium labels capture a high amount of detail and include up to 8 thread colors. Besides, we can ship to the US, UK, Canada, Europe, Asia, Africa, etc.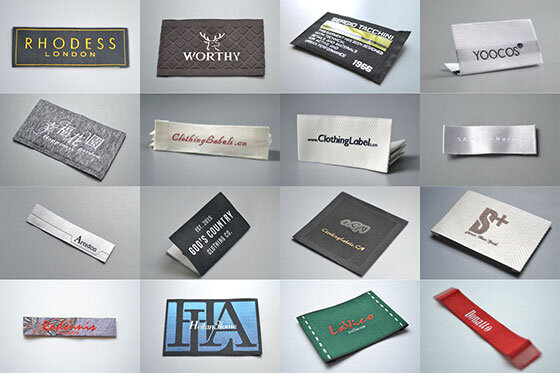 Type of woven labels:
Damask labels
Damask is a reversible figured fabric of silk, wool, linen, cotton, or synthetic fibers, with a pattern formed by weaving. It is the most common type of woven label, made up of polyester yarn that has a high-quality durable weave that is soft to the touch. By using the damask weave, the labels will be very dense and soft. This provides our customers durable custom-made woven labels for their clothing, ensuring long-term wear.
Satin labels
For labels that are soft but have a shiny look, satin labels would be a good choice. Satin is characterized by a soft, lustrous surface on one side, with a duller surface on the other side. There is not much price difference between satin and damask. Most customers go with this option because of the look they are achieving. Satin labels are great for infant and lingerie apparel, or brands with a vintage look. Keep in mind the background is limited to only white, off-white, and black. If your logo is very detailed & small, this may not be the best option for you.
Taffeta labels
Taffeta is the most economical option and costs less than damask & satin labels. Taffeta material is a crisp, smooth, plain-woven fabric made from silk or cuprammonium rayons as well as acetate and polyester. The weave is adequate but the ground color is a bit transparent. Taffeta tends to be scratchy so it is not recommended if the label will be touching the skin. If you're looking for an inexpensive label, this option is great for going on hats, scarves, bags, or for care labels that will be cut off.
Fold options of woven labels:
We have various woven label samples with many fold options. Like center fold, end fold, mitre fold, Manhattan fold, book fold, die-cut, loop fold, or straight cut. Feel free to contact us and ask for a free sample.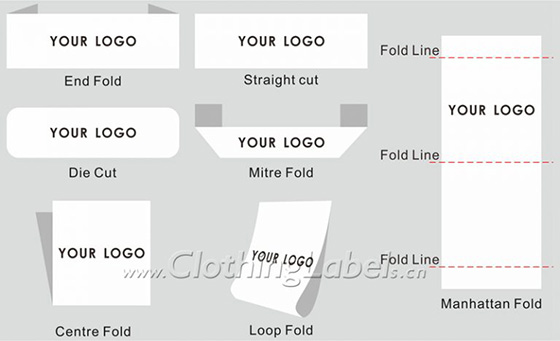 How to choose woven labels?
There are 4 ways to use woven labels. Like standard iron-on, sew-on, peel and stick, or use Velcro. And you can customize the using method and tell us.
At Clothinglabels.cn, you can customize all the woven labels in small quantities and bulk. It means every customer we work with gets a unique design. Some customers understand the importance of labels. So, they order custom woven labels. Just because it is an effective way to add an apparent finishing touch to achieve it. Your customer will remember you by the labels with your logo or text.
90% of woven labels are damask woven labels or satin woven labels in the market. Others are niche and personalized. Even many people don't know these labels can be made in this kind of pattern. If you want your labels to be special and different from others, you can choose this niche type. If not, the damask or satin woven labels will be a good choice. Because it is common and cheap. Or you can ask us for free different type samples of labels and make your final decision after comparing. Or see the following pictures to choose what type you need.
Why choose us?
1, We are a professional China supplier of clothing textile labels. Meanwhile, we are a labels maker for clothes. Such as care labels & wash labels, name labels, printed fabric labels, size labels, embroidered labels & tags, etc. Besides, we supply solutions and technical support for over 5000 brands. All the garment woven tags woven labels with their own logo are high-quality at a cheap price. Unbefitting labels might cause issues to your brand. So you can trust us. Our experience will guarantee your quality.
2, Wide varieties. Almost all clothing fabric labels are available here. Apart from this, we can customize it to highlight your brand style and improve your brand influence.
3, Price. Because of the profession, we wikk control the price within a reasonable range. And we can provide luxury and cheap woven labels with good quality.
4, We can provide you with free design. We will provide the latest style samples of custom woven labels to change style reference. It is free. Besides, our labels can ship to the USA, UK, Canada, Australia, and other places global wide.
FAQs:
1, What is the MOQ of the woven label?
–100pcs.
2, What is the bulk production time?
–7-12 business days.
3, What is the shipping time?
–3-6 days by express.
4, What material is available?
–damask woven label, satin woven label.
5, What colors can be woven?
–For the damask label, it can be woven in 7 colors; For the satin label, 3 colors, but it can be woven in metallic gold and silver.
6, What profile is needed when production?
–Please send artwork in CDR, ESP, AI, or PDF format.
7, Is sampling available?
–Yes, the sampling fee is 15usd, the sampling time is 5-7business days.
8, Can we get free samples?
–Yes, We can ship reference samples for your checking quality and style. Samples are free, you just need to pay the shipping cost.
Quotation:
1, Reference sample from woven labels' photo gallery or other places.
2, The quantity you want. Our MOQ is 100pcs.
3, Your logo or your design if you have.
4, The fold option of woven labels.
Contact us by E-mail or WhatsApp
Related Products