The custom high frequency label on fabric is also called felt label, it takes silicone/PVC material fusion welding on the felt fabric by high frequency skill. High frequency refers to the electromagnetic wave frequency of more than 100 kHz. Besides, we can add the customer's brand logo to the high-frequency label. In addition, there are many applications for the label. Such as in gift packing, flowers, bows, decorate ribbons, etc. Further, it is suitable to decorate ribbon and garment accessories. Apart from this, it is ideal for gifts, card string, labels, toys, shoes, etc.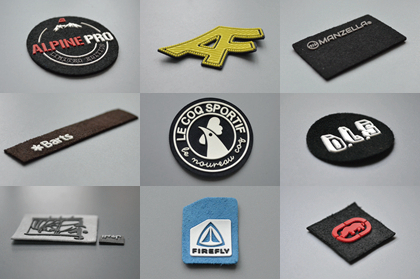 Felt is consists of wool. But, cow hair or fiber can make it too. Its main feature is flexibility. We can use it for anti-vibration, sealing, cushioning, etc. So, it is ideal for various clothing accessories, industrial machinery, friction resistance, etc.
The custom high frequency label will improve your brand image. Meanwhile, it will perfect your product's appearance. Similarly, its logo is 3d raised. So it will give customers a subtle visual appeal. At this time, they will understand your brand. And memorize the brand image you convey in a subtle way. Thus, they are likely to become devoted customers of your brand in the future.
How to maintain the high frequency label (felt label)?
Wash with cold water;
Felt products cannot be bleached;
Choose a neutral detergent marked with a pure wool logo and no bleach;
Wash by hand alone. Do not use a washing machine, so as not to damage the appearance;
When cleaning, use the hand light pressure method. And the dirty parts only need to be gently scrubbed. Never use a brush to scrub;
Washing with shampoo and conditioner can reduce the phenomenon of pilling;
After cleaning, hang it in a ventilated place to dry naturally. If you need to dry, please use low-temperature drying.
Quotation of the high frequency label
Reference sample from high frequency label's photo gallery or other places.
The quantity of high frequency label: our MOQ is 1000pcs.
Your logo or your design of high frequency label if you have.
Contact us by E-mail or Whats App