Adhesive labels are paper or PET sticky labels that affix to fabric, and custom adhesive labels can be printed with designs to replace sew-in woven labels. They appear adhesive and sticky on one side. And they have a design on the other for fashion brands. Compared with traditional labels, adhesive labels are no need to apply glue, no paste, no dipping in water.
Adhesive labels can be an alternative for sew-in fabric labels. Because they are common for mattresses, bedding, quilts, and other textiles. Attaching these labels can make shopping faster for the customers. And the labels can inform them if the item fits. So customers are no deed to have to dig for the tag. They are ideal for the bar code, expiry date, tracking code, or product description.
The material is a composite material using paper, film, or other special materials. Its back is an adhesive. It's a composite material with silicon protective paper as the base paper. And after printing, die-cutting, and other processing, it becomes a finished label. We offer three adhesive options: permanent, removable, repositionable. Most custom labels have permanent adhesives because it can be applied to a variety of surfaces. When you need to remove the label cleanly, the removable label can protect your items from damage. The repositionable adhesive are short-term removable. This is helpful if you put the label in the wrong place.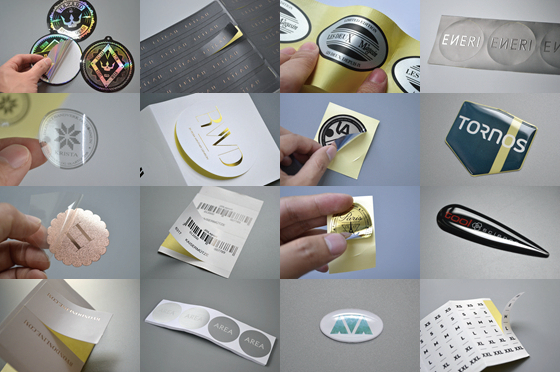 All kinds of adhesive labels are suitable for materials that cannot use ordinary paper labels. Compared with the printing of traditional printed materials, the labels are different. We print and process them on the label interlocking machine. Statistics indicate the current self-adhesive labels maintain a rapid growth on the market. Meanwhile, the application is more extensive. As one of the professional label producers, we wholesale custom label materials. We want to make ensure that your labels are properly pasted. Thus, all of our inks, adhesives, liners are in good condition.
Details of adhesive labels:
1, Material: PVC, PET, PP, offset paper, etc.
2, Size & color: any size & any color is available.
3, MOQ: unlimited.
4, How to use: Just peel off the bottom paper and press it lightly to stick to the surface of various substrates.
Advantages of adhesive labels:
Lightweight, easy to handle and carry;
Environmental friendly;
Various choice in color, size, and style;
No need to brush glue, no paste, no dipping water, etc;
Save labeling time;
Safe packing
Quotation:
Reference sample from adhesive labels' photo gallery or other places.
Design your logo of adhesive labels if you have.
The price will depend on your quantity and standard.
Contact us by E-mail or WhatsApp