Custom zipper puller is known as zip puller, zipper head, zipper pull, zipper pull tabs, zipper slider, materials include leather, metal, plastic, or fabric. But, we wholesale rubber & silicone and PVC pullers for clothing too. So, the fancy zipper pulls are ideal for garments and bags. And your customized ziper logo can be printed on them. All the custom zipper pulls are ideal for 3# 5# zippers.
We offer various replacement zipper pulls for zippers. Moreover, all the size, types, and the color of custom zipper puller design are available. Many clothing and bag brands customize personalised zipper pullers from us to improve their brand. Then, you can make your logos engraved or debossed on the surface of the zipper slider. In addition, they are easy to open and close. Explore the best suitable zipper puller on our site to customize it for you!
All the customized zipper sliders are perfect for dresses, coats, purses, and suitcases. And the zipper slider is an item that runs up and down the zip tracks. Thus, you can send your logo art files to us if you want to customize them. If not, our designer will offer free design for you. The personalized zipper pulls your order from us will promote your brand and business. Because we all know the power of the brand.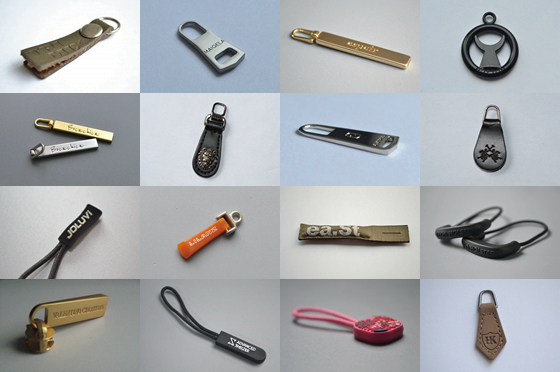 Zipper puller is ideal for the following industry. Besides, we regard it as a fashionable and high-quality custom accessory. Our zipper puller covers many products. Such as zipper tags & labels, zipper pull tabs, logo zipper pulls.

Meanwhile, silicone & rubber & leather zipper pulls, name & woven zipper pulls, etc are in our scope. So, you can create your own branded zipper pull with the company logo, too.

Garment industry: overcoat/jacket/suit/leisure suit/T-shirt/work-clothes/sportswear/jeans wear/trousers/pants and so on.
Bag industry: handbag/dust bag/school bag/purse/backpack/luggage and so on.
Details of zipper puller:
Size/color/shape: as per customer's request;
Material: metal, zinc alloy, brass, nylon, soft PVC, rubber & silicone, PU, leather, genuine leather, metal, woven label, etc;
Workmanship: metal zipper pulls tab and PVC/silicone zipper pulls shape are fixed by 3D mold;
Packing: inner packing with PP bag, outer packing with export carton;
MOQ: 100pcs;
How to remove and replace a missing or broken zipper slider?
The detachable zipper puller is detachable. Also, it can remove and replace a broken or missing zipper slider. We don't need to worry about damaged zippers! So, you can remove it at any time. Moreover, you can install it at any time. They are flexible and durable. So, this is a new solution to help save costs. Therefore, when your zipper pull is broken, replacing the zipper head will have a positive effect!
Where to buy zipper puller & zippers?
If you want to know where to buy zipper puller, come to our site to customize them. Because we can ship it to many countries. Such as the USA, UK, Canada, Australia, South Africa, etc. As skillful zipper puller makers and manufacturers, Besides, we are responsible for our customers. And we try to achieve global reach.
Quotation of zipper puller
1, Reference sample from zipper puller's photo gallery or other places;
2, The quantity you want. Our MOQ is 100 pcs;
3, Your logo or your design if you have;
Contact us by E-mail or WhatsApp