The croc-embossed bags are made of 100% stamped cow or faux leather, which is printed and embossed to resemble the texture of real crocodile skin leathers. These bags have structured yet feminine. Besides, they come in a variety of shapes. Such as satchel bags, shoulder bags, purses, shopping bags, top handle bags, and totes. They supply ample room for all the daily essentials. We supply custom croc-embossed bags with brand logos and names. They can pair with your fashion clothing, such as jeans, tops, dresses, skirts, etc. Besides, they play well with other popular fabrics, such as cashmere, suede, and velvet.
The croc-embossed leather is the imitation or fake croc skin. Although fakes are rarely a good thing, they take the idea of crocodile and stylize it in some way. So it doesn't feel like imitation. Besides, the croc-embossed leather elevates the look slightly. The structured style has been around since the 1950s. It has been a favorite with style idols. Hence, a stylish croc-embossed bag is the perfect statement bag for a show-stopping look. It is elegant and timeless. So, with the crocodile bag, you are the brightest girl on this street.
We design customized crocodile-embossed bags for you. You can print your logo and name. Thus, it is an excellent option for brand recognition of your products. Besides, we spend a great deal of time and focus on quality. These 'croc-effect' embossed leathers are made from 100% cow leather. They are extremely resistant to water and wear-and-tear. Any color or size is available for you. And the MOQ is unlimited for the bags. We can customize it according to your art files or photos. Besides, we will ship them at a competitive price to the USA, UK, Canada, Australia, Brazil, South Africa, etc.
Photo gallery of croc-embossed bags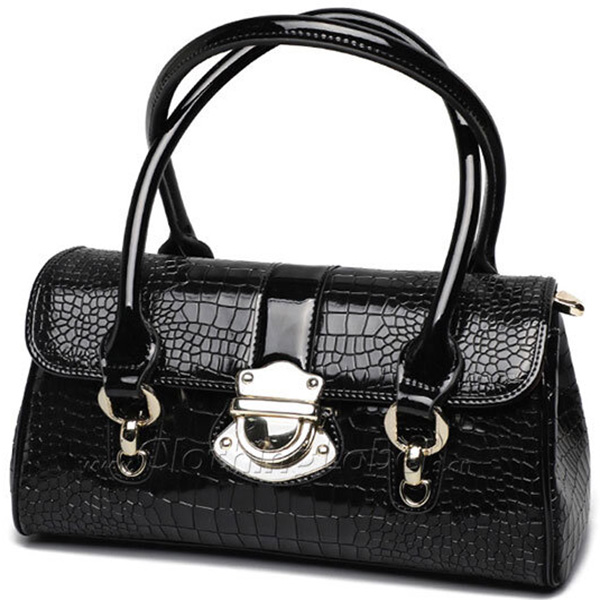 Compare to real crocodiles leather
1, Economic. Breeding crocodiles is no easy matter, so real croc skin is expensive. In contrast, croc-embossed leather is a particular material, normally of bovine or ovine origin leather. So printed or embossed leather is much cheaper than real crocodiles leather.
2, Ethical: Cow leather is recycled material, unlike real reptile skins. There's not only croc-embossed calfskin but also croc-embossed vegan leather options too.
3, Design: the embossed leather is wider and has fewer defects than genuine reptile leather. So, the designers themselves have got a lot of leeway when dealing with croc-embossed leather.
Details of croc-embossed bags
1, Material: cow or faux leather.
2, Technics: printed, embossed, stamped, etc.
3, Colors and sizes: customized; as customers' request.
4, Features: eco-friendly, cheap, durability, ethical.
5, Style: no limit.
6, MAQ: 100PCS.
Crocodile pattern
The crocodile pattern is new material. With the resurgence of animal patterns, it becomes the most reproduced pattern. And the crocodile pattern looks similar to crocodile leather. But this kind of embossing does not use real crocodile leather. But, the crocodile skin effect is made by embossing on cowhide or artificial leather. Thus, this is greener and the price is more affordable.
The crocodile pattern does not have the flamboyant color of leopard and zebra patterns. But it appears mysterious and gorgeous through the texture.
Crocodile leather bags for pets
Factories emboss, cut, and shape the cowhide. Then, a beautiful and high-end portable and single-shoulder dual-use bag is perfectly presented. In short, crocodile leather bags are ideal for pets. The head position of the pet is always reserved. So the design is humane.
If you put a customized washable pet mat in the bags, the humanized design can be displayed. A washable pet mat can be made of polar fleece and cotton. Its interior uses eco-friendly composite fabric and padding cotton. And it is no harm to pets. And the bag can store daily necessities. Such as mobile phones, changes, etc.
Quotation of croc-embossed bags
Reference sample from the croc-embossed bags's photo gallery or other places.
The minimal quantity (MOQ): 100Pcs.
Your logo or your design of the croc-embossed bags if you have one.
Free Design | Free storage service | One-to-One Support | One-Stop Purchasing
customize your own brand croc-embossed bags with logos!
Feeling inspired?
Our Product Experts will guide you through every step of the custom process.