We supply custom rubber labels includes PVC labels and silicone labels for fashion brands, which are widely used in clothing, bags, shoes, hats, and so on. They are perfect for jeans, jackets, and other accessories, which usually need a more unique brand identification method than just woven labels. The rubber labels provide a vibrant, eye-catching label for your promotion. Using these labels can enhance the look of your clothing by adding layers.
Our custom rubber labels are soft and rubbery to the touch. The rubber material is characterized by its durability and longevity. Even in the harshest of conditions, they are made to last. To make the best of them, there are three ways to attach them to clothes. Adding a sewing channel is the easiest way. You also can choose appl rubber labels by heat adhesive or sticker adhesive. However, you need to notice that this method may not be available for all applications. Another option is to use a heat welding machine. This machine can promise your labels to be applied to clothes perfectly without sewing or adhesive involved.
All of our rubber labels can be customized to suit your specific needs. PMS colors, apply method, shapes are optional. Every design needs a special mold, and the rubber will be injected into each mold. We use advanced precision tooling and injection molding to promise all your custom labels are clean and sharp with vibrancy. Even the small text can display amazing results. You also can choose raised graphics or debossed logos to give your clothes a unique 3-D effect that brings intrigue and texture to your garment.
Types of rubber labels
Silicone label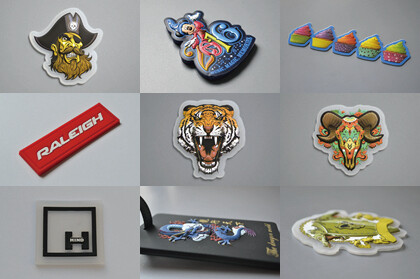 The raw material of silicone labels is silicone, the process to finish the silicone labels is to heat the silicone raw material to liquid firstly, then put the liquid into the customized model with the customer's logo, the silicone labels will be finished finally when the liquid cools down to solid status. The silicone label technique is as same as the silicone bracelet.
PVC label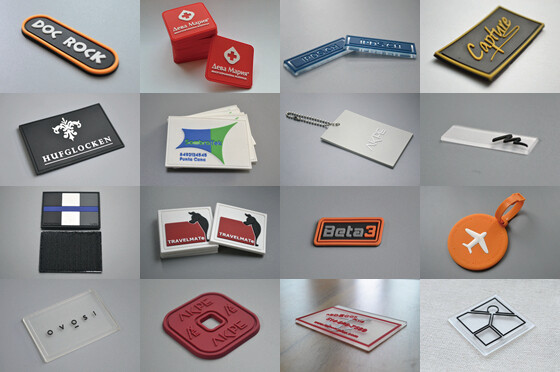 PVC labels for clothing are typically sewn on the outside of garments, canvas covers, bags, and sports jerseys to advertise your branding image. Greatly valued added-look for any apparel item.
Details of rubber labels:
1, Material: silicone or PVC
2, Size/color/shape: as per customer's request.
3, Workmanship: the shape is fixed by 3D mold.
4, Logo: Logo can be embossed/debossed on both sides.
5, Packing: inner packing with PP bag, outer packing with export carton
6, MOQ : silicone labels: 1000pcs; PVC labels: 100pcs.
Quotation:
1, Reference sample from rubber labels photo gallery or other places.
2, The MOQ: silicone labels: 1000pcs; PVC labels: 100pcs.
3, Your logo or your design if you have.
Contact us by E-mail or WhatsApp