Metal wine labels are customized from soft metallic foils such as aluminum, pewter, brass and specially designed for liquor, vodka, wine, and whiskey bottles. Meanwhile, they are perfect for Brandy, Champagne, Rhum, Tequila, Avery wine bottles. We supply all kinds of luxurious metal wine labels & tags with personalized brand logos. These custom wine labels can be embossed, engraved, stamped, or laser engraved to design a 3D effect. Besides, the strong adhesive on its back helps to fix it to the bottle. These wine labels bring your bottles a polished and advanced look. So, it will bring more value and prestige to your brand. And it can help you open the market.
Compared with ordinary metal labels, metal wine labels need higher design skills and mold costs. Meanwhile, the normal mold fee is $190-$220, but the final mold fee should decide according to the actual design. And copper is cheaper. It is because the wine label is curving. And a little deviation might cause the label to fail to fit the wine bottle. So we do curves according to the diameter of your wine bottle. And all wine labels can be customized, and curved to match the radian of your bottles. Besides, these funny wine labels can withstand any type of temperature. They won't stain with mold or moisture. Therefore, it is an ideal choice for liquor, champagne, red wine, and whiskey bottles.
We can help you create metal wine labels & wine bottle stickers of any size or shape. Thus, you can send your logo art files to us if you want to customize them. If not, our designer will offer free design for you. In addition, we can ship them worldwide. Such as France, the US, the UK, Canada, Australia, Japan, South Africa, etc.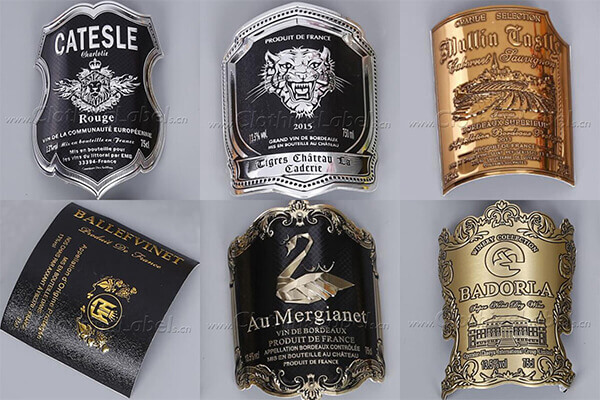 Details of metal wine labels:
1, Material: Aluminum, Pewter, Zinc alloy, Brass, Nickel, etc;
2, Finishes: Embossed, Stamped, engraved, printed, or lasered;
3, Sizes and Shapes: Customized;
4, Color: white, red, silver, gold, antic silver & gold, purple, black, customized color, etc;
5, Thickness: 0.1-0.6 mm, customized thickness;
6, Logo: Logo can be debossed or raised in a 2D or 3D;
7, Surface: we can add Various decorations like artificial diamonds to the surface;
8, Back fastening: Self-adhesive; 3M glue;
9, Artwork: PDF, AI, PSD, CDR, etc;
10, MOQ: NO MOQ!
Custom wine bottle labels with no minimum quantity
There is no minimum order quantity for our metal wine bottle labels. So, you can order any number as your need. And we can tailor the most suitable, most luxurious, and most cost-effective wine bottle labels for you. Any color, size, thickness, or shape can be customized. Whether you are red wine, white wine, wine merchant, or factory, we can realize interesting and unique metal wine labels and stickers for you.
And the more quantity, the cheaper the unit price. The unit price for orders of 10,000 or more is much lower than the unit price for orders of 100 or less. Therefore, if you want to order, please feel free to contact us via email or WhatsApp. We will give you the best deals and discounts.
What information will be included on the metal wine labels?
Wine labels vary from region to region. But basically, there are key items such as origin, wine variety, year, bottling place, and grading. Regarding the indication of the origin, the more accurate the quality, the better. The wine labels of some countries will even indicate the wine gardens, villages, and regions in detail to ensure the quality of the wine. Sometimes the cultivar and origin name appear on the label at the same time.
In addition to the above-mentioned basic cognition, metal wine labels sometimes contain other information. Such as alcohol content, sweetness, inspection number, wine seals, trademarks, and certificates of quality merchandise.
Types of Wine labels
Wine labels are labels attached to wine bottles. Like an ID card for alcohol, it contains a lot of relevant information. Reading the label of a bottle of wine is the same as having a basic understanding of its background before tasting its flavor.
There are two main types of wine labels, one is paper wine labels. And it is directly attached to the wine bottle. And more information about the bottle and wine can be printed on it. Then, the other is metal wine labels, which are more upscale and luxurious. Also, we supply custom bottle neck tags with paper, leather, and metal materials.
Quotation:
Samples please refer to the metal wine labels' photo gallery or other places.
MOQ: no minimum quantity!
Please send us your logo or design file if you have one. If not, we offer free design for you.
Contact us by E-mail or Whats App