Custom rubber zipper pulls are zipper puller tabs with rubber material and logo names for clothing fashion brands, which include Silicone and PVC zipper pulls. Logos can be printed, embossed, raised, engraved. In addition, we are leather, metal, hard plastic, and woven fabric zipper pull makers and wholesalers. Many garments and bags brands will customize personalized zipper pulls to highlight the brand image. This increases brand awareness and earns consumers' love and loyalty.
Rubber zipper pulls are a more flexible and durable material choice. In addition, we usually connect it with nylon rope, metal semicircles or rings. Usually we printed brand logo or letter in a single side. Except that, we can make it into any shape or color. Some sportswear, outdoor sportswear, children's clothing, jackets and even backpacks will give priority to rubber zipper pulls. Besides, it is suitable for custom hoodies, gym bags, purses, luggage. These custom rubber pull tabs can increase your brand awareness. And it even generates loyalty and advocacy.
Product details of rubber zipper pulls
Color: as per customer's request or your art files(logo file);
Size: All sizes are available to customize;
Shape: rectangle, square, round, heart shape, logo shape, letter shape, special shape, special shape, etc;
Type: zipper slider, zipper tabs, zipper puller, etc;
Material: plastic, soft PVC, rubber & silicone; other types of zipper pulls material have metal, zinc alloy, nylon, PU, leather, woven label, etc;
Workmanship: PVC/silicone zipper pulls shape is fixed by 3D mold;
Usage: garment, jackets, coats, bags, luggage, backpack, home textiles, etc;
Packing: inner packing with PP bag, outer packing with export carton;
MOQ: PVC zipper pulls: no MOQ; Silicone zipper pulls: 1000pcs.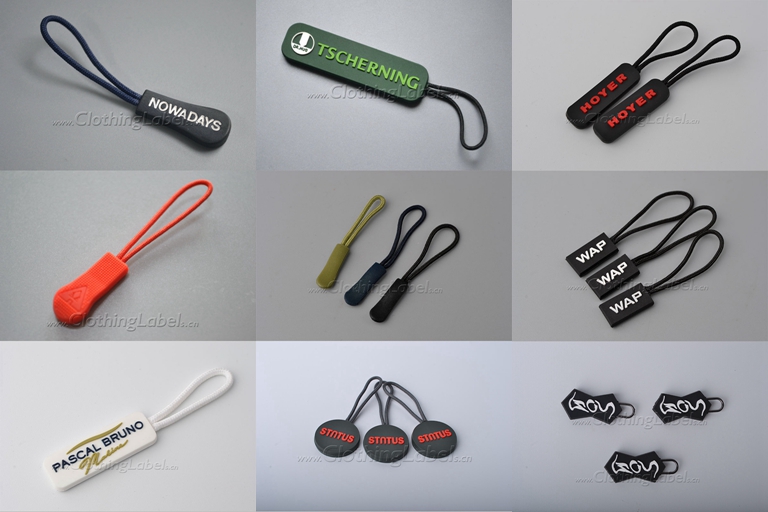 Types of
rubber zipper pulls
PVC zipper pulls
PVC Zipper pulls can be made into soft PVC 2D, or 3D zipper pulls. And it has no minimum quantity. Because of MOQ and lower prices, 90% of customers will customize PVC zipper pulls. And In terms of price, PVC pull tabs are the most cost-effective. Then, we can add 3D logos, letters, patterns, etc on the personalized PVC zipper pulls.
Silicone zipper pulls
Silicone zipper pulls have a smooth finish and are more pigmented. And it is non-toxic and eco-friendly. In terms of mold fees, silicone pull tabs are more expensive than PVC zipper pulls. In terms of hand feel, it is softer and more flexible. The PVC pull tab will have a plastic smell. But, the silicone pull-tab basically does not. If it is a children's clothing brand, it is good to choose silicone zipper pulls.
Advantages
It is durable and flexible; hardly damaged;
They are wear-resistant and soft and won't scratch the skin.
We can remove them easily and replace them with another one.
They are eco-friendly materials and suit for child clothes.
It is rich in color, size, and shapes;
How to customize the rubber zipper pulls?
Please tell us the size, quantity, and logo image you want when inquiring. Then, we will quote you according to your requests. At the same time, we provide free designs and design drafts. Afterward, our salesman will communicate with you the specific details.
For more zippers and zipper pulls types, please refer to the article on zipper puller. In the article, there are all types of zipper pull samples. As a professional pull tab manufacturer and supplier, we also have other zipper pull types. We not only produce soft rubber zipper pulls, but we also supply metal, leather, hard plastic, fabric, and woven pull tabs.
Custom process

Contact us by E-mail or WhatsApp