Make & wholesale personalized custom name patches & badges, as embroidered, woven, chenille, PVC, leather, metal patches, with brand logos or occupation names. And you can customize occupation names like policemen, cooks, firemen, and salesmen. Simple and well-designed name patches can boost brand awareness. So, many brands will come here to customize all kinds of cheap or luxurious high-end patch types.
Our custom name patches are ideal for any brand. Such as clothing, hats, shoes, bags, etc. Order custom name patches for apparel, letterman jacket, shirts, coats, workwear, uniforms, backpacks, sportswear, swimwear, ID cards, and biker. Any color, size, or shape is available.
Details of custom name patches
Background Fabric: cotton, felt, twill Fabric, canvas, chenille, polyester, PU, genuine leather, metal, PVC rubber, silicone, TPU, etc.
Edge processing: overlocked edge, laser cut edge, one-time molding without cutting, ordinary cutting, embroidered edge;
Crafts: embossing, debossing, hot stamped gold/silver, screen printing, embroidery, iron-on, woven, sewing, die cutting, etc;
Backing: 3M adhesive, hot-melt adhesive, loop & hook(Velcro)fastening, sewing, magnet backing, add safety pin or butterfly pin, etc;
Shape: round, square, rectangle, triangle, special shape, custom shape;
Size/Color: as per customer's request;
MOQ:
Embroidered or woven patch: NO MOQ;
Leather/PVC patch: 100pcs.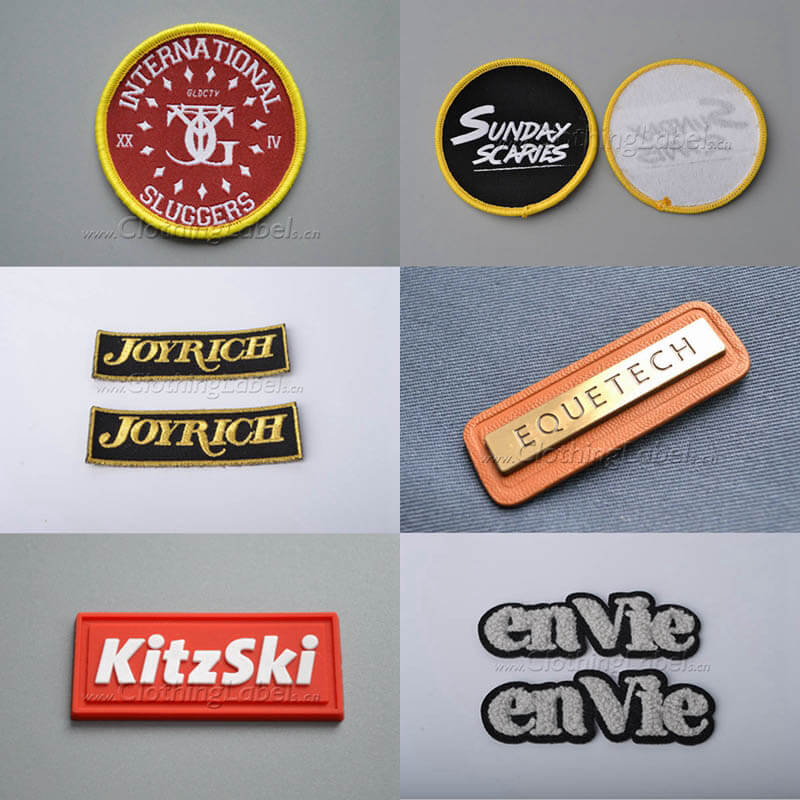 Types of custom name patches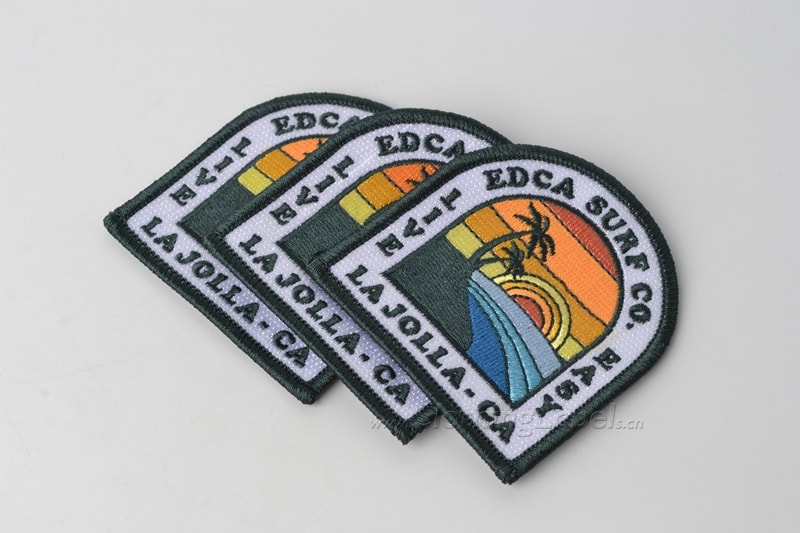 Custom embroidered name patches can embroider company names, brand logos, and workers' names on the patch. And it's popular to customize a personalized name patch for your brand and workers.

We also make and wholesale custom woven name patches in many colors and sizes. There have no minimum quantities. Besides, they are ideal for clothing, hats, bags, military, schools, outwears, sportswear, etc.

We supply custom chenille patches with no minimum for any letter or logo shape. It feels soft and flat to the touch. Design your own personalized chenille patches for garments, and hats to increase brand awareness.

Custom leather name patches include real/genuine leather, PU/PVC artificial leather, or microfiber Leather patches. All the personalized leather patches can be customized with your brand logos or any product name.

Want to customize your own unique brand name patches? Please choose custom PVC name patches. It's soft and cheap. Then, if you prefer eco-friendly material, we recommend silicone. It is non-toxic and good for the body.

Customize metal name patches with engraved names/logos for your brand! Common materials have zinc alloy, aluminum, stainless steel, brass, copper.  Welcome to create a shining but special metal name patch that suits you!
Edge processing
Many patches we supply for our customers have overlocked edges or laser-cut edges. But, overlocked edges only suit relatively regular shapes. Too irregular shapes can't use overlocked edges. While you can choose laser-cut edges or ordinary manual cutting. The common edges of custom name patches are as follows:
Overlocked edges,
Embroidered edges
Laser-cut edges
one-time molding without cutting
Backing options to attach the name patches
Hot-melted Adhesive backing(hot glue). Fix the custom iron on name patches in the desired position of the garment or hats. Then, use a pressing machine or iron to heat it until the adhesive is melted.
Hook and loop(Velcro) backing. The velcro name patches' back is fastened to the clothes with hook and loop. We can easily remove and fix it. Meanwhile, we can replace it at any time with a new one.
3M adhesive backing. Just peel off the film on the surface and stick it directly to clothing or hats.
Sewing(no backing). It is also a common fixing method. And we just need to sew the patch into target fabrics.
Add metal loops or rings. We often use it in daily keychains, jackets, trousers, etc.
Safety pins (or butterfly pins). We just need to pin the patches to the garments. In addition, we can replace it at any time.
Applications of custom name patches
Garments, like jeans, denim jackets, letterman jacket, school uniforms, military uniforms, work uniforms, coats, shirts, work shirts, suits, children's clothing, shirts, trousers, and sweaters.
Backpacks, bags, Handbags, purses, wallets;
Shoes
Epaulettes, armbands, badges, caps (hats) badges;
Home textiles, such as pillows, towels, quilts, carpets, scarves
Travel, gifts
Accessories, mobile phone case, keychains;
Crafts, DIY handmade items;
FAQs
1, What's the price of the custom name patches?
–The price depends on your custom size, color, technics, and quantity. You can send us your art file, we make a free design for you.
2, What is the bulk production time and shipping time?
–Bulk goods are about 10 to 20 days. Shipping time is 3-6 business days by express.
3, What profile is needed when production?
–Pls, send us vector logo files, like PDF, AI, ESP, CDR, or original files from PSD. If you have no art file, we offer free design for you.
4, Can we get free samples?
–Yes, you can. Our samples are free, you just need to pay the shipping cost.
5, What is the order process for getting the patch?
–First, we need to discuss basic information with each other. Such as size, color, material, quantity, technics, etc. Then our product expert will give you the price and invoice. Then, you can pay. After you pay, we will make the design for you. After you confirm the design, we can arrange the bulk production. The production time is about 5 to 15 business days.
You may also like
Customize personalized name patches for your brand!
We design various types of custom name patches in different size or color for you. Meanwhile, we manufacture and ship all products worldwide. Such as the United States, Britain, France, South Africa, etc. In addition, we have obtained the OEKO-TEX STANDARD 100 woven label certification. All the fabric patches(embroidered patches, woven patches, or chenille patches) are good for people's health.
Design your own custom name patches for your brand now! Free design! NO MOQ!
NO MOQ | Free Design | Free storage service | One-to-One Support | One-Stop Purchasing
Create your own personalized Custom Name patches for brands!
-We are custom patch maker and wholesaler
Our Patch Experts will guide you through every step of the custom process.