Shell buttons are the mother-of-pearl buttons in garments made of natural shell material with an iridescent shell finish and used for clothing brands. Each shell button has its own unique pattern. These buttons are more delicate and brittle than manufactured buttons. Despite that, they are still popular among the clothing buttons due to their decorative beauty. These buttons can be carved from almost any layer of the shell. And so they vary widely in shape and size. Colors can be natural or dyed. We can engrave the logo by machine according to different requests.
Types of shell buttons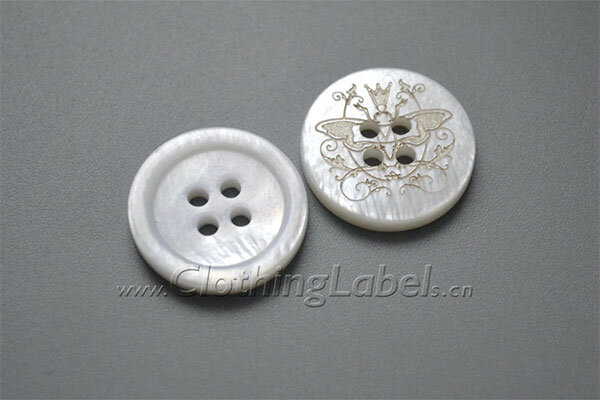 There are various kinds of shell buttons. And the more common ones are shell, black or white plate shell; byssus shell, mas shell, conch shell, etc. Real shells, black and white plate shells are popular, with reasonable and good prices.
Materials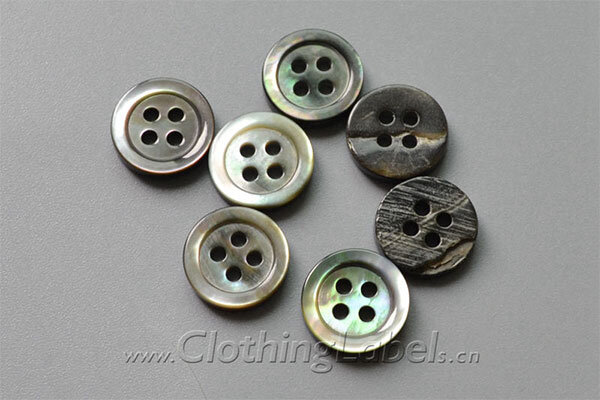 The button is a type of natural button. That means they are from substances found in nature, rather than being manufactured, like plastic or metal buttons. They can be produced out of a wide range of freshwater or marine sea life. The shell material includes Agoya, abalone, trocar, tortoise, scallops, etc.
Pros of shell buttons

Uniquely beautiful. Despite their perishable qualities, we still try sturdier in thickness. Ignoring that, their amazing brilliance is sure to elevate your projects.
No harm. The buttons are made of eco-friendly natural materials. In addition, they are non-toxic and trendy.
Good taste. These buttons are able to define your class due to their exclusiveness. They are the first choice for high-end garments because of their elegant texture and brilliant color.
Flexible customization. Custom shell buttons meet your different needs. And we can engrave logo, text, or exquisite patterns.
Application of Shell Buttons
Like polyester buttons, the stunning shell buttons are ideal for fashion garments. You can see them in shirts, dresses, cardigans, etc. They lend color and even impart spirit and uniqueness to the garment. Besides, they are suitable for your sewing, knitting, or craft project. They have many applications in accessories like purses, purses, or wallets. And the MOQ is 100pcs. Hence, they will be the perfect addition to the home decor project.
What is the shell?
The use of shells by humans has a long history. As early as the Stone Age, cavemen would perforate shells to make decorations. From ancient times to the present, seashells have been an element that designers will use. Their luster and natural type have been full of unique fashion charm. Today, people use shell buttons to decorate clothing. Thus, shell buttons have become one of the dazzling clothing accessories.