Silicone labels are resistant yet flexible rubber labels, we produce custom silicone labels printed with logos for fashion brands to elevate the brand image. They can be stuck to the fabric with adhesive, stitched on, or attached externally with string. We can engrave, raise, print logos on the labels at your request. So, it is ideal for clothing, accessories, etc.
The raw material of silicone label is silicone. But the process of completing the label is as follows. First, heat the silicone material into a liquid. Second, put the liquid into the model with the customer's logo. Third, when the liquid cools to a solid, we can say the label is completed. The silicone label process is the same as the silicone bracelet.
First, we drop the liquid material into the mold. Second, after heating, baking, and cooling, the mold can turn into a plastic product. Meanwhile, their materials include silicone and PVC. Further, they are suitable for accessories and decorations. Such as clothing, shoes, and hats. Besides, we can make them be key rings, mobile phone pendants, etc.
We are a professional silicone label manufacturer. This selection we wholesale includes luminous silicone. At night, wearing clothes with luminous silicone tags will show fluorescent colors. Besides, they don't need light. Because the darker the place, the more obvious the brightness. Thus, the luminous silicone labels are perfect for some special clothes. We supply custom clothing labels for many clients. Apart from this, Any size, color, type is available. Please send us your logo file if you need to customize it. We offer free design for you if you need it.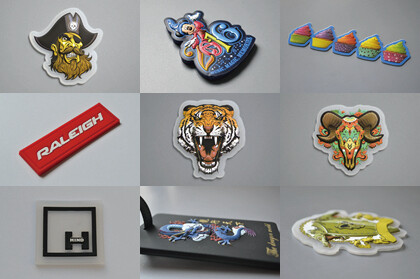 Merits of silicone labels compared with PVC labels
They are soft and smooth;
The silicone labels are weather-resistant;
They are easy to sew on clothes at an affordable price;
4.Can custom match your brand color;
Details
Size/color/shape: as per customer's request;
Material: silicone;
Workmanship: the shape is fixed by a 3D mold;
Logo: the logo can be embossed/debossed on both sides;
Packing: inner packing with PP bag, outer packing with export carton;
MOQ : 1000pcs.
Quotation
1.Reference sample from silicone labels' photo gallery or PVC labels' photo gallery.
2.The minimum quantity: our MOQ is 1000pcs.
3. Please send us your logo file if you need to customize it.
Contact us by E-mail or WhatsApp