Silicone labels are a resistant yet flexible rubber labels, we produce custom silicone labels printed with logo for fashion brands to elevate brand image. Your LOGO can be engraved, raised, printed on these custom labels, usually used for clothing, canvas covers, and sweatshirts.
The raw material of silicone labels is silicone, the process to finish the labels is to heat the silicone raw material to liquid firstly, then put the liquid into the customized model with the customer's logo, the labels will be finished finally when the liquid cools down to solid status. The silicone label technic is the same as the silicone bracelet.
The silicone labels we produce also have luminous silicone. At night, wearing clothes with luminous silicone labels & tags will show fluorescent colors. They don't need lighting, the darker the place, the more obvious the brightness.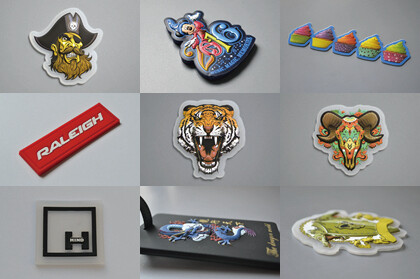 Merits of silicone labels compared with PVC labels:
1.They are soft and smooth
2.They are weather resistant.
3.They are easy to sew on clothes at an affordable price
4.Can custom match your brand color
Details:
1.Size/color/shape: as per customer's request.
2. Material: silicone.
3.Workmanship: the shape is fixed by a 3D mold.
4.Logo: Logo can be embossed/debossed on both sides.
5.Packing: inner packing with PP bag, outer packing with export carton
6.MOQ : 1000pcs
Quotation:
1.Reference sample from photo gallery or other places.
2.The quantity you want. Our MOQ is 1000pcs.
3.Your logo or your design if you have.
Contact us by E-mail or WhatsApp