Clothing tags are hang tags & swing labels to print, woven, embroider with logos for fashion apparel, materials have paper, PVC, metal, fabric, leather, etc. The materials of custom clothing tags include papers, fabric, PVC, leather, metal, etc. Putting fashion logo tags for your clothing line or products is an effective way to connect your target market. In addition, we wholesale clothing tags printing at a cheap price. Such as leather clothing tags, plastic clothing tags; metal clothing tags, clothing tags, and labels. And personalised clothing tags can advertise your goods during display.
We will print the brand name, logo, and other details on the personalized clothing tags. Thus, it will give people a sense of design and expertise. So, when customers buy or receive clothes, they will see the product information. Similarly, the logo can foster customer loyalty. Also, the logo makes buyers know the brand image you convey. Therefore, the customers are easy to be your devoted customers.
Details of clothing tags:
1, Functions(craft or fancy paper, coated art or ivory board paper) / woven fabric/ Plastic /PVC/Frosted PVC/PU/genuine leather, etc;
2, Size & color: any size & any color is available;
3, Functions: Gold / sliver hot-stamping, spot UV, embossing; die-cut to shape, glossy/matt lamination, protect varnish, etc;
4, Addition parts: eyelet with string;
5, Add on metal parts and accessory for matching;
6, MOQ: 100pcs;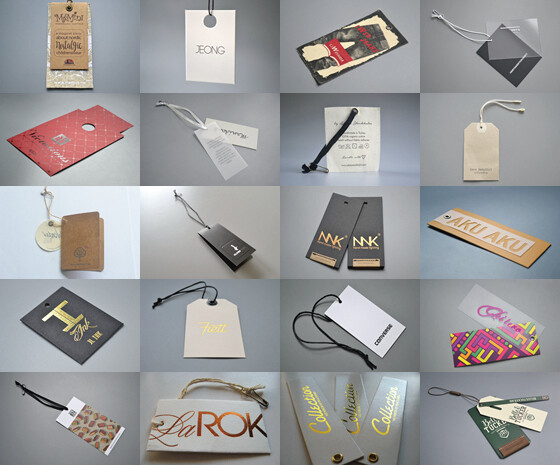 There are many shapes for clothing tags. For example, long strip, half-folded, round, triangular, pocket, and so on. Besides, their textures are mainly paper, plastic, and metal. But there are also many manufacturers who choose leather, PVC, and other materials for the name tag. Generally speaking, paper clothing tags are the most common. Meanwhile, you can make iron-on, printed clothing tags or clothing size tags for your garments. So, all the custom tags and labels can reach global wide.

Please advise us about the material, size, color, quantity. And whether we need an eyelet with string when you make an inquiry. But, it will be better if you can send us the design of it. Then we can give you a specific quotation.

The custom clothing tags we manufacture are of high quality and low price. And also, we have various sizes and materials for your fashion brand. Meanwhile, we can design a unique logo for you to improve your brand image. Of course, our designers have many years of experience. So, they can give you a professional tag design service.
Clothing swing tags are one kind of clothing tags. And they adopt eco-friendly printing skills for product information on one or both sides. And customers' logo can be added to it. Any sizes, colors, and styles are available. No matter what your budget is, we can supply you with the best swing tags. It is to make your clothing brand stand out in the fierce competition. For more information, please contact us on products' detailed information. We will give you the best quality and affordable price.
Contact us by E-mail or WhatsApp
Reference sample from China clothing tags' photo gallery or buy from other places.
Please send us your logo or your design if you have one. If not, we offer free design for you.
Our products can ship to the USA, UK, Canada, Australia, France, South Africa, and other places in the whole world.