We supply custom hang tags for fashion brands, which are labels attached to products to include information, like price, specification, brand stories, etc. Generally, they are made by paper, plastic, and metal, hanging on the products by string, rope and metal chain, etc. On the string tags, there print a brief description and design of the products. Some qualification certificate is hanging on the products as a hangtag.
As one garment accessory, hang tags mostly hang or sewn on some certain location of clothes or products, such as the back collar, cuff, waist of trousers or buttonholes, etc. The material of hang tags includes paper, PVC, leather. Surface effect o: Gold / Sliver hot-stamping, spot UV, embossing, and so on. They are very suitable for the retail brands, which can add the flashpoints in your brand design to all the products in your store. Often the hangtags are usually printed with important product information, such as product specifications, sizes, prices, etc.
It is really a good way to improve product design and promote a brand image to make your product unique. Sometimes customers will be attracted by well-designed hanging labels, which will promote the turnover rate and bring you greater order revenue. The hang tags are not only suitable for clothing brands, but it can be used for product packaging, backpacks, gift bags, shoes, pants, sports equipment, etc. It is everywhere in our daily life and is widely used.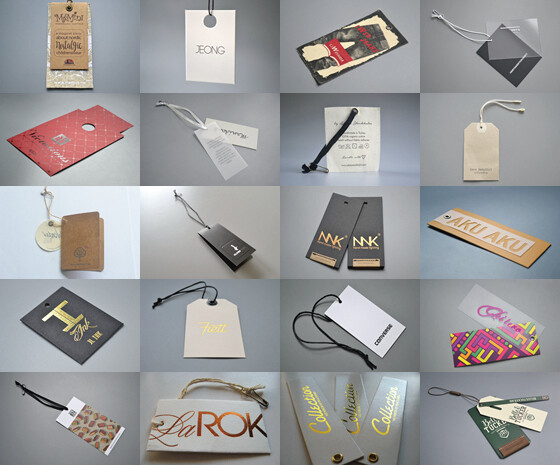 FAQs of hang tags:
What is the MOQ?
–100pcs.
2. What is bulk production time?
–7-13 business days.
3. What is shipping time?
–3-6 days by express.
4. What is the material?
–coated paper, black card, white card, tracing paper, special paper, PVC.
5. What logo style is available?
–Logo can be printed, raised, engraved, stamping gold/silver/bronze, UV.
6. What colors can be printed?
–It can be printed many colors based on PMS.
7. What profile needed when production?
–Please send artwork in CDR, ESP, AI or PDF format.
8. Is sampling available?
–Yes, the sampling fee is 80 USD, the sampling time is 5-10 business days.
9. Can we match the eyelet and string on it?
–Yes.
10. Can we get free samples?
–Yes, We can ship reference samples for your checking quality and style. Samples are free, you just need to pay the shipping cost.
Quotation:
Feel free to contact us to get more information about the price.
Reference sample from hang tags' photo gallery or other places.
The quantity: our MOQ is 100pcs.
You can provide or design your logo or get our help.
Contact us by E-mail or WhatsApp