We supply custom printed fabric labels for clothing, the materials include ribbons, cotton tapes, satin, nylon tapes, polyester taffeta, and canvas tape. As a printed trademark, it is a kind of operation in printing. Besides, it is helpful for customers to know the materials. So, they can choose the right ways to wash their products. In general, it includes a care or wash label, size label, and the certificate on the clothing tag.
Printed fabric labels, as the name implies, can include logos and brand names that are digitally printed right on the fabric. These labels are capable of a quicker turnaround time than woven labels. Even though these labels are printed, they are wash-resistant. Furthermore, its color is rich and beautiful with high definition. They do not only help convey your product parameters and changes. But they improve the origin and image of your brand. They are not only used for the clothing industry. It is ideal for outdoor decoration, footwear, the metal industry, logistics, etc.
We have a wide range of printed fabric labels made to your custom specifications. Choose from our selection of different substrates, including cotton, satin, polyester, or nylon. In addition, we can sew in or iron it on clothing for product ID or advertising. They might have information on a single side or both sides, depending on your needs. If necessary, we may also provide recommendations for the best pattern, format, and dimensions for your fabric labels.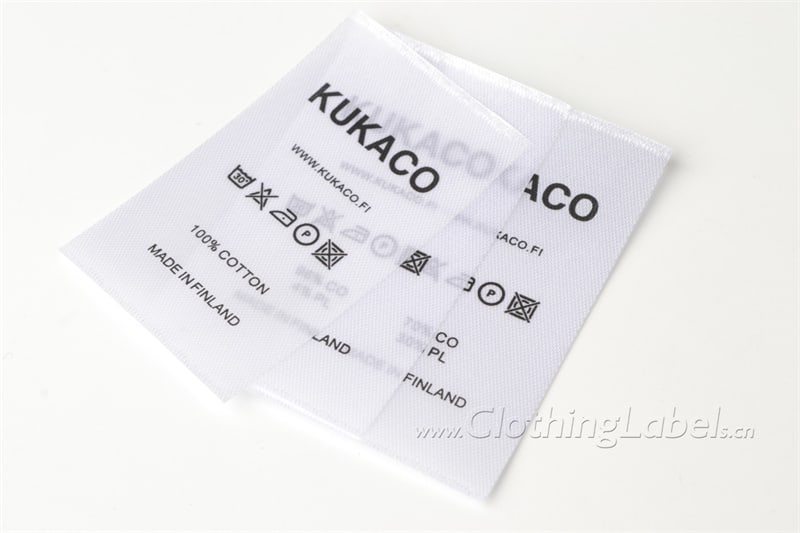 Printed fabric labels can be attached by:
-Heat-activated adhesives;
-Pressure-sensitive adhesives;
-Sewing on clothing, tents, mattresses, industrial sacks, etc.
81 kinds of material charts for printed labels for your reference as follows:
Usages of printed fabric labels
Brand identification
Brand identity is the visible element of a brand. Such as color, design, and logo. So, they can identify and distinguish the brand in consumers' minds. Hence, come here to customize your special printed fabric labels. Just because it's easy to improve your brand recognition.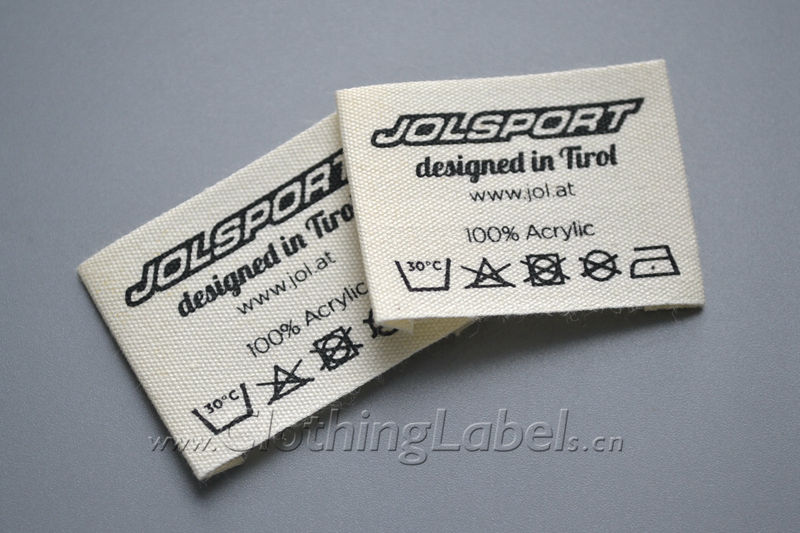 Name tags of printed fabric labels
They are the most common items that show details of your products. So, use our products to stand out from others. View more about 16 different types of clothing labels here.
Advertising
Using personalized printed fabric labels to advertise your brand or company. As a result, They will be an important way to promote your sales and brand image.

FAQs of custom printed fabric label
1.What's the MOQ of the printed fabric labels?
–100pcs.
2. What is the bulk production time?
–7-10 business days.
3. What is the shipping time?
–3-6 days by express.
4. What is the material of the printed fabric label?
—Cotton tape, satin ribbon, Nylon tape, Polyester Taffeta, Pearlitic, and canvas tape.
5. What colors can be printed?
–It can be printed in many colors based on PMS.
6. What profile is needed when production?
–Please send artwork in CDR, ESP, AI, or PDF format.
7. Is sampling available?
–Yes, the sampling fee is 50usd
8. Sampling time?
–5-7 business days.
9. Can we get free samples?
–Samples are free, you just need to pay the shipping cost.
10. The fold option of printed fabric labels?
–The same with woven labels(woven label fold options)
11. What is the difference between printed labels and hem tags?
—The printed label: the craft of logo is printing. The hem tags: the craft of the logo is weaving
12. I would like to ask what is the difference between fabric labels and hem labels. If I would need one label just for neck purposes only.
—Regarding the fabric label: we need to know what kind of fabric label you mean. Is it a printed fabric label or a woven label?
Regarding the hem label: usually, it is a woven label and the widely used material is a damask woven label and satin woven label.
Free Design | Free storage service | One-to-One Support | One-Stop Purchasing
We are professional printed fabric labels maker and wholesalers for clothing brands!
Send us your logo or design file of printed labels if you have one. If not, we offer free design for you.
Our Product Experts will guide you through every step of the custom process.