We supply custom printed fabric labels for clothing, the materials include ribbons, cotton tapes, satin, nylon tapes, polyester taffeta, and canvas tape. As a printed trademark, it is a kind of operation in printing. Besides, it is helpful for customers to know the materials. So, they can choose the right ways to wash their products. In general, it includes care or wash label, size label, and the certificate on the clothing tag.
Printed fabric labels not only help convey your product parameters and changes. But they improve the origin and image of your brand. In addition, we can sew in or iron on it on clothing for product ID, advertising. They protect your brand's integrity by printing the logo and brand name on them. Apart from this, we wholesale a range of customer service for you. Again, any colors and sizes are available. Choose from our selection or create your own design.
Firstly, compared with the woven labels, the printed fabric labels adopt the printing method. And its color is rich and beautiful with high definition. So, the product is more popular in the field. Second, the production efficiency is high. Thus, more and more garment factories choose the main label printing methods. And it is one of the most widely used labels in the printing industry. But, they not only use for the clothing industry. It is ideal for outdoor decoration, footwear, the metal industry, logistics, etc.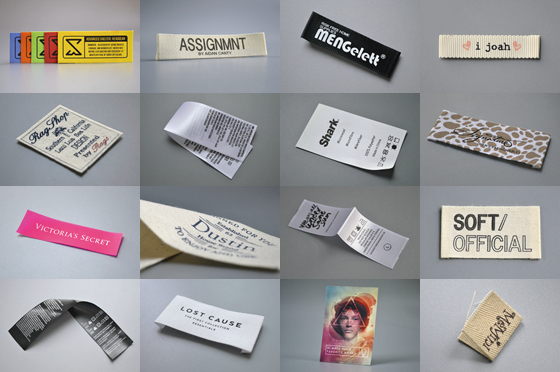 Printed fabric labels can be attached by:
-Heat-activated adhesives;
-Pressure-sensitive adhesives;
-Sewing on clothing, tents, mattresses, industrial sacks, etc.
81 kinds of material chart for printed labels as a reference.
Usages of printed fabric labels
Brand identification
Brand identity is the visible elements of a brand. Such as color, design, and logo. So, they can identify and distinguish the brand in consumers' minds. Hence, come here to customize your special printed fabric labels. Just because it's easy to improve your brand recognition.
Name tags of printed fabric labels
They are the most common items that show details of your products. So, use our products to stand out from others.

Advertising
Using the labels to advertise your brand or company. As a result, They will be an important way to promote your sales.
FAQs of printed fabric label:
What's the MOQ of the printed fabric labels?
–100pcs.
2. What is bulk production time?
–7-10 business days.
3. What is the shipping time?
–3-6 days by express.
4. What is the material of the printed fabric label?
—Cotton tape, satin ribbon, Nylon tape, Polyester Taffeta, Pearlitic, and canvas tape.
5. What colors can be printed?
–It can be printed many colors based on PMS.
6. What profile needed when production?
–Please send artwork in CDR, ESP, AI or PDF format.
7. Is sampling available?
–Yes, the sampling fee is 50usd
8. Sampling time?
–5-7business days.
9. Can we get free samples?
–Samples are free, you just need to pay the shipping cost.
10. The fold option of printed fabric labels
–The same with woven labels(woven label fold options)
Quotation
Reference sample from our photo gallery or other places.
The quantity of printed clothing labels you want. Our MOQ is 100 pcs.
Send us your logo or design file of printed labels if you have one. If not, we offer free design for you.
Contact us

by E-mail or WhatsApp