Custom packaging tape with logos is a kind of self-adhesive box-sealing tape to brand your shipments, which are used to protect the cartons from breaking. One strip of rape gets your package sealed. It comes into paper packaging tape, acrylic packing tape, hot melt tape, etc. If you want your brand logo printed on shipments, consider printed packaging tapes. We wholesale bulk cheap tapes. That includes custom shipping tape, branded packing tape, logo packing tape, clear packaging tape, carton or box sealing tape, etc.
Self-adhesive packaging tape helps strengthen cartons and cardboard boxes. That's to say, it provides an extra layer of security. In this way, you may rest assured that your shipments will reach you safely. Logo-printed packaging tape is great for improving your brand exposure and package deliverability. The application is easy. You simply peel back the beginning of the top layer, pull the length you need and cut it when appropriate. Therefore, it is a regular tool for packaging cardboard boxes, manila envelopes, bubble mailers, or other shipping containers.
A wrong packaging tape could cause damage to the company. So it is significant to choose the proper one. Here, no matter if your packaging line calls for sealing a carton, closing a bag, or loading a pallet, our customized tape is at hand. From paper packaging tape, and acrylic packaging tape, to hot melt tape, we've got all the custom shipping tapes you need. Custom packaging tape definitely meets your brand needs. Ink colors, logo or brand printing, and lines are available here.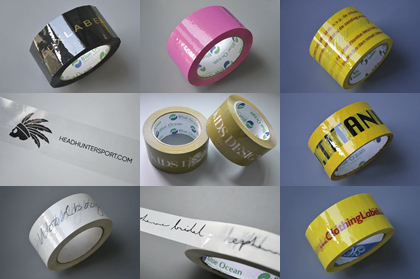 You can send us your art file with the logo, we offer a free design for you.
Factors to consider when choosing packaging tape
Weight of Your Package
Heavier products tend to hold more stress on packages, so a strong wider box sealing tape is recommended for heavier loads.
Stability of package contents
A stronger wider tape should be used to protect your content.
Length of Your Package
Wider stronger tapes are great for long and heavy products.
Value of Your Package
When the content of your package is considered valuable, then a wider and stronger packaging tape should be considered to ensure your safe seal and delivery.
Strength of Package or Box
Tapes with high-shear strength adhesives are recommended for heavy board boxes. Rough and corrugated boxes tend to have a washboard surface that may require special high-tack adhesive.
Details of custom packaging tape

Material: BOPP; OPP; PVC, etc.
Use: Carton Sealing;
Adhesive Side: Single-Sided;
Type: Pressure Sensitive, Water Activated;
Feature: Waterproof;
Design Printing: Offer Printing;
Place of Origin: China (Mainland);
Width: 3 mm-1280 mm;
Length: 3 m-1000 m;
Thickness: 0.03-0.073 mm;
The packing tape, 90meters per roll, and its width is 5.4cm. The background color of packaging tape has 3 common colors.
Such as white background, transparent background, and yellow background. Except for the above 3 common background colors, we can print all the other colors.
So, their prices are different. Besides, 1, 3 common background colors include white, transparent, and yellow.

FAQs
1, What's the price to customize?
–The price depends on your custom size, color, technics, and quantity. You can send us your art file, we make a free design for you.
2, What is the bulk production time and shipping time?
–Bulk goods are about 10 to 20 days. Shipping time is 3-6 business days by express.
3, What profile is needed when production?
–Pls, send us vector logo files, like PDF, AI, ESP, CDR, or original files from PSD. If you have no art file, we offer free design for you.
4, Can we get free samples?
–Yes, you can. Our samples are free, you just need to pay the shipping cost.
5, What is the order process for getting your custom packaging tapes?
–First, we need to discuss basic information with each other. Such as size, color, material, quantity, technics, etc. Then our product expert will give you the price and invoice. Then, you can pay. After you pay, we will make the design for you. After you confirm the design, we can arrange the bulk production. The production time is about 5 to 15 business days.
Photo gallery OF packaging tape
Free Design | Free storage service | One-to-One Support | One-Stop Purchasing
custom packaging tape with logos for your brand!
-we are professional supplier & wholesaler
Our Product Experts will guide you through every step of the custom process.