Custom packaging tape with logos is a kind of sticky packaging tool to protect the materials from breaking, which seals for the long haul during shipping. If you want your brand logo printed on your products, consider printed packaging tapes. Besides, we wholesale bulk cheap price tape for clients. Such as custom shipping tape, branded packing tape, logo packing tape, clear packaging tape, carton or box sealing tape, etc.
Personalized packaging tape with logo is easy to apply. They only require water to activate the adhesive. It can stick to any surface and seal your packages. Custom printed tape provides an extra layer of security. So you can have peace of mind knowing that your packages will arrive in safe. If someone opened the container and tampered with the shipment, they will not be able to reseal it.
Thus, unique logo shipping tape can meet your needs. They include your company brands, logos, or others. In addition, width, size, color are available. We can print your logo in full color to increases brand exposure. Apply the branded tape for packing to corrugated boxes and shipping envelopes. Thus, it will elevate the look of your packages. Therefore, it's significant for companies to choose the proper tape. When they decide what tapes to seal their cartons and boxes. The wrong choice of customized packaging tape could cause damage to the company in financial aspects.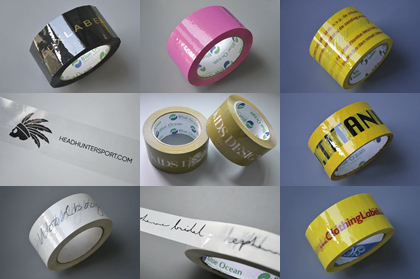 Factors to consider when choosing packaging tape:
Weight of Your Package
Heavier products tend to hold more stress on packages, so a strong wider box sealing tape is recommended for heavier loads.
Stability of package contents
A stronger wider tape should be used to protect your content.
Value of Your Package
When the content of your package is considered valuable, then a wider and stronger packaging tape should be considered to ensure your safe seal and delivery.
Length of Your Package
Wider stronger tapes are great for long and heavy products.
Strength of Package or Box
Tapes with high shear strength adhesives are recommended for heavy board boxes. Rough and corrugated boxes tend to have a washboard surface that may require special high-tack adhesive.
Details of packaging tape:
Material: BOPP; OPP; PVC, etc.
Use: Carton Sealing;
Adhesive Side: Single-Sided;
Type: Pressure Sensitive, Water Activated;
Feature: Waterproof;
Design Printing: Offer Printing;
Place of Origin: China (Mainland);
Width: 3 mm-1280 mm;
Length: 3 m-1000 m;
Thickness: 0.03-0.073 mm;
The packing tape, 90meters per roll, MOQ is 95 rolls. Width is 5.4cm. The background color of packaging tape has 3 common colors. Such as white background, transparent background, and yellow background. Except for the above 3 common background colors, we can print all the other colors. So, their prices are different. Besides, 1, 3 common background colors include white, transparent, yellow.
Price of custom packaging tape
– White/transparent/yellow with logo in 1 color: $295US;
– White/transparent/yellow with logo in 2 colors: $350US;
Full printed background color.
– Full printed background color with white logo: $295US. (The white color is the white material color itself, not printed.)
– Full printed background color with logo in 1 or 2 color: $350US or $395US;
All the above prices are quoted based on 95 rolls and have no shipping cost;
The weight of 95 rolls is 29kgs around;
Quotation:
Reference sample from packaging tape photo gallery or from other places.
The quantity: our MOQ is 100 rolls.
You can offer your logo and design or get our help.
Contact us by E-mail or WhatsApp