We supply custom hang tag string for clothing with your logo, which is mainly used to connect the hang tag and the garment to attach the label to the product. Our string seals are manufactured by using the highest quality raw materials, which are not only durable but also inexpensive with high quality. There are two common hang tag strings: plastic hang tag string and rope hang tag string like cotton hang tag string or nylon hang tag string. Plastic seal and tag gun barbs are also a kind of plastic hang tag string. Plastic seal is also called tagging barbs. Tag gun barbs are called tagging gun fasteners, price tag fasteners. You can apply it with hang tag string safety pins or tagging guns.
To compliment your hang tags, we are offering matching hang tag strings seals with lock fastener. According to customer requirements, our product has many options for customers to choose, including colors, materials, sizes, and shapes. Any styles that you need are available, and we are able to customize string seals to any shape as your requests. This product can be used to set you apart from your competitors and adds luster to your brand reputation and product exposure.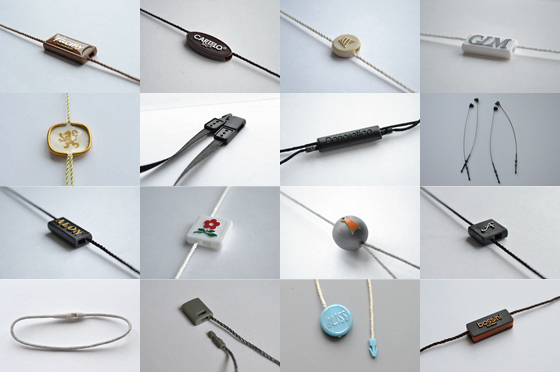 Details:
1, Material: plastic, metal.
2, Size & color: any size & any color is available.
3, Technics: Gold hot-stamping, sliver hot-stamping, print,
4, Shape is fixed by 3D mold.
5, MOQ: with your logo on: 2000pcs; with no logo:1000pcs
Quotation:
Reference sample from hang tag string's photo gallery or other places.
The quantity: MOQ: with your logo on: 2000pcs; with no logo: 1000pcs.
You can design or offer your logo or get our help.
Please contact us by email or WhatsApp to get a specific quoted price.
What is hang tag string seal?
The hang tag string seal is a tool of brand expression which use on the high-grade men's clothing and the fashion dress. It is the disposable product for anti-counterfeiting, hanging on the clothing together with the hang tag, unless cut it down, or cannot be replaced.
The main material of the hang tag string seal is plastic. The plastic string seal is made by injection-molding machine. So it needs a mold which costs 50-100 USD.
Generally, the hang tag string seal has two parts with a string pressed inside, which has a disposable plug on each end of the string.
The design on the surface should be limited in one with limited colors (black, red, green, white, blue, etc.). The string seal has three types, without a plug, one plug, and two plugs.
If the hang tag string seal should be composed of four parts, it is called a four-in-one string seal which costs a little higher.
If the middle component is fixed with a plus part on each side, it is more difficult.
It also has a kind of string seal made by metal-clad plastic or metal clad silk-screen PVC, which is called the metal hang tag string seal. It needs the mold too.