Hang tag string is to connect the hang tag and garment, materials include plastic, tape, natural jute, elastic thread, mercerized/poly/cotton string, etc. And we wholesale custom hang tag string for clothing with your logo. The string materials also include polyester, flax, jute, waxed cotton, ribbon, etc. We manufacture string for hang tags and they aim to attach the label to the product. So, they are not only durable but inexpensive. There are two common as plastic hang tag string and rope hang tag string. Like cotton hang tag string seals or nylon hang tag string.
The hang tag string also calls hang tag rope, or hang tag cord. And Other names can be snap lock pins, loop fasteners, or hook ties. String seal and hang tag string are accessories that usually come together with the hangtag. And we can make them into any shape. Such as bullet heads, square locks, or round shapes. In addition, their materials can be satin tape, cotton, plastic, craft, etc. Then, plastic seals and tag gun barbs are a kind of plastic hang tag string. It calls tagging barbs, too.
Meanwhile, we can take tag gun barbs as tagging gun fasteners, price tag string fasteners. We have two standard swing tag attachments when using string: knotted string and looped string. So, you can apply it with string safety pins or tagging guns.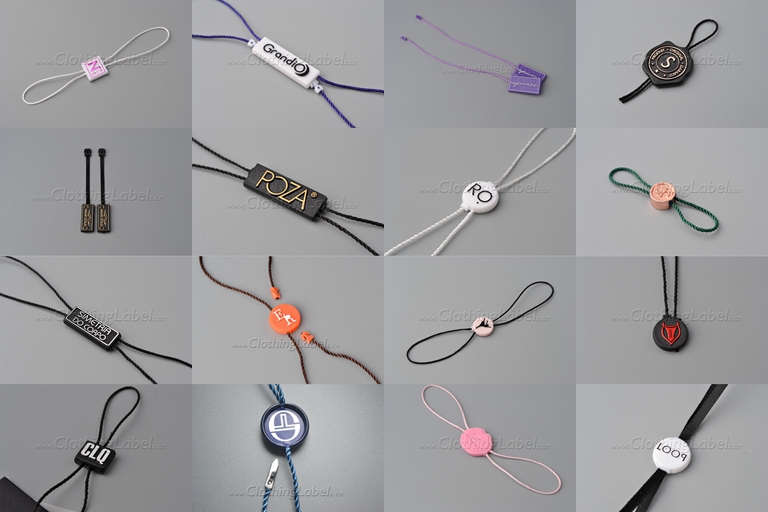 As hang tag string suppliers and maker, we wholesale custom string for tags with a lock fastener. Besides, our product has wide options for customers' needs. Such as colors, materials, sizes, and shapes. Any styles that you need are available. And we could customize swing tag string seals to any shape as your request. This product can help to win your competitors. Then the clothing tag string adds luster to your brand reputation and product exposure.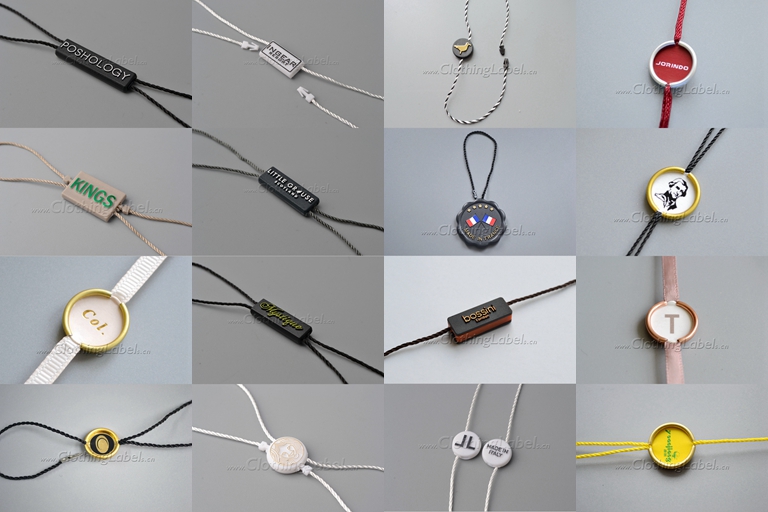 Product details of plastic/cotton hang tag string
| | |
| --- | --- |
| Material: | plastic, metal, resin, nylon, polyester, cotton, tape, silk, elastic band, etc. |
| Size: | any size is available; customized; |
| Color: | Available in white, black, red, yellow, blue, green, silver, gold, etc; |
| Technics: | Gold hot-stamping, sliver hot-stamping, print, etc; |
| Shape: | The shape is fixed by 3D mold; customized shape; |
| MOQ: | with your logo on 2000pcs; with no logo: 1000pcs; The MOQ is determined by the style. Some have no MOQ! Some styles have MOQ! click to get more cheap on-stock ready-made hang tag string. |
| Notes: | You can send us your logo or your design if you have one. If not, we can provide a free design for you. |
| Contact: | Please contact us by email, WhatsApp, or online chat to get a specific quoted price. |
Brand-new samples for custom hang tag string?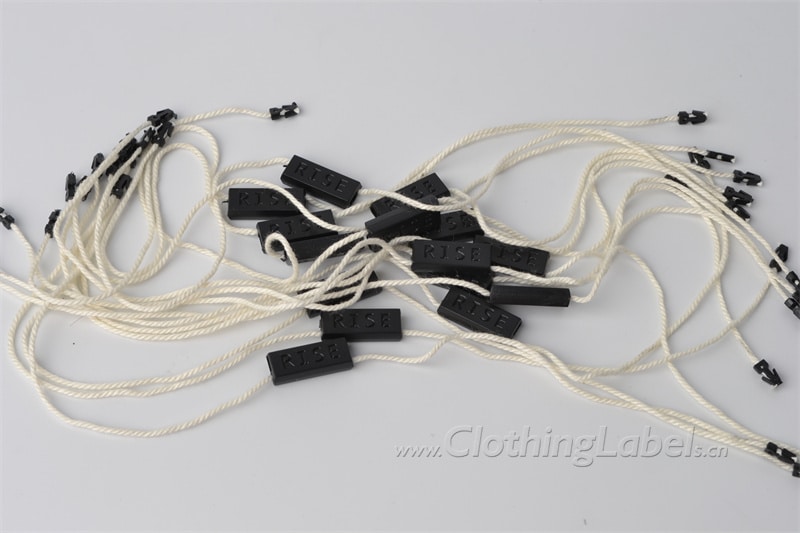 Size: The total length of the left rope is 13cm. The total length of the right rope is 11cm. And the middle cuboid is 18x7x5mm.
Material: plastic seals, cotton ropes;
Color: The plastic seal locks are black and the ropes are beige & gray.
Technics: logo engraved;

Size: the seal lock is 7.75×2.6mm. And the total length with string is 25cm-26cm.
Color: black plastic with black satin ribbon string; gold embossed epoxy logo;
Material: plastic seal fastener with a polyester satin string;
Technics: embossed epoxy logo;

Size: Diameter is 18mm, and total length is 23.8mm before locked;
Material: plastic exopy seal with polyester string;
Color: cool grey 11c for logo, string, and plastic seal locks;
Technics: embossed logo on both sides with epoxy resin on surface;

Size: diameter is 14mm, satin ribbon
Color: beige color with the gold logo;
Material: plastic seal fastener with a polyester satin ribbon string;
Technics: hot-stamped embossed with gold color;
What is hang tag string seal?
The hang tag string seal is a lock fastener tool for brand expression. It uses in high-grade men's clothing and fashion dress. It is a disposable product for anti-counterfeiting. Further, it is hanging on the clothing with the hangtag. Unless cutting it down, you cannot replace it.
The main material of the hang tag string seal is plastic. And the injection-molding machine makes the plastic string seal. So it needs a mold which costs 50-100 USD.
In general, the string seal has two parts with a string pressed inside. Then, it has a disposable plug on each end of the string.
The design on the surface has some colors (black, red, green, white, blue, etc.). In addition, the string seal has three types. That is: without a plug, one plug, and two plugs.
The seal has four parts. So, it calls a four-in-one string seal and costs a little higher.
If the middle component is fixed with a plus part on each side, it is more difficult.
There is a kind of string seal made of metal-clad plastic or metal-clad silk. That is screen PVC. It calls the metal hangtag string seal. Apart from this, it needs mold.
FAQs about hang tag string/cord and seal lock fastener?
1, What is the MOQ of the hang tag string rope, and for what price?
–100 pcs. The price needs to be calculated according to the material, size, color, and quantity that you ordered.
2, What is the bulk production time?
–10-15 business days.
3, What is the shipping time?
–3-5 days by express.
4, Are we able to customize the length of the string?
–Yes, the length of the rope can be customized. But there are some unconventional lengths that require mold fees to customize.
5, What profile is needed when production?
–Please send artwork in CDR, ESP, AI, or PDF format.
6, Are any of the strings able to be printed logo and statement on both sides (front and back)?
–Usually, ribbons can print logos on the front and back. But other strings such as cotton and polyester are not allowed.
7, Do you offer a fine twisted rayon cord for hang tags of 1mm diameter?
–Yes, we offer a fine twisted rayon cord for hang tags, and we will send samples to your email attached online chat, or WhatsApp.
Hang tag string photo gallery
Free Design | Free storage service | One-to-One Support | One-Stop Purchasing
Let's Create Your Own Personalized Clothing Hang Tag String | ClothingLabels.cn
Feeling Inspired? Customize Your Tag Rope Today!