Plastic packaging is poly bag for clothing, express, or shipping, we wholesale custom plastic packaging with logos, including PVC or PE bags, OPP or PP bags. We refer to all packaging that is made from plastic as plastic packaging. This includes plastic bags, plastic boxes, or plastic containers. Here we excel in customizing plastic packaging for clothing with logos. There are various plastic packaging such as clear plastic packaging, printed plastic packaging. Our material ranges from PE, PET, PVC to PP. It plays a vital role in the success of your products.
Plastic packaging is available in a variety of plastics. People prefer them because they are lightweight and versatile. They take up less space than other packaging options. This results in a lighter load for planes and trucks, as well as lower emissions. They are versatile because you can customize the style, colors, and logos. If you want to boost the impact of your brand on a tight budget, plastic packaging is the way to go. Can I ship dresses, swimwear, sportswear, or shirts? Plastic packaging can be a huge help. As a result, this solution exists in garment packaging, everyday life, and industrial production.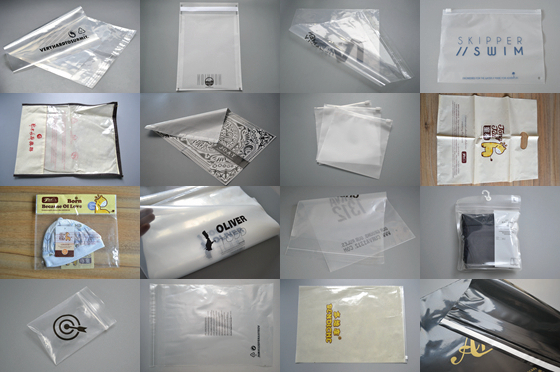 Many people believe that plastic packaging has bad effects on water and wildlife. Advanced technology has changed this situation. Packaging made from bio-plastic is becoming more and more popular. In addition, more and more plastic packaging is recyclable. All this means that they have less impact on the environment.
We offer custom plastic packaging solutions for a variety of markets. Meanwhile, we supply recyclable mailing bags for goods shipping. Start by choosing the type of bag you prefer. From zip-lock plastic bags to poly mailer bags, you'll find it here. All types, sizes, or styles of our plastic packaging bags are available. We offer custom plastic bags made from high-quality material. You can add logos and patterns to it. They are thrifty tools that help create a strong brand feeling among customers.
Functions of plastic packaging:
Protect fragile goods from humidity, microorganisms, insects, and light degradation during transit.
Preserves goods to allow consumers to use them with more time. Until they are no longer viable.
Enable long-distance travel so that we can have access to a wide range of non-local products. In turn, it can promote trade. It saves space by pilling items to maximize the speed of transport as well.
Relevant information is provided on the packaging. Such as clothing material, or brand name.
Types of plastics packaging
HDPE(High-Density Polyethylene)
HDPE is the most commonly used plastic material. It is pervasive in the production of bottles or containers. It is of its chemical resistance. This trait makes it a popular material for packaging industrial chemicals. When making bags, this bag can carry heavy loads but may tear on sharp objects. For heavy items, it may be advisable to choose this bag.
LDPE(Low-Density Polyethylene)
It is tough, pliable, and relatively transparent. Industries such as food opt for this material. These bags are less flexible and cannot carry heavy loads when compared to HDPE bags.
PET(Polyethylene Terephthalate)
PET plastic packaging is a long-lasting material. It's also just as strong as PVC plastic packaging. As a result, they can resist harsh conditions for a much longer time. Furthermore, it has a clear advantage. This material can be recycled into bags. As a result, these bags are more environmentally friendly.
PVC(Polyvinyl Chloride)
PVC plastic packaging is remarkable for its durability. Bags from this can withstand strong impacts and temperatures. They allow products to arrive at their destination in good condition. They are less clear than PET bags, though. Both PET and PVC plastic can be used to make clear plastic packaging.
PP(Polypropylene)
Bags from PP have a high degree of clarity. It helps display products. These bags provide a protective barrier without losing visibility.
FAQS of plastic packaging
Size/shape/thickness/types: as per customer's request;
Material: PP, PE, OPP, PVC, HDPE, LDPE, etc;
Workmanship: zipper bag, printing, self-adhesive tape;
Color: up to 6 Colors;
Application: for clothing(t-shirt, dress, coat, shirt), cosmetics, bags, shoes, boxes, handmade items, bread, cookies, etc;
Packing: inner packing with PP bag, outer packing with export carton.
Global wide: we are top plastic packaging companies in China. And all our products can ship to the whole world. Such as the USA, UK, Canada, Austrilia, Pakistan, Japan, etc.
MOQ: 1000 pcs.
Quotation for plastic packaging
Reference sample from plastic packaging's photo gallery or other places.
The minimum quantity of plastic bags: our MOQ is 1000pcs.
Please send us your logo or your design if you have one. If not, we can give you a free design.
Contact us by E-mail or WhatsApp