There are 9 different types of patches, as woven & embroidered patches, leather & PVC patches, chenille & name patches, bullion & printed or iron-on patches. They can make clothes more fashionable and interesting. So, many clothing, bags, etc. will add patches & labels to get more attention and brand promotion. In fact, In fact, depending on the material and workmanship, they have different functions in the non-stop field. Below you will find a list of the different types of patches we offer:
Woven Patches
Embroidered Patches
Leather Patches
PVC Patches
Chenille Patches
Name Patches
Bullion Patches
Printed Patches
Iron-On Patches
Woven patches
Woven patches are badges made of tightly woven fine threads on a fabric backing. And it has a classic look and refined detailing. And the backing options include heat seal, iron, pressure-sensitive, and Velcro. They can make custom fashion patches that require more detail.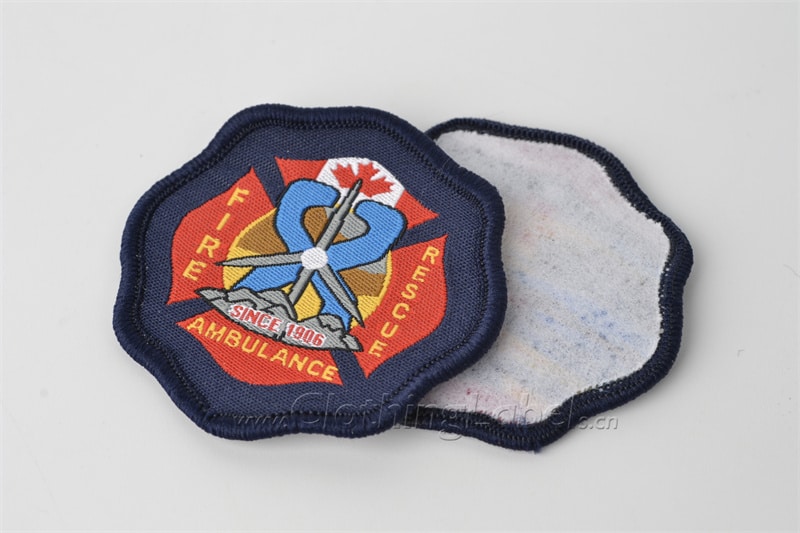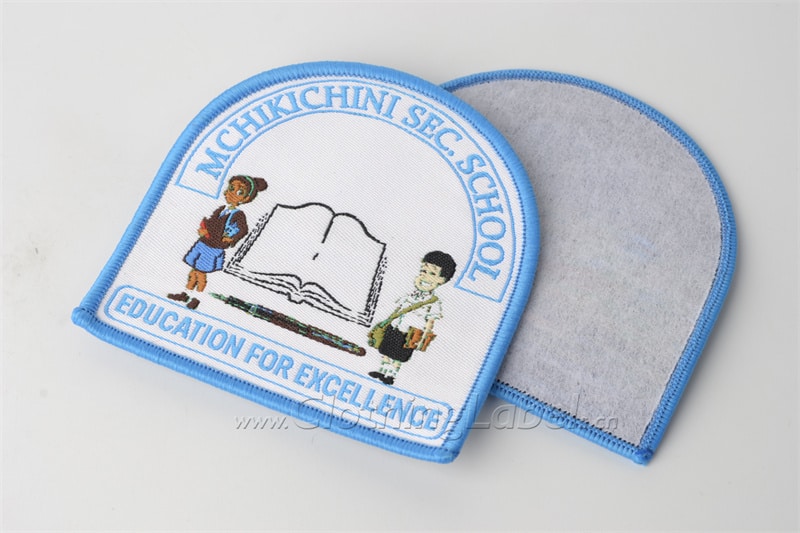 Woven patches look a bit like embroidered patches. However, they are still different. Because we make the braided woven patches with thinner threads.  
Application: down jackets, sweaters, sportswear, work clothes, canvas bags, shoes, etc.
Embroidered patches
The base fabrics of embroidered patches are mainly cotton, felt, twill, polyester, PU, genuine leather, etc. Besides, they have a soft surface and are the most traditional and popular patches on the market. Compared to woven patches, we make embroidered patches with thicker thread. Then, we use sewing, ironing, Velcro, etc ways to fix the items on the backings.
The logo or design of the embroidered patch is more colorful. And it is definitely an ideal choice for brands looking for a shining brand and attention.
Use: they are ideal for hats, clothing, jackets, coats, bags, etc.
Custom leather patches can add a brand garment logo on them, either in genuine leather or faux PU leather, adding a touch of quality to every item. These patches can be embossed, embossed, laser engraved, UV printed, etc. to create logos.
Come to customize a leather patch with a personalized logo will surely promote brand images. So, they are perfect for various of clothing such as jackets, jeans, shirts, beanies, hats, trousers, bags, books, sweaters, beanies, gifts, etc.
The PVC patch is a durable and soft polyvinyl chloride patch, a rubber material that is lightweight, waterproof, and colorfast. Then, you can make 3d embossed, indented, or hollow logos, and even luminous PVC patches.
Custom PVC patches are usually sewn with edges made of seam grooves for ease of sewing. Or it uses velcro fasteners to attach to a PVC patch. This is a method commonly used by customers. It is economical and easy to remove.
Usage
Clothing companies, like outdoor clothing, mountaineering clothing, children's clothing, school uniforms, denim, jeans, etc.;
Backpacks, bags, suitcases;
Hat brand;
Shoe brand;
Fire and military units;
Chenille patches are patches made of a new type of fancy yarn. It is made of two strands of yarn as the core thread. And the feather yarn is sandwiched in the middle by twisting. It will be spun into brand logos or letters. Then, it is soft to the touch.
Many brands will customize it directly into a letter logo, or use a piece of fabric as a backing. Then, it's soft to the touch and feels very comfortable. So, they are ideal for hats, winter clothes, coats, and bags. And it is widely used in fleece and decorative fabrics.
Name patches, as the name suggests, are printed, sewn, iron on a name or brand logo on the patch. And the entire patch has almost no other extra decoration, just the name logo on it.
We can make them in any shape or size. Also, you can make your brand name or logo on the woven, embroidered, chenille, etc patches. Because all types of patches can be a name patch.
Application: they are suitable for all types of coats, hats, shoes, bags, jackets, etc.
Bullion Patches
Bullion Patches are India wire patches or metal silk patches, which are available in gold and silver. And the gold silk thread hand sewn on black felt. But the hand-stitched quality is very good. Then, they have a stylish 3D embroidery look. Often, it mostly is used in royal honor guard clothing. So, It looks very noble and elegant.
They are ideal royal clothes, blazer coats, British-style coats, vintage coats, caps, jackets, shirts uniforms, school uniforms, etc. Bullion Patches were first used in military caps, uniforms, cuffs, epaulets, sword belts, military boots, ski boots, etc.

With the development of the times, suits for modern military uniforms, aviation captain uniforms, association uniform badges, fashion brand clothing, etc. have been adopted one after another. Fashion Indian silk patches can apply to all parts of the clothes. Embroidery styles are varied and vivid. Thus, it can well express the connotation features of the displayed patterns and is loved by the public.
Printed Patches
Printed Patches are screen-printed fabric patches that you can print your logo, pics with a colorful design. It is then laser cut to the desired shape and size. And the entire surface looks smooth and delicate. Then, the details can be printed.
They are light and durable. Simple process and high-cost performance. So, you can customize printed patches for your own brand! Meanwhile, sew or Velcro them on fabric surfaces. Such as clothing, shoes, backpacks, jeans, jackets, luggage, sports gear.
Backing options: use velcro(hook and loop) backing, sew-on backing, iron-on backing, hot-cut& heat-sealed edges.
Iron-On Patches
What are the Iron-on patches? Iron-on patches are made of heat adhesive backing by peeling off them to be ironed on fabrics by an iron. Then, they are water-proof, durable, and have skin-good effects. Thus, they are ideal for shirts, t-shirts, jeans, trousers, uniforms, coats, trousers, bags, etc. Then, you can add a personalized brand logo on it to promote your brand image.
Although they are still very strong, they cannot be washed for a long time. Besides, they will become glued and non-sticky after a long time. Therefore, for customers who pursue permanent effects, we do not suggest they choose this type of patch. Therefore, brands or factories will often choose durable and last-long sewing-on or Velcro patches.
Free Design | Free storage service | One-to-One Support | One-Stop Purchasing
Create your own personalized types of patches
Best patches maker and wholesaler in ClothingLabels.CN!
Feeling inspired?
Our Product Experts will guide you through every step of the custom process.