Heat transfer labels, also known as tag-less tags, which is heat-pressed or ironed labels on the clothing by using the technology of transferred printing. They are widely used in the clothing industry. This is a perfect choice for customers who want to brand their clothing without making a large quantity of woven or printed labels. You just regular household iron will be sufficient for most types. If you want to meet high requirements, please using an industrial hot press.
The heat transfer label has a layer of solid adhesive to the backside. These adhesive melts bond to the fabric when heated. This is a strong adhesive. They have good features in bright and vivid colors and washable. It can withstand dozens of wash/dry cycles without fading, crack or split.
Heat transfer labels widely used for garment, coat, jeans, jacket, T-shirt, underwear, sportswear, swimsuits, curtains, shoes, handbags, suitcases, sleeping bags, and so on. They also use the technology of heat transfer, but their cost is lower, the texture is very soft, and it can hardly be felt when touched. It makes consumers more comfortable wearing clothes. Meanwhile, the heat transfer labels are usually screen printed using solvent-based inks. Generally, they require an adhesive layer to attach the label to the substrate. In recent years, it has gradually won more consumers' favor and has gradually become one of the hottest trends in apparel manufacturing and promotional apparel industries.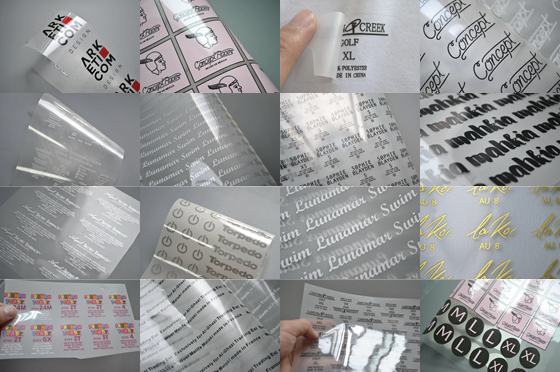 Details of heat transfer labels
1, Material: PET, PVC, AVA, SILICONE, etc,
2, Size & color: any size & any color are available.
3, Technics: colorful printing, silver or gold hot stamping, offset heat transfer printing, etc
4, Temperature: 140-160°c
5, Dwell time: 5-10 seconds
6, Pressure: 3-6KGS
7, Peeling: Hot peeling or cold peeling
8, MOQ: 100pcs
Quotation:
Reference sample from heat transfer labels' photo gallery or other places.
The quantity: our MOQ is 100pcs.
You can offer your logo and design or get our help.
Contact us with E-mail or WhatsApp