What is a swing tag? a swing tag is a hanging label with string for fashion clothing brands, materials have paper, fabric, plastic(PVC rubber), metal, leather. At the same time, it is one of the kinds of garment trims. And it can also be die-cut into various shapes. Custom printed swing tags can be eco-friendly and recyclable. Not only that, but we can also print various personalized brand logos. logo can be printed, raised, engraved, gold/silver/bronze stamped, UV, foil, film (glossy or matte), etc.
In general, what we often see about swing tag materials are mostly paper, and plastic. And some are leather, fabric, and metal. Judging from their shape, the common shapes are square, rectangle, and circle. But there are also folded, triangular, five-pointed stars, hollow, or special-shaped.
What are the materials for swing tag?
There are many optional materials for a swing tag as follows.
paper, which includes coated paper, kraft paper, single or double-sided cardboard, insulating paper, tracing paper, corrugated paper, cardboard, etc.
Metal materials mainly have copper, iron, alloy, stainless steel, etc.
Leather materials like various animal skins, imitation fur, artificial leather, real leather, etc.
Textile materials like canvas, silk, chemical fiber, cotton, etc.
And some plastic materials, such as PVC, rubber, silicone, and TPU.
What is on a swing tag?
A swing tag usually prints the company's logo, name, size, and price. Sometimes it will print site links, phone numbers, zip codes, social media, brand QR codes, barcodes, maintenance information, etc.
In addition, the swing tag is generally drilled and adds metal eyelets. Then, attach it to the hangtag string rope. And we can add a logo on the hangtag string seals. Then, a brand can use a safety pinto to connect the tag to the garment. Sometimes you don't need a pin, just knot the tag string and hang it on the main labels on the collar.
What are swing tags used for?
The swing tag has a wide range of uses for fashion brands. Such as garments, bags, shoes, jewelry, and daily accessories. In most cases, hang tags are just auxiliary means to help consumers understand the product and its functions. Especially today, the tag should emphasize the use of guidance for consumers.
The tag itself should also be made of recycled eco-materials. This is not only conducive to environmental protection, but also to the public image of the brand.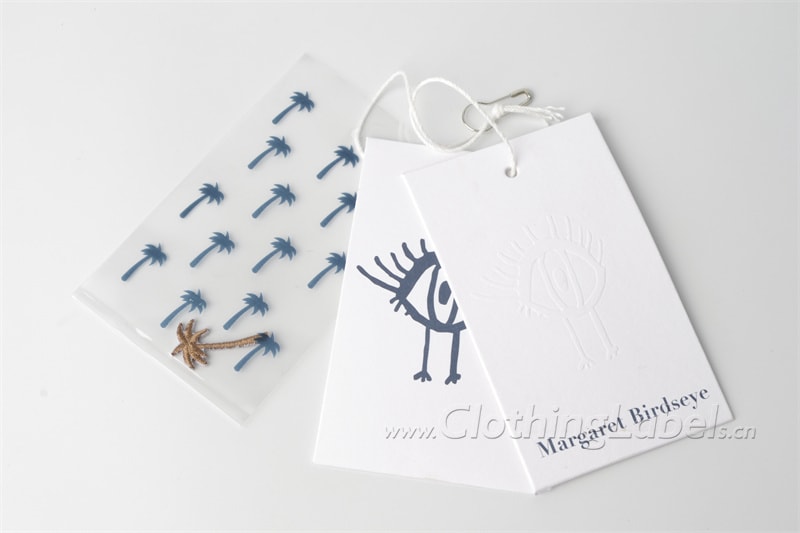 8 main types of swing tags

Paper swing tags
Paper swing tags are the most common material for hang tags. This is the most cost-effective one. Paper swing tags mainly include coated paper, cardboard, kraft paper, special paper, etc. Thicker paper is recommended. And white cardboard grams are usually: 400 grams, 350 grams, 300 grams, and 250 grams.
Generally, we use paper materials, which are convenient for printing. And it mainly depends on the requests of customers to choose what kinds of paper materials.
Kraft swing tags
A kraft swing tag is a garment hanging tag made of kraft paper to hang on fabric or clothing. It comes with reinforced pre-punched holes and twine. However, kraft paper is usually yellow-brown in color and has strong burst resistance and tensile strength. They are suitable for monochrome logo printing. Then, the surface adopts silk screen processing technology.
We supply custom high-quality eco-friendly kraft swing tags. Also, they are great for some vintage and denim products. The above can be printed with the brand logo, price, and other information.


Plastic swing tags
Plastic swing tags mainly refer to swing hang tags with PVC, rubber, TPU, or silicone material. And the surface of the tag can be printed with a 2D or 3D brand logo and name. But, we can make a raised, embossed, debossed, or hollow logo. Then, plastic swing tags are suitable for single-sided printing.
In addition, plastic PVC hang tags can have transparent and translucent shapes. And it's cheap and low cost. In some cases, customers will customize a set of hang tags, one in plastic and one in paper. Then string them together.
Fabric swing tags
Fabric swing tags will use canvas, silk, lace, chemical fiber, and cotton textiles. And it is very suitable for use in baby clothes, and women's clothes. It is an ideal choice, especially for brands that seek organic green. This fabric is generally very soft to the touch and will not be easily damaged. And baby brands use this tag without scratching the baby's skin.
Some luxury sleepwear or underwear brands opt for silky silk material. This material looks high-end and feels very good to the touch. Some sweater brands that seek the pure cotton texture of the fabric may choose canvas as the material.


Leather swing tag
There are some leather goods brands that will customize the Leather swing tag. A leather swing tag is perfect for men's brands, denim jackets, denim clothes, leather cases, leather bags. There are also many leather goods factories that use leather materials to make tags. The leather swing tag looks very high-end.
However, customers who want to pursue cost-effectiveness can choose to use artificial leather tags instead of genuine leather tags. This not only saves money but also the artificial leather tag can achieve the effect of real leather.
Metal swing tags
The main material of metal swing tags is copper, iron, zinc alloy, stainless steel, etc. And they are very strong and wear-resistant. The metal swing tags or accessories are great for wallets, charms, key chains, handbags, jewelry, clothes, shoes. Also, it is suitable for home decor, handmade DIYs, eye-catching accessories, and more. Then, we can make the logo die-cast, stamped, injection on the surface process.
As for the attachment to clothes, we can add a magnet, butterfly clutch, safety pin, or drill holes by the sewing way. And we often add metal beads on it as a hanging tag rope.


Folded swing tags
A folded swing tag is a type of folded hanging tag & label that folds like a brochure with a brand logo in the middle. And it provides much space for printing and promotions. Generally, folded swing tags are folded down in the middle. And there is a rope hole in the top corner. But you can also customize the placement of the folds and punch holes yourself. First, you can have your brand logo prominently displayed on the front.
Then, add some less important information to it, such as maintenance and precautions. Finally, you can display the price or size of the product on the back. Of course, you can customize recycled eco-friendly folded swing tags for your fashion clothing brand.
Die-cut swing tags
The die-cut swing tags use die-cutting technology to cut the hangtag into any shape. Such as rectangle, leaf, circle, triangle, pentagram, oval and special shape, etc. Then, the die-cutting process can also cut pre-designed graphics. Die-cut swing tags can use offset printing, silk screen printing, UV, embossing, engraving, bronzing, laser, etc.
A unique die-cut look will make your product stand out, then achieve unexpected results. So a well-custom die-cut swing tag can really help you realize your clothing design ideas.

Swing tag design

The design and printing of clothing swing tags are often exquisite. The hangtags of each clothing enterprise have their own features. But, most of them will print with the brand name, address, phone number, zip code, logo, etc. on the tag. Some brands also need to print the nature of the company (such as Sino-foreign joint venture, sole proprietorship, etc.).
Some clothing manufacturers simply regard the small tag as a miniature "advertising". They will use spokespersons, models, etc. Then, photos of their own products are printed on them. This gives people a more intuitive feeling and makes consumers a deeper impression of their products. So, it plays a good role in publicity and promotion. In order to thank consumers for purchasing their products, some brands will print words of thanks and wish on the hangtags. Which gives people a sense of intimacy.
Some swing tags are more like a "product instruction manual". Because it will print what kind of fabric the product is used for and what its performance is. The merchant even prints the water temperature, washing method, and maintenance of the clothes on it.
Is a swing tag necessary?
Why does each piece of clothing have a tag? Is a swing tag necessary for a clothing brand? Yes, of course, it is very important. That's because swing tags are vital for clothing sales and consumer guidance. Many tags will have details about the garment. Such as size, material, price, origin, washing method, etc. In this way, customers can get help when shopping for clothes.
And swing hang tags with patterns, website links, and brand logos are also a cultural promotion. Therefore, it is not only to distinguish clothing but to spread the culture of the company to people. Thereby increasing brand awareness. Usually, in high-end brands, the swing tag design and use will also be more important. A good and creative hang tag design can really make a big difference.

What is the significance of the clothing swing tag?

We know that swing tags now become a kind of accessory in the fashion field. Although it is small, it is a link between clothing and consumers. It is an inevitable product of modern fashion culture.
We know that some famous brands will use various holographic anti-counterfeiting tags and barcodes. The purpose is to protect their products from counterfeit and shoddy products.
So, this not only protects the interests of enterprises themselves but safeguards the rights and interests of consumers.
FAQs of swing hang tags for clothing
1, What's the price to customize?
–The price depends on your custom size, color, technics, and quantity. You can send us your art file, we make a free design for you.
2, What is the bulk production time and shipping time?
–Bulk goods are about 10 to 20 days. Shipping time is 3-6 business days by express.
3, What profile is needed when production?
–Pls, send us vector logo files, like PDF, AI, ESP, CDR, or original files from PSD. If you have no art file, we offer free design for you.
4, Can we get free samples?
–Yes, you can. Our samples are free, you just need to pay the shipping cost.
5, What is the order process? And What Is Your Order Process?
Send us your artwork(logo file) in CDR, ESP, AI, or PDF format;
We will discuss the size, color, material, quantity you need, and other requests;
Our product expert will give you the price and invoice, and you can pay by Paypal, Money Gram, Western Union, or Bank Transfer(T/T);
You confirm the design;
We arrange bulk production and Shipping;
After receiving the goods, please check the quality and quantity, and contact us if you have any questions. We will deal with it and solve it in time.
Photo gallery of swing tags

Free Design | Free storage service | One-to-One Support | One-Stop Purchasing
Customize your own personalized swing hang tags for brands!
Feeling inspired?
Our Product Experts will guide you through every step of the custom process.