We supply custom embroidered patches with a logo for the clothing brand and retail stores, which is mainly used to iron or woven on clothes, bags, etc. We can offer an iron-on embroidered patch, sew-on embroidered patch, custom velcro patches, marrow border patches, etc.
The product is ideal for displaying your brands' appearance, making them more fashionable and eye-catching. It can further enrich your brand image and perfect your clothing design.
The materials we choose are of high quality and very durable, which are sturdy for high friction areas like outdoors. They are common in fashion brands, rescue teams, schools, and sports clubs. They are easy to clean and will prevent shrinkage. The ground fabric is made of cotton, felt, twill, polyester, PU, and leather, etc. The edges of the patch are particularly tightly sewn, and will not easily wear or curl.
They are such a versatile way of displaying your logo or emblem. Unique texture, coupled with durable construction and a look that's withstood the test of time makes them unfailing. What's good about embroidered patches is that they can be easily attached to any material. You can choose patches that you iron on, peel and stick, Hook and Loop, or attach with a tuxedo clip or safety pin. Besides, an Embroidered Patch emanates professionalism, it shows that you are willing to devote to your products to represent your company.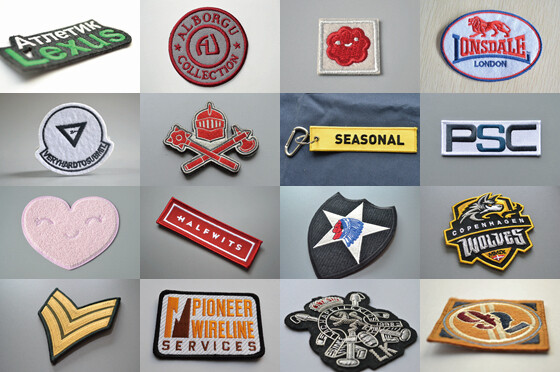 Faqs of embroidered patches
Ground fabric: Cotton, felt, twill fabric, polyester, PU, genuine leather, etc. Soft in the surface;
Workmanship: Embroidered, iron-on, woven, etc.
Embroidery Area: 50%, 80%, 100%embroidery(full embroidery) ;
Gold/silver embroidery stitch
Size/color/shape: as per customer's request;
Merrow or stitched border: stitch border, hot cut border, and laser cut border.
Backing: sew on the backing plain, iron-on, self-adhesive tape, velcro, etc.
Packing: inner packing with PP bag, outer packing with export carton.
MOQ: NO MOQ
Advantages
Soft in the surface;
Environmentally-friendly material;
Eye-catching design;
Durable
Various choice in color, size, and style
Safe packing
We also provide reflective materials for embroidery patches. The flective labels will reflect when they encounter light. Especially at night, it will shine and reflect obviously. Many people who run at night, sanitation workers, and traffic police will wear clothes with the reflective materials. This is both conspicuous and safe.
Being a professional company in this industry, we have been engaged to supply a wide range of embroidered patches and labels with advanced design skills. We are proud to offer 50%, 75%, and 100% embroidered patches. Besides, customization options are available. You are free to choose your multiple sizes, thread colors, and patch backings. No matter what your need is, we can supply you with the best quality patches to make your clothing brand stand out in the fierce competition of the apparel market.
Quotation
Reference sample from embroidered patches' photo galleries or other places.
You can provide or design your logo or get our designer's help.
Glue/Velcro at the backside or not.
Contact us by email or WhatsApp.