Clothing buttons are a kind of fasteners used to connect clothes, and we supply custom clothing buttons printed and engraved with LOGO for garment brands. Sometimes it will put a few pieces of fabric cloth on the surface. The material of buttons can be resin, metal, wooden, shell, zinc alloy, etc. They are ideal for shirts, coats, jackets, pants, etc.
Material distinction
Clothing buttons' materials are consist of 3 categories. Such as plastic (resin, plastic), metal buttons (copper, iron, alloy), and natural (shell, wood, coconut shell).
Plastic buttons and resin buttons
Plastic buttons are made of die-casting. So there will be a line on the side of the button. Some factories may remove this parting line in subsequent processing. But its weight will be lighter than resin. The factory will engrave the resin buttons and then polish them. So the surface does not have a full mold line, it is very smooth. But it is fragile and the surface becomes scratched. So, it will become soft when placed in boiling water.
Metal buttons
Metal buttons are made of metal materials. The styles of metal buttons include metal snap buttons, jersey buttons, denim buttons, studs, corner nails, corns, air holes, stitch buttons, etc. Metal buttons have wide uses in apparel, shoes, hats, bags, etc.
Functions
Clothing buttons can connect clothes and keep them tightly. But also they make people neat and tidy. Chic buttons can also embellish clothes. Therefore, it is an indispensable part of the garment structure. That is, in addition to practical functions, it also plays a finishing touch to the design of clothing.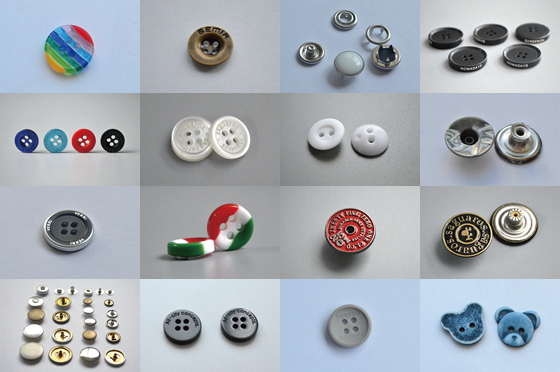 Details of clothing buttons
1, Size/color/shape: as per customer's request.
2, Material: polyester, resin, shell, ABS, wooden, covered button, claw, zinc alloy, brass, aluminum, etc.
3, Jeans button: twin prong, open-top, rotatable.
4, Workmanship: printing, laser logo engraving, embossing, pearl, debossing, electroplating color, etc.
5, Metal button electroplating color(nickel free): dark silver, antique copper, brass gilt, gold, dull gold, polished antique brass, chrome-plated, pearl nickel/gold/silver/gun, etc.
6, Button type: 2-HOLE, 4-HOLE, snap button, etc.
7, Packing: inner packing with PP bag, outer packing with export carton.
8, MOQ: 100pcs.
History of clothing buttons
A button is one of the oldest and most used types of fasteners. The earliest buttons are ornamental and made of bone, horn, bronze, and wood. Moreover, the ancient Romans use buttons to fasten clothes. It includes the most expensive materials. Such as bronze, horn, shell. But now, people use cheap plastic and other materials to fix clothes. Then, clothing buttons are becoming more and more popular.
Modern clothing buttons are both decorative and functional. In particular, good buttons can make your clothes more perfect. Further, they will play a certain aesthetic effect. Especially, women's clothing has a lot of colorful decorations. We wholesale all types of custom clothing buttons and logo buttons. So, you can choose any color, materials, sizes, and shapes from us. Meanwhile, we can make a logo or free design according to any request. Logo can be printed or laser engraved. In short, we hope you find the perfect clothing buttons for your project.
Quotation of Clothing buttons
Reference sample from clothing buttons' photo gallery or from other places.
The minimum quantity: our MOQ is 100pcs.
You can design or offer your logo to us, and you can get our help for free design.