Supply custom clothing buttons fasteners with engraved logos for garments, jeans, denim jacket, sweater, shirts, pant. Material has metal, resin, wooden, etc. Except, there are also shell, coconut, rubber, plastic polyester, leather, pearl, fabric-covered, horn toggle, zinc alloy, brass, copper buttons, etc. Sometimes we sew them on fabric clothes, knitting crafts, bags, home textiles, and handmade items. If you want luxury feel, you can customize gold or silver buttons, metal shank buttons, or fancy ceramic or rhinestone buttons. All types of clothing buttons are ideal for coats, trousers, and dresses. So, the sewing buttons are not only easy fasteners but a decorative item.
As a decoration for clothes, a well-designed button can make clothes beautiful. Second, custom clothing buttons can also adjust the tightness of clothes, such as cuffs and necklines. We are a supplier and manufacturer of custom buttons for fashion brands, designers, factories, etc. You can customize any size, color, styles of button with personalized logos. And your logo can be 3D embossed or debossed. Why you should customize a unique button? Custom buttons with brand logos help increase brand awareness and recognition.
Different Types of clothing button materials
Clothing buttons' materials consist of 3 categories. Such as plastic (resin, plastic, rubber), metal buttons (copper, brass, iron, zinc alloy), and natural (shell, wood, coconut shell, horn toggle, leather).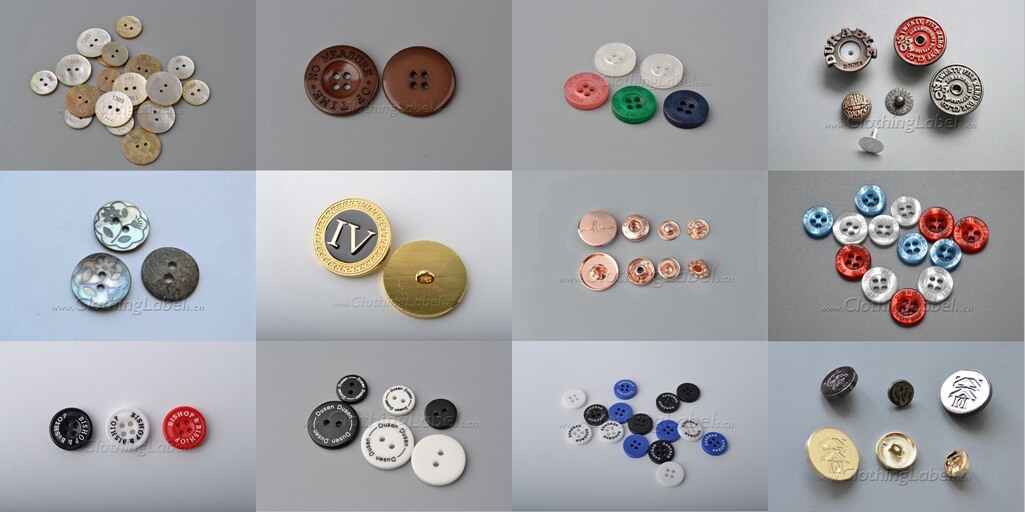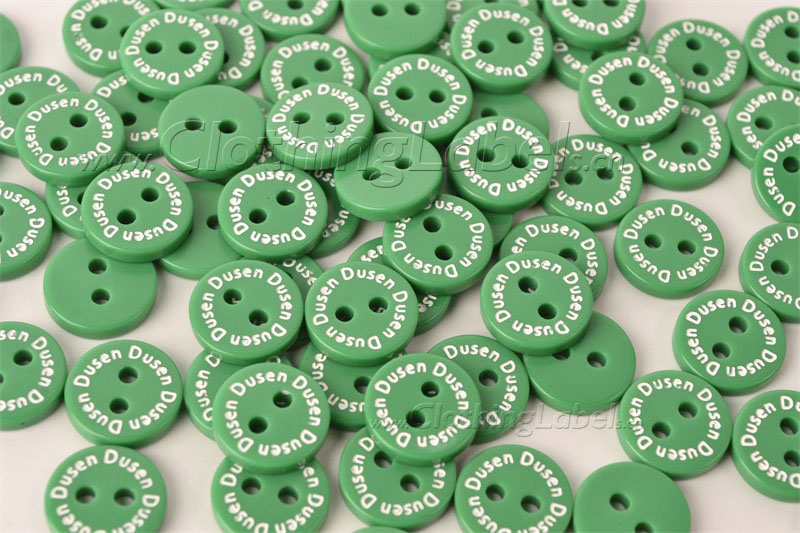 Plastic & resin buttons
Plastic resin buttons are made of die-casting resin material. So there will be a line on the side of the button. Some factories may remove this parting line in subsequent processing. But its weight will be lighter than resin. The factory will engrave the resin buttons and then polish them. So the surface does not have a full mold line, it is very smooth. But it is fragile and the surface becomes scratched. So, it will become soft when placed in boiling water.
Metal buttons
Metal buttons are made of metal materials. The styles of metal buttons include metal snap buttons, jersey buttons, denim buttons, studs, corner nails, corns, air holes, stitch buttons, etc. Metal buttons have wide uses in apparel, shoes, hats, bags, etc.


Wooden buttons
Two or four-hole wooden buttons are simple natural buttons with oak, walnut, and bamboo material. You can add engraved logos on its surface to increase your brand image. In addition, wooden buttons are suitable for child clothes, sweaters, windbreakers, purses, or handmade crafts.
Jeans Buttons with rivets
Jeans Buttons with rivets are metal buttons with 3D embossed or engraved debossed logos. They are ideal for high-waist jeans, denim jackets, trousers, and coats. They have no minimum quantity. You can customize any color, size, or quantity. Materials include zinc alloy, brass, copper, stainless steel, and aluminum.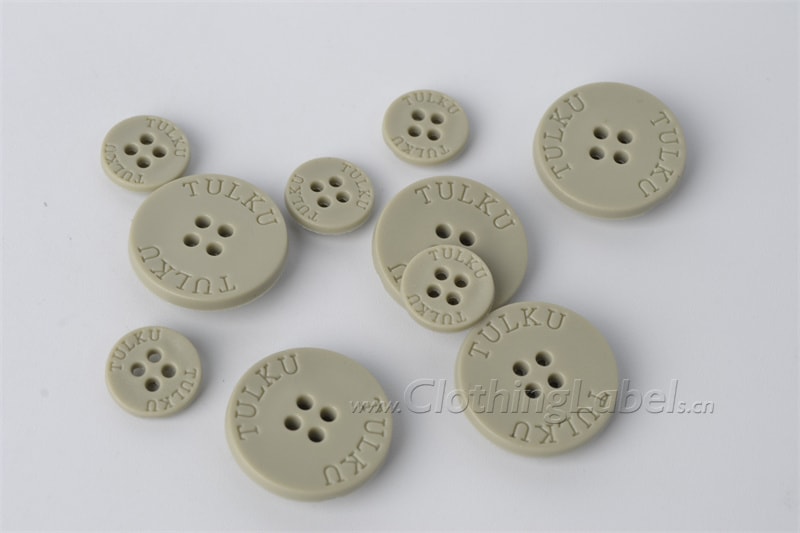 Rubber buttons
Rubber buttons are very soft and bendable sewing buttons for clothing brands. The rubber materials include PVC rubber and silicone rubber. So, rubber buttons are perfect for child clothes, bags, coats, sportswear, casual clothing, etc.
Shell Buttons
Shell buttons are mother-of-pearl(mop) buttons in garments made of natural shells, including abalone buttons, saucer shells, and coconut or oyster shell buttons. Seashell buttons with an iridescent shell finish are perfect for clothing brands. Each of them has its own unique pattern.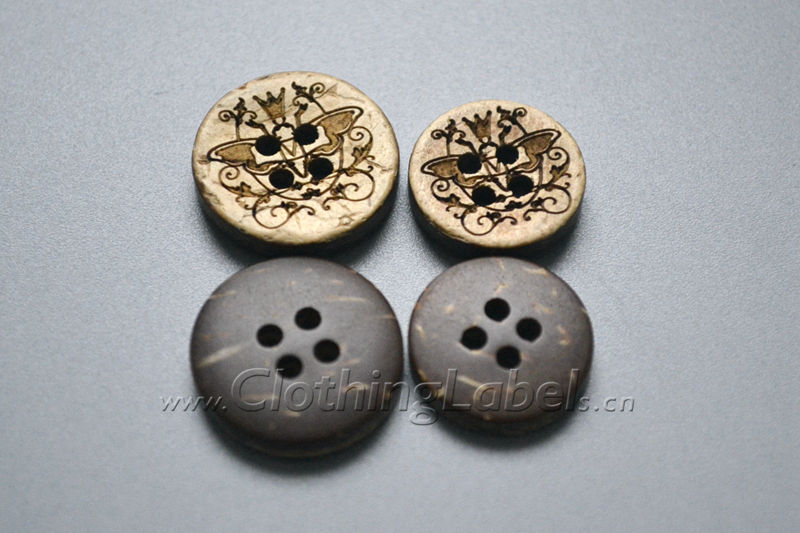 Coconut buttons
Coconut buttons are made of polished natural coconut shells. And we provide custom coconut buttons printed or painted with patterns for sewing & knitting. The coconut button has smooth edges. The strong rigidity of the coconut buttons helps them stand out from the rest natural ones. So, they are ideal for casual clothing. Such as cardigans, sweaters, etc.
Functions OF custom clothing buttons
Clothing buttons can connect clothes and keep them tightly. But also they make people neat and tidy. Chic buttons can also embellish clothes. Therefore, it is an indispensable part of the garment structure. That is, in addition to practical functions, it also plays a finishing touch to the design of clothing.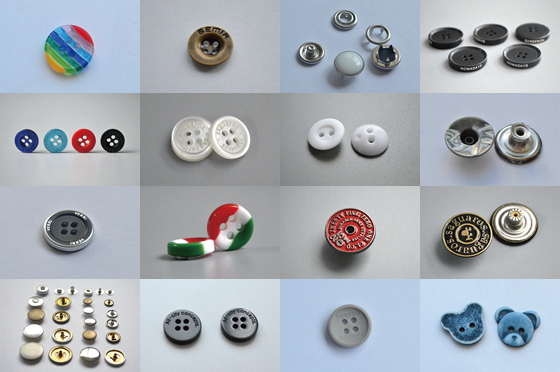 product Details of clothing buttons
Size/color/shape: as per the customer's request; You can customize the size, also we will recommend a suitable size for you.
Material: plastic polyester, resin, shell, ABS, wooden, rubber, fabrics, zinc alloy, brass, copper, stainless steel, shell, coconut, pearl, horn toggle, leather, aluminum, etc.
Jeans buttons: twin prong, open-top, rotatable.
Workmanship: printing, laser logo engraving, embossing, pearl, debossing, electroplating color, etc.
Metal button electroplating color(nickel free): dark silver, antique copper, brass gilt, gold, dull gold, polished antique brass, chrome-plated, pearl nickel/gold/silver/gun, etc.
Button type: 2-HOLE, 4-HOLE sewing button, snap button, jeans button, press button, shank buttons, magnetic button, flat button, decorative buttons, etc.
MOQ: 100pcs.
History of clothing buttons
A button is one of the oldest and most used types of fasteners. The earliest buttons are ornamental and made of bone, horn, bronze, and wood. Moreover, the ancient Romans use buttons to fasten clothes. It includes the most expensive materials. Such as bronze, horns, and shells. But now, people use cheap plastic and other materials to fix clothes. Then, clothing buttons are becoming more and more popular. Modern clothing buttons are both decorative and functional.
In particular, good buttons can make your clothes more perfect. Further, they will play a certain aesthetic effect. Especially, women's clothing has a lot of colorful decorations. We wholesale all types of custom clothing buttons and logo buttons. So, you can choose any color, material, size, or shape from us. Meanwhile, we can make a logo or free design according to any request. The logo can be printed or laser engraved. In short, we hope you find the perfect buttons for your project.

FAQs about custom clothing buttons
1, What is the bulk production time? please make sure you have a new address.
–Production time needs around 7-20 business days. We will recheck the shipping address again before arranging the shipment so that it can be sent to the right address.
2, What is the shipping time?
–3-6 days by express.
3, What profile is needed when production?
–Please send artwork in CDR, ESP, AI, or PDF format.
4, Can you make ANY custom shape and size of buttons?
–It is OK to custom shape and size of buttons as you required. Usually, the shape of the button is regular, like round, also OK to custom unregular shape but need to check the design first.
5, Can you make a square button?
–Yes, we can custom button shape as you required.
6, Silicone buttons, are these buttons pure silicone? I don't want rubber because of allergies.
–Yes, they are made of 100% silicone, it is safe.
7, What is the order process?
–First, we need to discuss basic information with each other. Such as size, color, material, quantity, technics, etc. Then our product expert will give you the price and invoice. Then, you can pay. After you pay, we will make the design for you. After you confirm the design, we can arrange the bulk production. We offer free design and worldwide shipping.
custom clothing buttons photo gallery
Free Design | Free storage service | One-to-One Support | One-Stop Purchasing
Create your own personalized clothing buttons
-We are professional Custom clothing buttons maker & wholesaler
Our Product Experts will guide you through every step of the custom process.